The history of the telco industry starts with the use of smoke signals and drums in Africa, Asia, and America. Starting from that point in time, the telco industry develops as fast as technology does. The smoke signals were followed by the first fixed semaphore systems, the optical telegraphy, the electrical telegraph… and the invention of the first electric telephone in the 1870s. Since that moment, the evolution of the telco industry marks a steep rise in its development thus increasing its lines of business starting from fixed telephone lines to all-around telephone services, mobile lines, Internet, TV, and even device retailers. These services appeared as a result of the growing need of the businesses and customers, and the need to satisfy their demands and as the lines of the business increase so the complexity of the business.
Each era brings new trends which are accompanied by challenges affecting all industries. 2020 brought challenges to every industry, and the Telco industry is one of them. COVID-19 expansion across the globe changes consumer demands on a daily basis forcing industries to change and adapt fast to these new demands. This new situation put the self-service, omnichannel, and instant communication on a higher level than before and consumers expect fast and seamless data connections and quick network issues resolutions.
Taking this into account, telco companies are already rethinking their business strategies, and have started the process of becoming digital service providers which is not an easy one, as it includes a lot of challenges affecting the entire enterprise (operations, architecture, network, and customer service).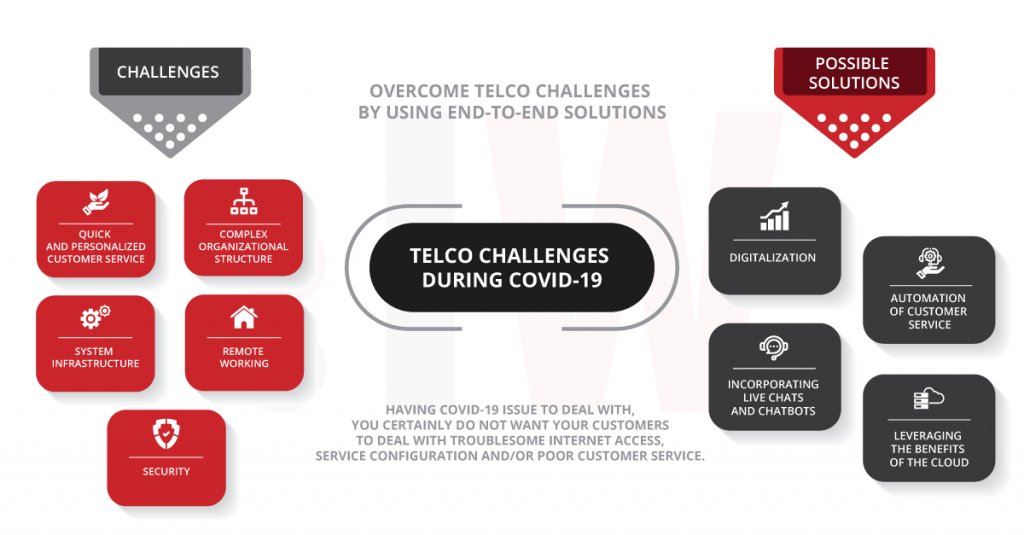 Major challenges that the telco industry is experiencing during COVID-19
Increased demand for quick and personalized customer service
Due to customers' inability to visit physical telco stores and remote working, the number of customers' requests these days is three folded if not more. This increase of the customer request number asks for prompt and immediate reaction, personalization, and above all omnichannel communication. Ignoring these things might lead to increased customer churn, burnt-out workforce – low productivity and efficiency, increased costs, and time to market.
Complex organizational structure
Having tens of business lines for B2B and B2C growing demands, serving millions of subscribers, and offering a wide range of products and custom solutions require massive and complex organizational structure and processes. Face-to-face assistance isn't as available as previously which forces telco companies to introduce different operational processes, tools, which includes additional expenses.
Telco industry relies on contact centers to assist their customers. In normal times, this is done from huge operating space with access to stable connection, and technology which is usually complex and on-premise depending on the company size. When working from home, telco companies are faced with the challenge of providing the same service to their customers, as if their employees are working from the company's premises and have access to top-notch technology. The only way that this can be made available during this time is by leveraging the benefits that the cloud offers.
Increased customer demands, emergence of new technologies, and working remotely pose the network security challenge. As new technologies and customer demands increase so do the need for a number of operational and technical upgrades to keep the network and system security above customers' expectations. Telco companies should make sure that they have implemented reliable and secure authentication features that will keep both their customers and employees safe and secure.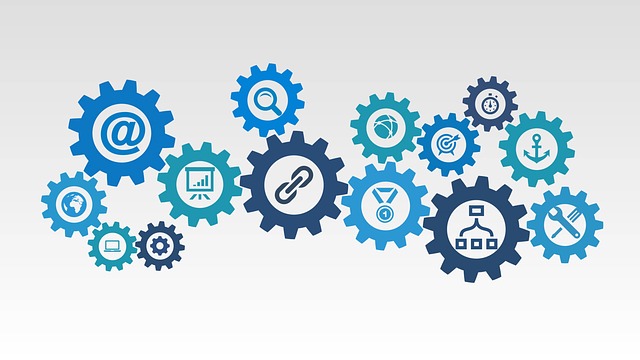 Possible solutions to the major telco challenges
Having COVID-19 issues to deal with, you certainly do not want your customers to deal with troublesome internet access, service configuration, and/or poor customer service. Some of the possible solutions to these major telco challenges include:
You might have noticed the saying that COVID-19 has accelerated digitalization and is the main culprit for digital transformation. Though the telco industry is one of the early adopters of the digital transformation, COVID-19 has put telco companies to test. To continue providing the same and even improved services, they should be looking into full (cross-department and cross-system) digitalization and integration of all their processes. This includes the transfer of meetings to conference calls, augmenting the remote work as the new workplace, integration of their internal processes and systems to appropriately face the new normal, budget planning and procurement during remote working, digitalization and automation of the entire HR department, enhancing operational efficiency by automating the planning and execution along with the monitoring of daily activities, eliminating paper documents, etc.
Automation of customer service
Digitalization is followed by customer service automation. Customers are now looking into a greatly improved service which implies shortened customer journey to get relevant information and availability regardless of the place and time. Omnichannel customer service and implementation of self-care AI-powered chatbots are the new replacements for the physical experience that customers have in your stores. By implementing AI-powered chatbots and omnichannel services you are looking into customer service automation ensuring fast and prompt reply to your customers' inquiries. In this way, you will save your customers time and also improve the productivity and efficiency of your employees because they will have time to focus on more complex customer demands.
When chatbots cannot answer complex questions, live chats are here to help. Incorporating live chats to handle complex requests is beneficial both for your customers and employees. Customers will get answers to their requests without having to call or wait, and your employees can easily provide help from their homes.
Leveraging the benefits that the cloud offers
Leveraging the cloud for your end-to-end solutions that will solve the contemporary telco challenges is essential. By using cloud-based solutions, your employees will be able to easily use and manage them from anywhere. Furthermore, all cloud solutions offer the same features, metrics, and analysis that can be used to improve the service.
How can we help?
Since 2004, the telecommunication industry has been one of our main industries where we provide service and custom solutions. Our portfolio of telco projects includes end-to-end solutions in various areas of telco companies, providing support and maintenance throughout the entire customer journey. Up until now, we have been involved in providing custom solutions that streamline and automate omnichannel experience, customer lifetime value, billing and payment systems, Order2Cash, etc. Some of our solutions include:
If you want to stay one step ahead of the challenges that COVID-19 poses, you should start leveraging technologies such as AI, automation, and use end-to-end solutions that will cover your enterprise completely. That way you will save time and deliver excellent customer experience each time a customer interacts with you.
Our technical consultants are devoted to delivering outstanding value to our customers and helping them tackle COVID-19 challenges. If you are experiencing any challenges and want to discuss them, reach out to us – we would be more than happy to discuss any topic that bothers your business.
---
Author
Andrijana Dimitrievska
Latest 5 posts from Andrijana