On the road to achieving digital transformation, system integration as a core step would not be complete without supporting and maintaining the integrations and the entire IT infrastructure. Understanding and anticipating the pitfalls, along with proper error handling and predictability of the problems is crucial. Integration support and monitoring should meet business performance, operational expectations, and business security needs and this is the focus of our Monitoring Solutions.
⋮IW Monitoring Solutions gathers data from different sources of an enterprise, analyzes the gathered data from different aspects, and provides enterprises one source of truth. This enables companies to overcome the silo-approach that slows down business flows and collaboration within teams and among different departments.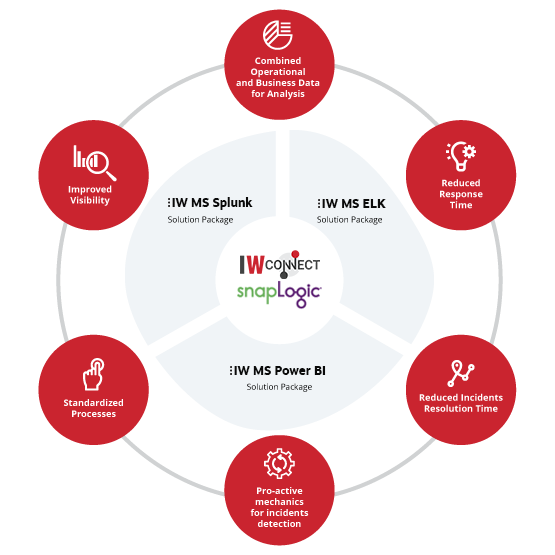 Simple, yet robust analysis solutions for both developers and DevOps engineers, as well as Business owners, our Monitoring Solutions enable users to gain valuable insights on failure diagnosis, application performance, and infrastructure monitoring.
The idea behind Monitoring Solutions is to fulfill the need in the log analytics space by exploiting the potential of enterprise data and generating updated insights in real-time. With the whole bundle, organizations obtain great benefits in terms of resources used and results achieved.
Core Benefits
Reduce costs and save time by resolving problems faster
Increase operational efficiency
Improve customer experience
Improve team communication and collaboration
Reduce manual work completely by automating the entire process of integrations monitoring
Improve application performance
Eliminate the chances for application downtime
Achieve strategic business objectives and performance targets
Gain detailed insights into past and present problems and possible incidents
Plan and adjust business strategies based on data gained from solid analysis
What it Does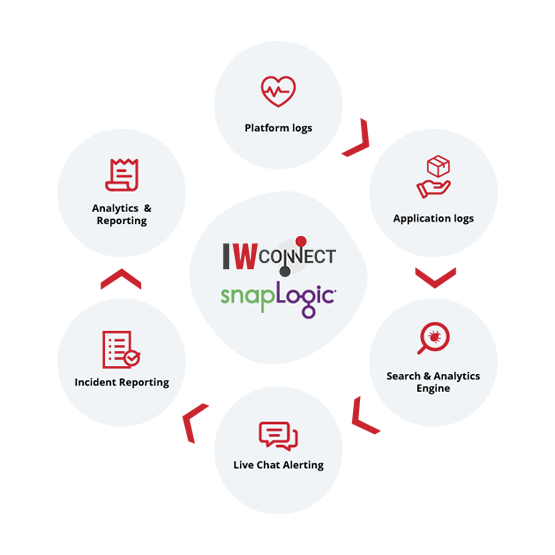 Monitoring Solutions monitor SnapLogic platform performance near real-time, detect peak loads and failures, proactively monitor hardware and alerts for limitations, send preventive alerts, and automatically log incidents in an incident management system.
The packages come with 4 types of dashboards that provide detailed incident information and are tailored specifically for every team within your organization.
Types of Dashboards and Their Features
Snaplex Dashboard

Monitors Snaplex and Snaplex Node CPU Usage to achieve optimal platform performance
Monitors Snaplex Memory Usage as a key indicator to potential problems
Current Disk Usage panel
Open File Descriptors count with visual representation of the most critical numbers
Current active threads
Developers Dashboard

Pipelines processing status timechart
Pipelines status table with historical data
Most Used Pipelines within a configurable timeframe
Average execution time per pipeline based on historical data
Latest execution status count based on distinct pipelines from the last batch
Latest pipeline execution recorded state for all pipelines
List of all failed pipelines within a configurable timeframe
Custom URLs to Stack Trace and Pipeline Designer that reported the error
Custom correlation between Parent and Child pipelines
Operational & Business Insights

Real-time incidents reporting
De-duplication mechanisms for duplicate tickets reduction
Fully customizable incidents reporting: priority, assignee, description or any other field
Reactive and Pro-active reporting rules for increased operational predictability
Live chat alerting through Slack & MSTeams
Customizable e-mail reporting – scheduled and on-demand, for increased transparency and visibility within the organization
Business Dashboard

Pie chart of the pipelines count per status
Count of delivered records
Count of error records
Execution per host
Executions per pipeline
Line chart with executions per Project
Most common errors for the selected period
Packages
| Solution Components | MS Splunk | MS ELK | MS Power BI |
| --- | --- | --- | --- |
| SnapLogic Logging and Exception Handling Framework | T&M | T&M | T&M |
| SnapLogic Platform Snaplex/Pipelines logging | ✓ | ✓ | ✓ |
| Customized Dashboards | ✓ | ✓ | ✓ |
| Live chat alerting – Slack | ✓ | ✓ | ✓* |
| Live chat alerting – MS Teams | ✓ | ✓ | ✓* |
| Automated incident reporting – Atlassian Jira | ✓ | ✓ | ✓* |
| Automated incident reporting – ServiceNow | ✓ | ✓ | ✓* |
| Automated incident reporting – Azure DevOps | ✓ | ✓ | ✓* |
* Limitations apply based on licensing of PowerBI and the alerting limitations based on thresholds instead of log data