We've heard many times that data is everything in this modern IT world, but it will be meaningless if it is not interpreted and if it doesn't provide meaningful insight. The easiest and visually most pleasant way to do that is by using BI tools. BI tools use data that has been previously stored in different sources, make data processing, analysis, querying, enterprise reporting, Microstrategy data visualization as well as with Power BI and Tableau, etc. They often include tools for statistical analysis, data mining, and predictive modeling, and everything that a data engineer may need. Making business decisions and creating future predictions are one of the most important features that these tools provide. We will summarize the pros and cons of some of the widely used BI tools on the market today: MicroStrategy, Microsoft PowerBI, and Tableau. Therefore, let's begin with our Power BI vs Tableau vs Microstrategy analysis.
MicroStrategy
MicroStrategy is used for creating interactive Microstrategy dashboards, querying, and perform analytics on big data from a variety of sources, including data warehouses, Excel files, and Apache Hadoop distributions. It also provides an embedded analytics system using augmented intelligence and machine learning technology. The learning curve of MicroStrategy BI is shallow and businesses can benefit from this technology, starting from marketing and business teams to IT professionals.
MicroStrategy has built-in collaboration so that teams can work on the same report at the same time and once designed it is stored and can be reused multiple times in different dashboards. This approach is effective and allows saving time and money. This product has been on the market since the 90s and has many updates and improvements since then. Like any other product, it has a list of pros and cons, so we will list a few that we experienced with it.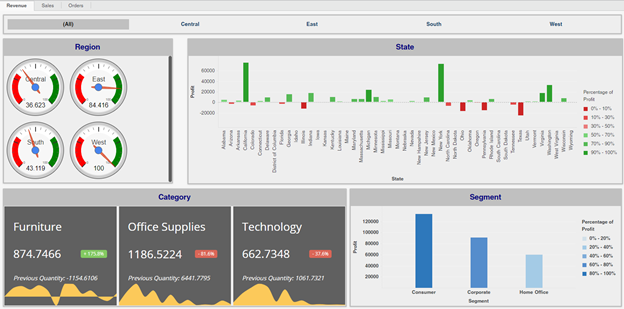 Microstrategy Dashboard
Pros:
Simple creation of attributes and facts
Scheduling and updating data on the desired interval
Embedding Analytics with MicroStrategy REST API
Saving templates for later use that do not have to be recreated
Providing dashboards for web and desktop applications and their customization
Delivering reports through multiple mediums like web, Microstrategy mobile dashboard examples, or distribution services
The Online Analytical Processing capabilities save a lot of development time by giving the user the ability to modify the reports without executing the SQL query in the backend
Access control – defining sharing capabilities and roles and assigning members to each security role
Email delivery of the scheduled reports as excels or pdfs.
OS Environments: Windows, Linux and Macintosh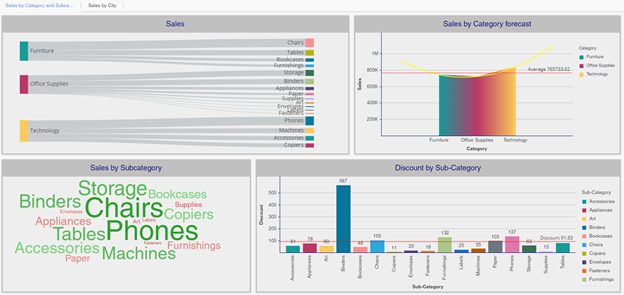 Microstrategy Dashboard 2
Cons:
Graph formatting is very limited, and the colors cannot be changed
Some of the options from the Developer application are not available even on the Web application
Struggling to work with large data sets and causing timeout errors when exporting excel reports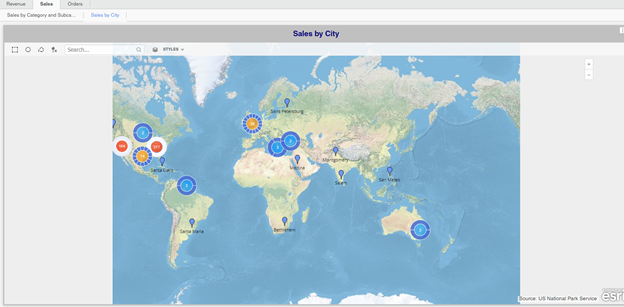 Microstrategy Map
Tableau
Tableau is a powerful and popular BI tool. It provides a huge number of visualization types and can connect to different data sources. Tableau Desktop retrieves data from live or extract data sources.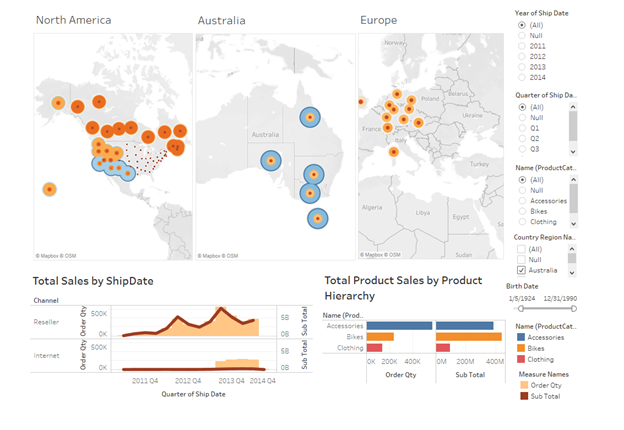 Tableau Dashboard 1
MicroStrategy vs Tableau
Let's see the difference between Microstrategy and Tableau.
MicroStrategy does not have the options for adding a measure in colors
Tableau has a better and more modern user interface
Lower response rate in the community/forums
HTML5 support for the web dashboards is still at the beginning
MicroStrategy does not provide support for extracting data from various data sources
Tableau provides integration with R and Google Analytics and MicroStrategy provides integration with Microsoft Office suite of applications
Tableau Desktop can be used even in larger enterprises
Tableau is better at analytics and publishing content
Both have mapping and geocoding options
MicroStrategy has a neat organization and grouping of the reports in Dossiers, Chapters, and Pages, which is one of the main things when it comes to Tableau vs. Microstrategy.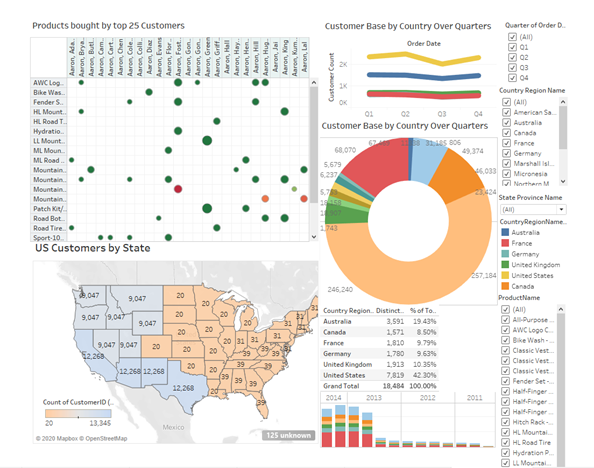 Tableau Dashboard 2
Power BI
Power BI is a cloud-based business intelligence service suite by Microsoft. It is a collection of BI and visualization tools such as software services, apps, and data connectors that together constitute Power BI. It is a user-friendly application that offers drag-and-drop features and self-service capabilities. The dashboards can be uploaded on-premise and on-cloud platforms. It has drill-down capabilities and automatic charts. Power Query in Power BI is used for connecting to data sources and transforming the data into meaningful representation.
Power BI supports two different languages, M and DAX. DAX – (a semi-programming language that stands for Data Analysis Expressions), is used for data analysis and calculations. For creating a more complex analysis, knowledge of DAX is required. Power BI was released in 2015, built on Power View and PowerPivot.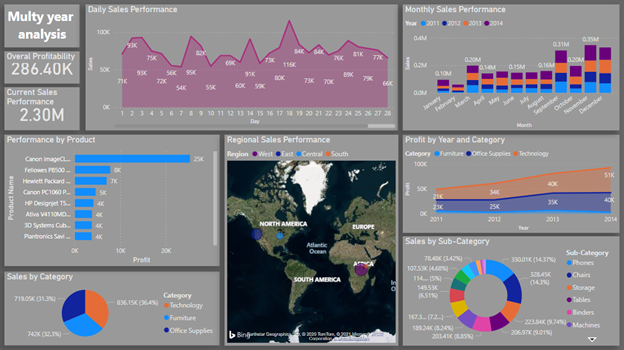 PowerBI Dashboard
MicroStrategy vs Power BI
When it comes to Microstrategy vs PowerBi, here are the main aspects:
There is a possibility to use MicroStrategy as a source in Power Bi report, which is a powerful Microstrategy tool. That is accomplished with the connector.
Power Bi can be set up for work with a large amount of data
Allows including Microsoft Visio diagrams and other graphics from Microsoft tools.
Embedding Power BI visualizations and reports into applications and websites
Power BI has a market where you can download different visualizations and tools
Power BI has an excellent interface and everyone familiar with Office products will quickly adapt to the tool
Power BI has a limit on the amount of data it can process, after the data hit the limit, you have to upgrade to the paid version of Power BI
Power BI rigidly handles relationships between tables
For complex analytics in the Power BI suite, additional tools are needed (like Power Pivot, Power Query, etc.).
These are the main aspects from the Power BI vs Microstrategy situation.
Conclusion
We looked at an eagle view of the features of selected products and the entire Microstrategy vs Power BI vs Tableau view. The final product selection will highly depend on your business needs and applied context. However, consider the following criteria when selecting a BI product:
OS Support: Microstrategy supports Linux environments over and above what Tableau Desktop does
Ease of use: Power BI wins for ease of use, but Tableau BI wins in speed and capabilities
Interoperability with other systems in your infrastructure
Mobile support for whichever devices you use in your company
Languages and countries support, this might be a key element for many companies.
Authors
Biljana Jonovska
Hristina Stojkovska