Ensuring clients' needs are met efficiently and effectively is not a single person job, an A-team is needed. A competent and responsive team builds trust, credibility and delivers quality services and solutions that put the client one step ahead of its competition. On the other hand, a team combines a variety of skills and creates a union which can solve even the most complex tasks. As such, we take pride in our teams, and today we feature part of our Salesforce team.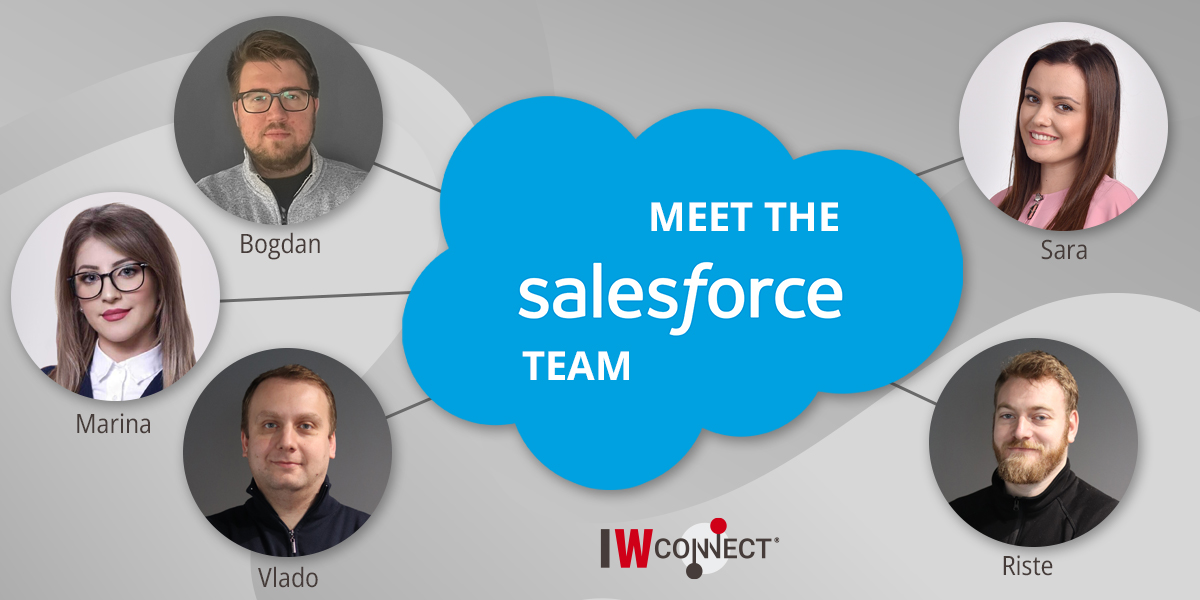 Sara Dimeska
What is your role in the Salesforce team and how long have you been working with Salesforce?
My current role is Salesforce Admin's Team Leader, and I have been working with the Salesforce Platform for over 5 years.
What's an accomplishment that you have achieved since you started working with Salesforce?
My biggest accomplishment so far was converting a business requirement into a solution and resolving over 60% of Client's problems within one month by using Salesforce. This was going above and beyond the initial standards, and I am proud of what we achieved to accomplish together with our Client.
Vlado Stojanovski
Tell us about some innovative use of Saleforce that you and your team have implemented?
Recently, we have developed Einsten Bot, a Salesforce tool that enhances the customer service experience. The bot enables direct communication with clients within Salesforce, eliminating the need for third-party apps. This automated chatbot quickly responds to common questions, reducing wait time and freeing up time for employees to tackle more complex tasks. Additionally, the bot gathers data from clients to ensure the best quality of service.
What was the most challenging moment you have experienced since you started working with Salesforce?
We were involved in a project that included creating a completely new Insurance application from scratch, including the object, fields, lightning record pages, page layouts, and record types for insurance types. All insurance policies were in a webform, so the biggest challenge was recreating them in Salesforce by only using Salesforce tools.
Marina Gjorgjioska
Describe your job in three words
Challenging, Innovative, Fulfilling.
What is the level of collaboration and teamwork in the team?
The level of collaboration and teamwork in my team is exceptional. We have a strong sense of camaraderie and a shared vision for our projects. We work closely together to brainstorm and share ideas, as we are always willing to lend a helping hand and support each other. We have open and regular communication, allowing us to stay on the same page, and ensuring that we are all moving in the same direction. We also have a culture of transparency and trust, where we give and receive constructive feedback freely, which helps us to continuously enhance our performance.
Bogdan Mladenovski
What's the best thing about working with Salesforce?
The best thing about working with Salesforce is probably Trailhead – Salesforce training playground which not only allows you to learn the platform from scratch, but it also speeds up the addition of new users. Additionally, it provides an opportunity to create playgrounds where we can test things before creating them in sandbox/production which directly means saving time and storage.
What's the coolest project you have been working on using Salesforce?
I have been part of a project in Insurance, which included developing insurance objects from scratch, starting from designing fields, to creating validation rules, by using a web-form as an example.
Riste Bachovski
Why did you choose a career in Salesforce?
The first time I heard about Salesforce was when Salesforce was still in its early stages and not as widely popular as it is today. After researching its capabilities and possibilities, I came to realize that Salesforce is different than other CRM platforms and can be a perfect fit for a career. As one of the fastest-growing companies and a leading CRM platform in the world, looking from this perspective, I am positive that choosing a career in Salesforce was the perfect choice for me.
What is the best feature of Salesforce?
Salesforce offers many great features, and I would choose AppExchange as one of the best. AppExchange is in fact Salesforce's marketplace, where depending on your needs, you can find and use a complete application or different types of solutions. The best thing is that Salesforce allows its partners to develop their solutions and publish them on AppExchange.
Have you had the opportunity to work with some of our Salesforce experts? If so, would you like to have our Salesforce team support you on your journey to change the world? Contact us on the form below.
We suggest reading:
Salesforce and ⋮IWConnect Join Forces in Strategic Partnership
Author
Andrijana Dimitrievska
Latest 5 posts from Andrijana