What is Contact Center as a Service (CCaaS)?
Contact Center as a Service (CCaaS) dates back to the beginnings of call centers. Call centers have been, and are, phone-based centers where customers call a toll-free number to interact with an agent or a representative from an organization. These calls were the only way to contact businesses.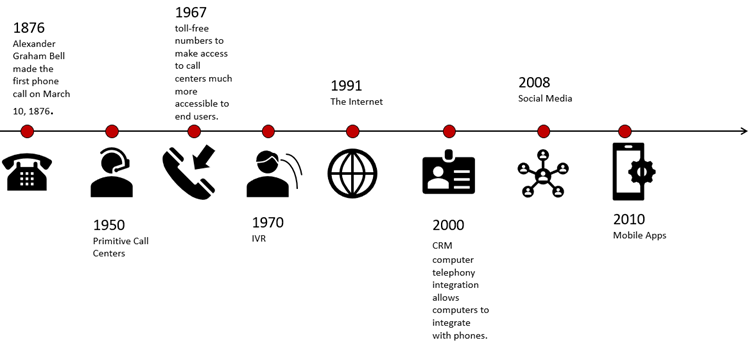 Call centers evolved over the years and today we have contact centers. They allowed customers to reach out to companies in their favored medium like email, social media, and chatbot, amongst other options. As organizations have persisted to innovate and with the emergence of technologies like the Cloud, Contact Center as a Service (CCaaS) emerged from the continued innovation, gaining the benefits of cloud technologies. CCaaS is a cloud-based customer solution that allows businesses to use the software of the contact center provider. This model allows companies to purchase only the technology they need, operated by a vendor, and reduce IT, support, and integration costs.
The key features of CCaaS are:
Automatic Call Distribution (ACD) and Interactive Voice Response (IVR)
Inbound and outbound calls, SMS, pushing text and email notifications
Omnichannel capabilities – universal routing and queuing of voice and internet channels, such as email, chatbot, webchat, SMS, social media, and video
Automation & Artificial Intelligence (AI) – intuitive technology that enables proactivity, speeds resolutions of customer issues and provides self and agent assisted services and automated actions and alerts.
In the following lines, we will bring you closer to Dynamics 365 product – Customer Service and how you can leverage it to deliver proactive customer service.
Dynamics365 Customer Service Overview
Customer Service is Dynamics 365 Service that provides a great customer experience. It is used to track customers' issues across channels of their choice, share information in the knowledge base, monitor productivity through reports and dashboards, and schedule services.
In addition, it enables proactive interactions to resolve customer issues faster thanks to the centralized data available across all channels. The latest update is Voice Channel which is built on the same platform as Microsoft Teams with integrated AI at each step. This addition will make Customer Service the all-in-one digital contact center solution. Voice Channel has natural language understanding with a smooth transition from a virtual agent to a real agent. The entire transcript between the users and bots is visible to the agent and the customers do not have to repeat themselves.

To understand the benefits of Customer Service better we focused on what it provides to agents, customers, and organizations.
Focus on employees
Customer experience depends on employees' experience. Thus, based on contact centers studies, agents need more than 4 applications to complete a customer case.
The benefits of Dynamics 365 Customer Service for agents are:
Access to knowledge articles and ability to solve issues faster
Detailed customer insights gained from the integration of contact center operational data and CRM
Saved time due to fewer apps to switch back and forth
Access to AI resulting in faster resolution of customer cases.
Focus on customer
We are witnesses of constant changes, innovative technologies, products, services that have an impact on us. Customer behavior also changes. In 2019, 40% of customers initiated self-service via voice, but it is expected by 2023 the number to increase to 70%.
80% of consumers are more likely to make a purchase from a brand that provides personalized experiences. Customers expect any information of interest to be available on any device at the moment of need.
The Customer Service Omnichannel and other Customer Service applications support all this. By using Customer Service, customers can have a personalized, proactive service that increases customer self-service abilities.
Focus on business
The main challenges faced by businesses in terms of contact centers are: adopting modern technologies, scattered data, no connection to the CRM system, no timely insights, limited communication channels, etc. To overcome these challenges, businesses need a solution that is easy to start, easy to scale, it is integrated with the core business systems, provides insights across the entire organization and its products.
Dynamics 365 Customer Service offers all that. In addition, it supports connection with collaboration systems to ensure that agents have access to the resources they need to serve customers faster and better. Moving to the cloud can help solve challenges faster by eliminating on-premises infrastructure requirements.
Conclusion
With Dynamics 365 Customer Service, organizations deliver proactive, personalized customer services to their clients. At the same time, the agents are empowered with tools that increase their productivity with greater visibility into customer interactions across all communication channels. Besides its out-of-box functionalities, Customer Service can integrate with other applications and services.
What we can do for you
We can help you build solutions that will improve your customer experience with Dynamics 365 services like Sales, Marketing, Customer Service. Except for the Dynamics team, we have success stories from our innovative Power Automate, Power Automate Desktop, RPA (Robotic Process Automation) teams, and integrations with Teams, Power Apps, legacy apps, and many more.
With our 15+ years experience in different technologies, we always find a way to connect the dots.
Authors
Katerina Shemoska
Natalija Dimovska
Katerina Dimeska