Introduction
Confluence and Jira Software separately are good, but together they`re really good.
When working on a project using Scrum methodology and Jira Software, there is always need for a place where all meeting notes, all API documentation, product requirement, UI Design, release notes, JIRA reports and other reports can be stored. In addition everything will be in one single place, literally speaking.
Research has shown that over half of Jira Software teams already use Confluence as a complement to Jira and their agile development toolset. Adding Confluence to Jira Software can help ship projects faster, at least that's what 76% of Jira Software customers said and we believe them since JIRA and Confluence fit together perfectly.
The only prerequisite for getting the best out of JIRA and Confluence is the ability to view the components of the one program in the user interface of the other.
There are several good reasons why you should add Confluence to Jira Software.
1. A single place for all your documentation
Confluence is the place where the people you work within and the stuff you work on, are located in one place. With Confluence you can bring storm ideas, start your plans as a team. You don't need to be in the same office. Instead of going back and forth with an endless email, you can get feedback in context where everyone can see them and move forward together.
Confluence enables you to create everything that you need, starting from meeting notes, project plans, product requirements to including multimedia, dynamic content and even more.
JIRA is the best when it comes to helping your team plan and track all the work that goes into your software, while Confluence enables you to have all the content that's created along the way in one single place. Confluence gives you the advantage of not having to store documentation in many different places like shared drives or Word folders. In addition, Confluence helps you organize your documentation into spaces for each of your projects or teams and link those spaces to your related projects in Jira.
What is even better, the spaces are accessible to anyone on the team, meaning that the team always knows exactly where to look for when something is needed. Also, sll your historic documentation is right there, so when someone new comes on-board, it will be much easier.
2. Break down communication barriers
A research has shown that Confluence eased the communication between development teams and non-technical stakeholders. Very often team members get stuck into debating via email and a lot of valuable information gets buried and context is lot – this is where Confluence helps, because it keeps the team on the same page.
Comments – Every discussion in Confluence happens in comments, so it is easy to find every information that you need.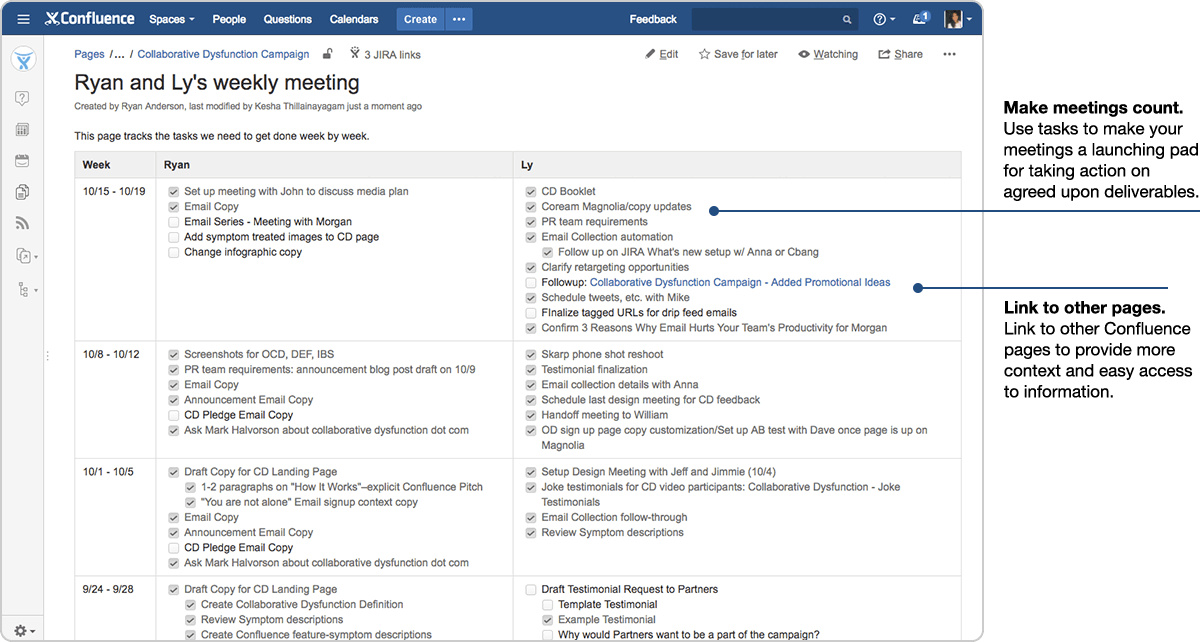 The owner of the page and everyone that has permission (or eventually reads the page) has full context to the discussions taking place in comments.
Confluence gives you the chance to have all things in one place, not in different tools, for example collaborating on design mockups, development tasks, user stories etc., can all be put in one place.
3. Keeps you (and your process) moving forward
When using agile most teams go through four main stages when developing software.
Define – In this stage you should standardize the product requirements in Confluence, and in this stage you can track and manage the changes as they develop over time.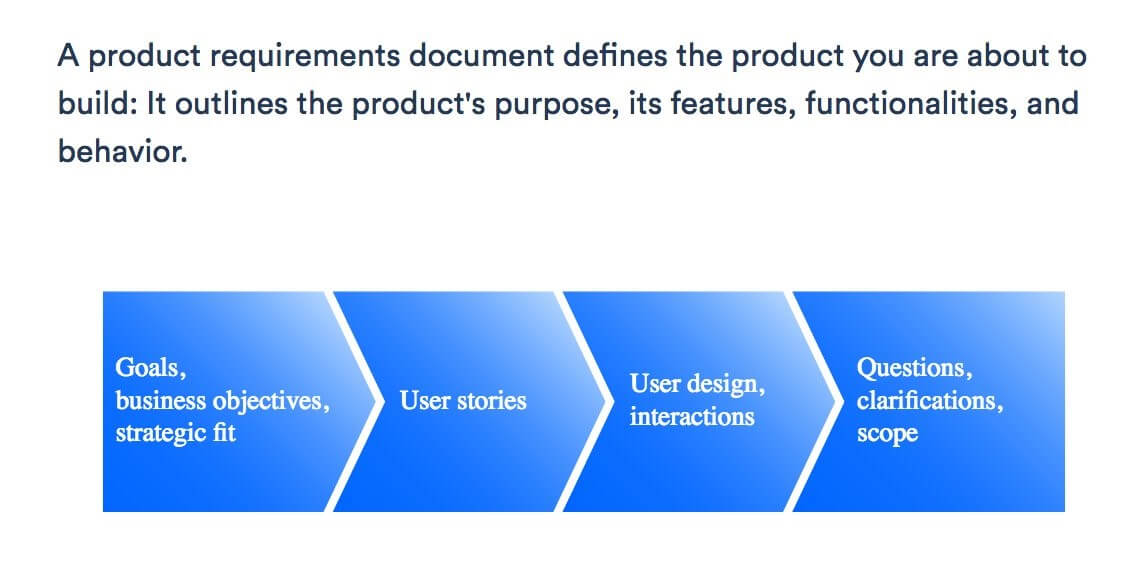 PRD or Plan, Release and Improve provides a clear direction toward a product's purpose, and at the same time it creates a shared understanding among business and technical teams.
Plan – Turn requirements into Jira stories with one-click to startup development, while maintaining traceability back to your requirements.
Release – Keep track of all technical decisions in Confluence, publish automated release notes and change logs that reflect releases in Jira.
Improve – You can constantly improve your process by running retrospectives with a Confluence template as you complete sprints.
3. Reduce time-wasting context switching
Confluence tasks are different, they are contextual. Moreover, they help you stay on-track and deliver real results, no matter of the type of task – whether it is assigned from a page, created from a notification or a personal task which is created by yourself.
Additionally, Confluence makes it easier for your product managers to follow the progress of the development team's work as it automatically embeds newly created Jira issues in your related requirements documents.
Having the requirements, and any other Confluence pages, automatically linked to epics and issues in Jira Software empowers developers to get all the context they need without breaking their flow.
4. Provide visibility into your software projects
Spending time on constantly reporting out the status of the software project is time-consuming and sometimes tiresome. This is where Confluence eases the job – the development team can create ad-hoc reports which will have all their latest releases tracked in Jira with Jira reports templates. There are reports which will show you the progress of the current release – the dynamic status reports, or a static change log that displays what's changed between your latest releases. The option for customized reports give stakeholders the ability to follow the development's team progress with just a few click via a snapshot.
Conclusion
When everyone in the team is in the habit of adding all relevant information to a Confluence page, and having all conversations on that page, there's no need to use another tool or system to look for the right information—it's all right there.
Confluence gives a new way of working – once you start using it, it slowly becomes your primary tool for organizing, discussing and doing work.
Confluence and JIRA Software can help your development teams work faster, communicate more effectively, and moreover keep documentation organized and easily accessible.
---
Author
Marija Dimitrovska
Latest 5 posts from Marija