In June, the Women in Tech Conference in Amsterdam provided a platform for women to empower and inspire each other in the dynamic tech industry. Among the attendees were four employees from ⋮IWConnect, eagerly anticipating a talk by our very own Simona Todoroska. Additionally, our team from Macedonia and Serbia had the incredible opportunity to visit our office in Amsterdam and connect with our local team. Now, they graciously offer us a glimpse into their firsthand experience of the event, sharing their unique perspectives and reflecting on the impact it had on their professional journeys.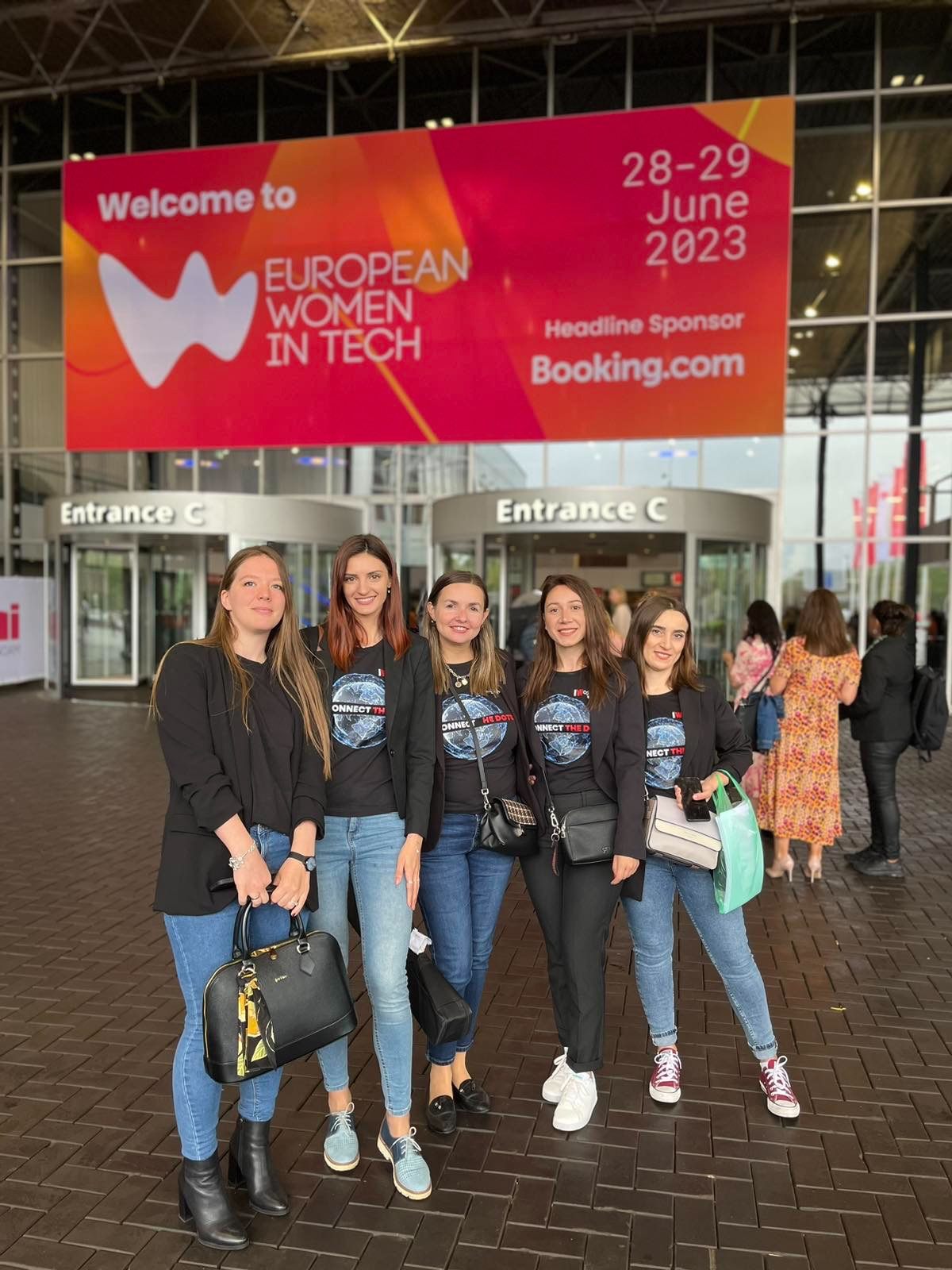 Cvetanka Eftimoska
Can you share some key takeaways or lessons learned from the Women in Tech conference in Amsterdam?
The career path is not always straightforward. Struggles, failures, and bad decisions are sometimes part of personal growth. Many successful and accomplished women shared their career journeys, emphasizing that perseverance and learning from mistakes are vital.
The conference covered various topics related to different work roles. Attendees had the opportunity to listen to technical and business speeches, gaining insights into problem-solving from different perspectives.
A popular topic at the conference was leadership versus bossing. As there are fewer women in leadership positions, the key takeaway was the importance of speaking up, instigating change, and elevating teams to new levels.
Did you come across any groundbreaking innovations or technologies at the Women in Tech conference in Amsterdam? If so, what were they?
AI was a significant focus among the speakers. It was intriguing to witness how they utilized AI in their companies and how it influenced their business decisions. Many new technologies and AI-related topics were discussed at the conference. It was inspiring and amazing to see that we also implement these groundbreaking innovations at ⋮IWConnect. Being alongside some amazing tech minds and feeling that my work aligns with theirs and knowing that we also utilize cutting-edge technologies was an incredible experience.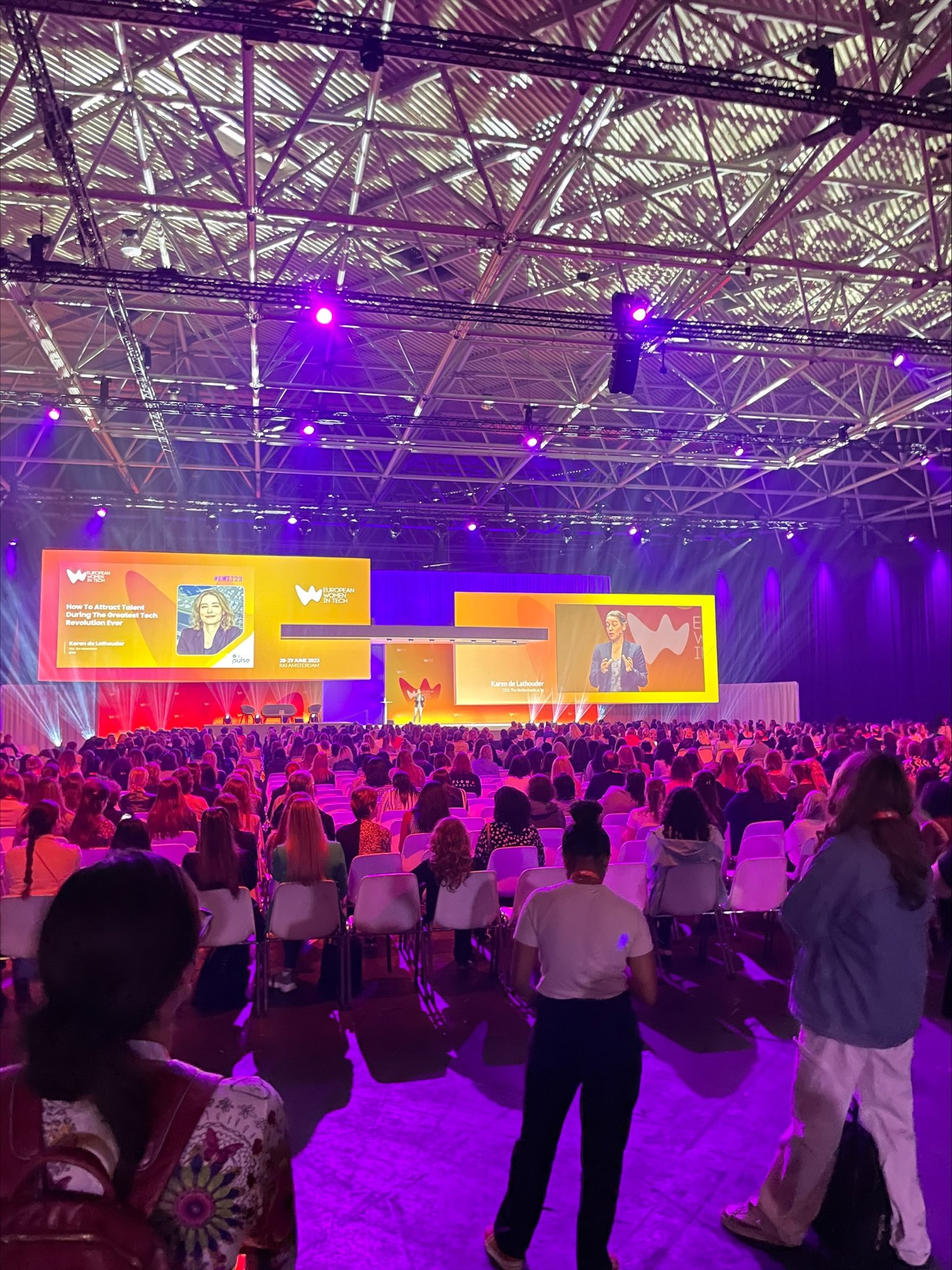 Aleksandra Stevanovich
Were there any notable keynote speakers or panel discussions at the Women in Tech conference in Amsterdam? What were the key topics discussed?
Notable speakers at the European Women in Tech conference in Amsterdam included Melanie McGrory, who serves as the Director for EMEA in the Cloud Acceleration Team at AWS (Amazon Web Services), and Victoria Bunyard, the Chief Technology Officer at IBM. These individuals were among the many distinguished speakers who shared their insights and expertise during the event. While the European Women in Tech conference covered a wide range of topics, I observed a significant emphasis on AI (Artificial Intelligence). Among the many thought-provoking presentations, one that stood out was delivered by Elizabeth Theophille titled "How To Prepare Yourself For Big Career Decisions." This particular session captivated the audience with its valuable insights and guidance on making significant professional choices.
Did you have the opportunity to network with industry professionals and fellow attendees at the Women in Tech conference in Amsterdam? How did this networking experience impact your perspective on the industry?
Indeed, I took advantage of the available time after the conference to network and connect with other attendees. It was an opportunity to engage with like-minded professionals and represent our company in the most favorable light possible. I did my best to ensure that I portrayed our organization in the best possible manner during these interactions. I enjoy attending conferences like these. They provide a great opportunity to meet new people, make connections, and learn about various technologies and perspectives. It's also a chance to stay updated on the latest trends and ensure that I'm well-informed about new developments.
Katerina Dimeska
⋮IWConnect has offices in Amsterdam. Did you manage to visit? What was the experience like visiting your company's office in Amsterdam?
During our visit to Amsterdam, we also had the opportunity to visit our offices there, and we were delighted by the impressive atmosphere and design, which closely resembled our own office. Our colleagues in Amsterdam extended a warm welcome, making us feel right at home. Despite sharing the building with other companies, we were pleasantly surprised by the friendly environment. Everyone greeted us warmly and engaged in conversations.
What were the highlights of the Women in Tech conference in Amsterdam?
The Women in Tech conference made a strong impression on me, particularly due to the significant focus on ChatGPT and the rapid advancements in artificial intelligence. These topics were consistently highlighted in every presentation and workshop we attended. Among the presentations, two stood out and left a lasting impression. The first presentation that caught my attention explored the realms of digital identity, generative AI, and data. The second presentation shed light on the pervasive role of AI in our daily lives, encompassing devices, vehicles, and its potential in addressing climate change and environmental issues. Furthermore, I must commend our colleague Simona Todorska for representing our company exceptionally well at EWIT23, delivering a highly effective presentation that sparked productive discussions.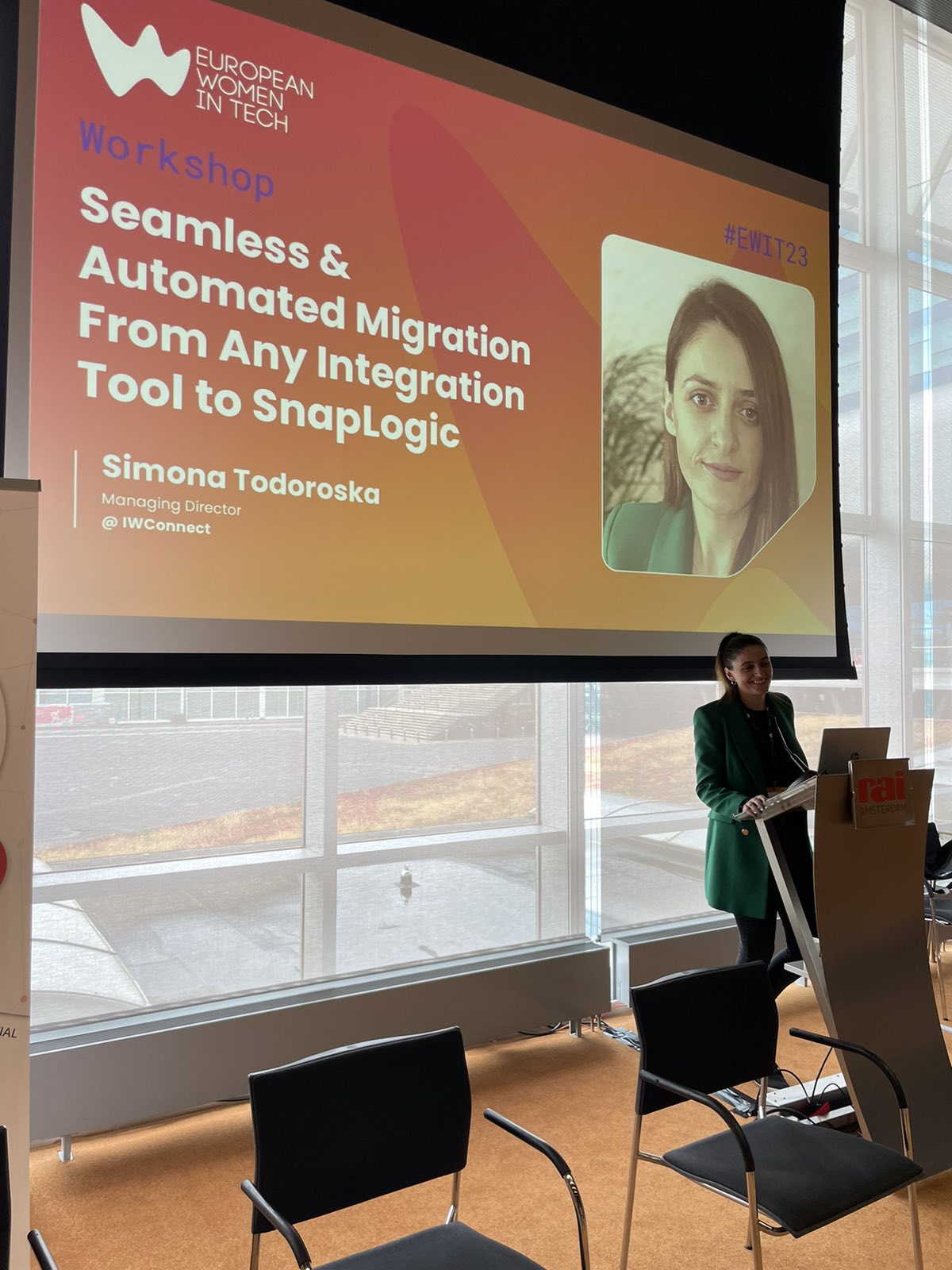 Renata Goshevska
Can you describe the office culture and atmosphere at your company's Amsterdam location?
The office culture and atmosphere at our Amsterdam location are lovely. You can feel the spirit of ⋮IWConnect once you walk in the door. Just like any other location of our company, the Amsterdam office exudes a familiar ambiance, ensuring a seamless experience for employees. People are integrated into the company culture and actively support each other, creating a friendly and cooperative atmosphere. One of the notable advantages of our Amsterdam location is its placement in a fantastic neighborhood. This enriches the work environment, providing employees with opportunities to explore and draw inspiration from dynamic surroundings.
Did you have the opportunity to interact with colleagues or team members in Amsterdam? How did this enhance your connection with the company?
Yes, and it was amazing. We got to know people a little better, spent some quality time together, and built relationships that are essential for effective collaboration. Our colleagues from Amsterdam had planned some fantastic activities, and we had the opportunity to share ideas, knowledge, and get to know the city a little better. In summary it was a productive trip filled with fun activities.