In our last article of these Data, Analytic and Artificial Intelligence series, we covered the approach and value of becoming a data-driven organization (Read about it here). However, it is essential to know that technology is not the first step. Next to the analytical-data culture within the company (which we will cover in the next article), it is essential to start with the core business questions. In this article, we will cover the most critical KPIs and help you begin with data-organization driven by business questions.
The KPIs (Key Performance Indicators) are measurable values that demonstrate how effectively a company is achieving its key business objectives. Organizations use KPIs to assess and evaluate whether they are successful in reaching those targets. Data provides actionable insight which makes the decision-making process possible on a daily basis. If you as a leader are waving the KPI's goodby, you are driving your organization blind. And, well, autonomous driven organizations aren't there yet.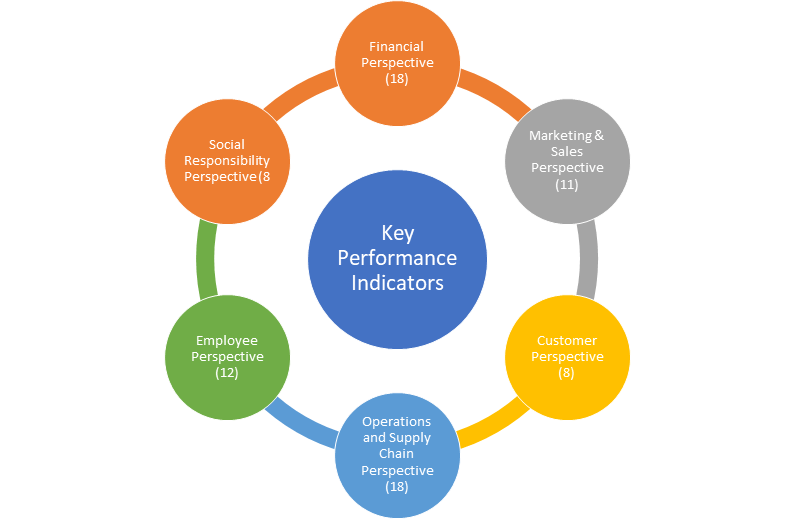 Instead of running around and driving yourself crazy, you should have a closer look at the above and figure out which are essential for running your business. If you can gather all that are applicable for your organization, you will have a framework which will display how the business or business units are performing. Keep in mind that not all are applicable, so you have to figure out which are the main levers that you can pull on to steer your organization in the right direction.
Here is a grasp of critical KPIs from the categories:
| | |
| --- | --- |
| Financial Perspective | |
| Net Profit | Net Profit is the sales revenue minus the total cost. |
| Gross & Net Profit Margin | Profit per Euro in sales. |
| ROI | Return on Investment |
| Cash Conversion Cycle | Length in time needed for an organization to convert resources into cash flow. |
| Customer Perspective | |
| Customer Retention Rate | |
| Customer Satisfaction Index | How well satisfied are our customers? |
| Customer Lifetime Value | Do we understand the depths and the financial value of our customers? |
| Customer Complaints | Do we truly understand the customers and their objections? |
| Cost per Lead | Are the cost per lead justified? |
| Conversion Rate | Are we able to convert potential customer into actual customer? |
Now, these are only a few of the Key Process Indicators that should be on your radar – there are many more. To be able to answer the questions per indicator, you need insights into your business performance. And guess what? You need DATA to do so.
Instead of pouring technological solutions into your organization trying to solve business problems, you should first start with the questions and define the data you need to answer those questions.
If you are stuck and need support to get started with KPI's definition for your organization, data integration, dashboards and provision of actionable analytics InterWorks is there for you and your organization.
In the next article, we will cover the real working of data integration and how to get started.
We are curious about whether you are already entirely using this approach in your organization. But also if not, and why not?