Have you ever faced problems through your working day? I mean issues related to broken things, things that don't work, disruption or interruption to IT Services? For example, have you ever dealt with internet interruption, or your computer didn't work, or your headphones were broken? If the answer is YES, ServiceNow platform allows you to forget all those worries.

What ServiceNow actually means?
ServiceNow is an application platform as a service. It is a cloud-based computing model that provides the infrastructure needed to develop, run and manage applications. Cloud-based means it resides on the internet – not on your local computer, giving you the advantage of accessing it from anywhere through a web browser, as long as you have an internet connection.
Data collection, storage, workflow automation, and reporting all occur within the same platform. So it provides a single system of records through one user interface for all organization's activities that make use of the system. The organization's data, applications, and customizations reside in a unique software stack called an Instance.
The access to the instance's features and capabilities is controlled by roles. The admin role has access to many essential system features, functions and data. The homepage that you see when you log in, depends on your roles and how your instance is configured. One of the system administrator's responsibilities is to assign roles to users. An individual user may be given multiple roles or may have no role at all.
There are several ways for users to report incidents: by email, through self-service, and via the service desk. Users can create incidents by email using the email address issued for their instance. Usually in the format instancename@service-now.com. When a user sends an email message to this address, an incident record is automatically inserted into the system. Another way for users to create incidents, without calling the service desk, is through the self-service homepage, or the service catalog. If your instance is set up with a service portal, users can also create incidents that way. After an incident is submitted by one of these methods, it's usually automatically assigned to a group and/or users, based on assignment rules.
How an incident is reported?
Users create incidents to report an interruption or reduction in the quality of an IT service, for example, email. Incidents are also used to notify IT or local hardware or software issues, like a network printer malfunctioning or a laptop's screen not working.
A user can report the incident with the help of the ServiceNow platform. That procedure is the following: the user calls the Service Desk and reported, for example, my laptop isn't working or my outlook is down. In that situation, a user needs to mark an email to Service Desk with a detailed description related to the issue. Self Service has a huge role. Users just go to ServiceNow and there is a Self-Service page for the end-users and they can submit the incident over there. This is how reporting an incident visually looks like:

Incident process
You surely wonder how the incident process goes. First of all, we need to have a user having a problem at work and for resolving the issue, he/she needs to submit the incident first. Second, the incident gets assigned to an appropriate group. In this situation, an IT Agent starts working on the incident and then the incident gets resolved. This is how the Incident process visually looks:

If there is more than one incident with a common underlying cause, you might create a problem to analyze and identify the root cause. For example, multiple users reporting issues with desk phones could point to a problem with the network or the IP phone server. When the root problem is closed, all related incidents are resolved.
With Service Catalog you can solve the problem faster!
The service catalog offers even more choices. For example, you could order Hardware, Software, or Services, such as documentation, printing or shipping. On the ServiceNow platform, a Service Catalog facilitates request management by controlling who has access to which goods and services. Additionally, it allows users to order items for themselves or others, select options, and track orders.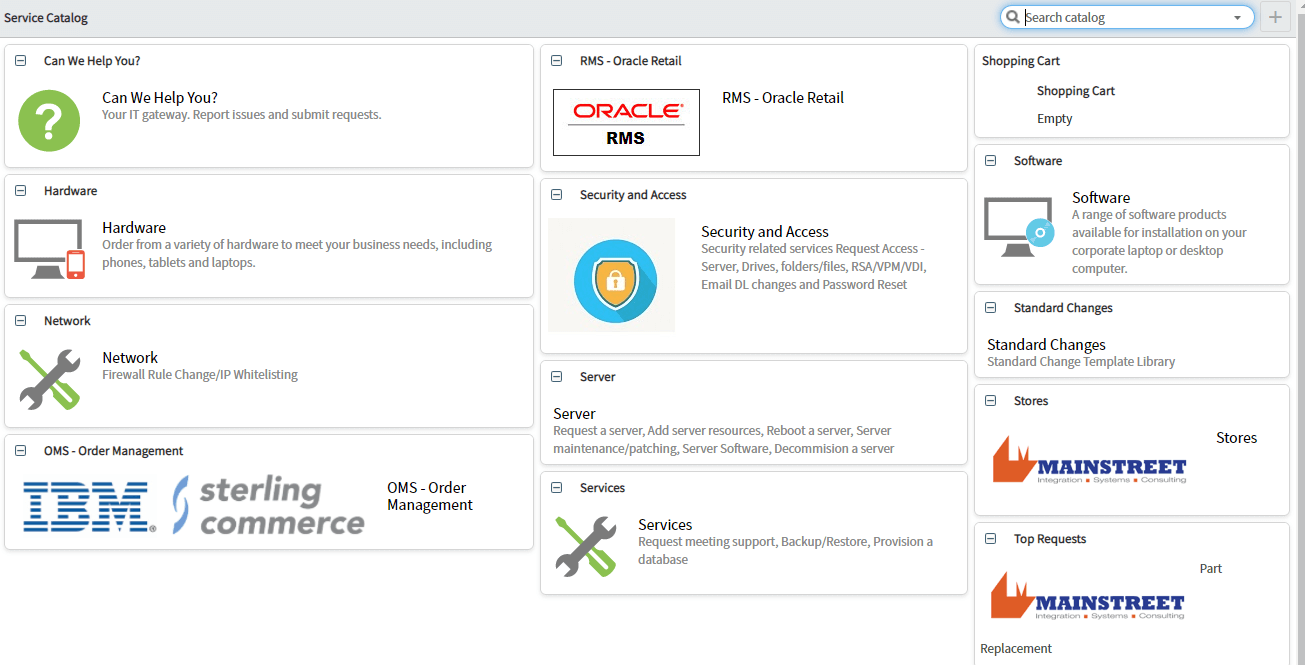 With ServiceNow asking for help is easier than ever.
Let's suppose that you come to work in the morning and when you open the mail, you have a lot of unread emails. You started to read, but unintentionally you deleted an important email message from your manager, and desperately you need to get it back. At that moment I suppose you'll start to panic. But wait a minute! With ServiceNow Catalog, there is no need for worries!
ServiceNow offers you help! There is an easy way for creating the Incident. Through Service Catalog, you can describe your problem and ServiceNow admins will resolve it in the shortest possible time.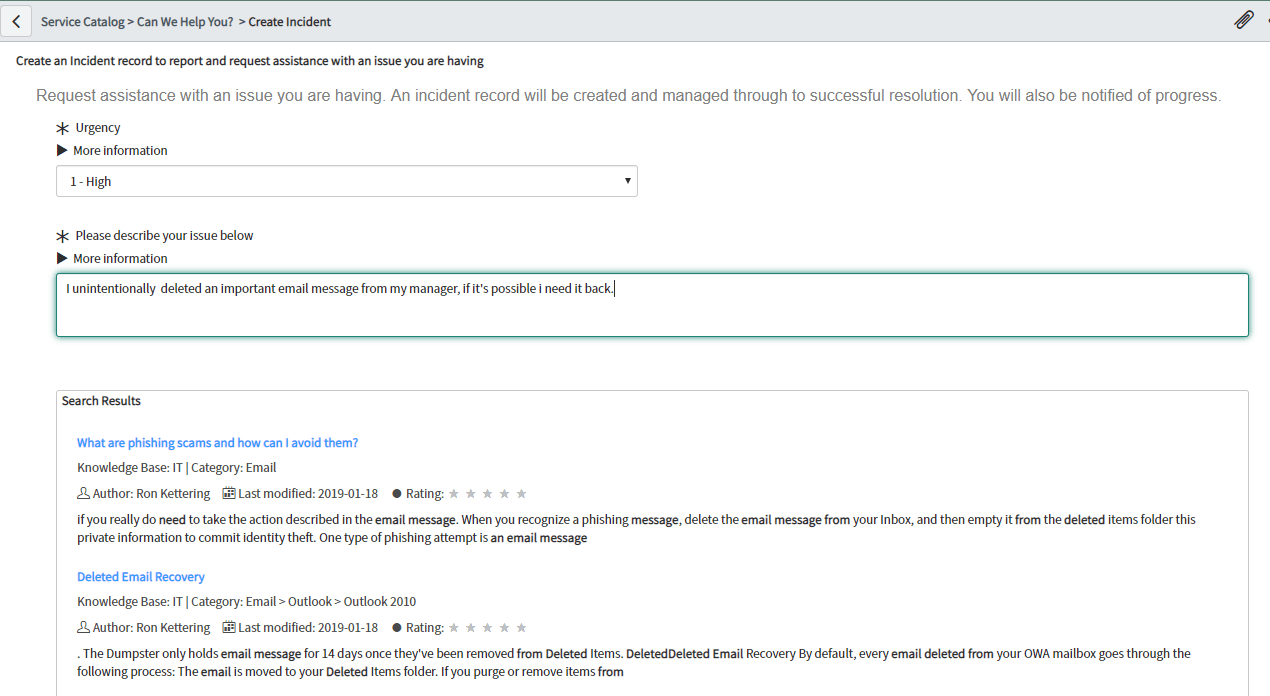 After creating the incident, people who work for ServiceNow, receive the email notification of the new incident and assign it to them. They can resolve this kind of ticket with help from a knowledge article. Related search results give knowledge articles to the users, with instructions that help the user in resolving the issue.

What is JIRA?
JIRA is the center of software development projects, connecting people, tools, and activities to help you make great products. The dashboard is your go-to place to stay updated on what's happening, whether it's been hours or days since your last check-in on work. Issues are the heart of JIRA. They can be simple tasks, software defects, or even new features or requirements.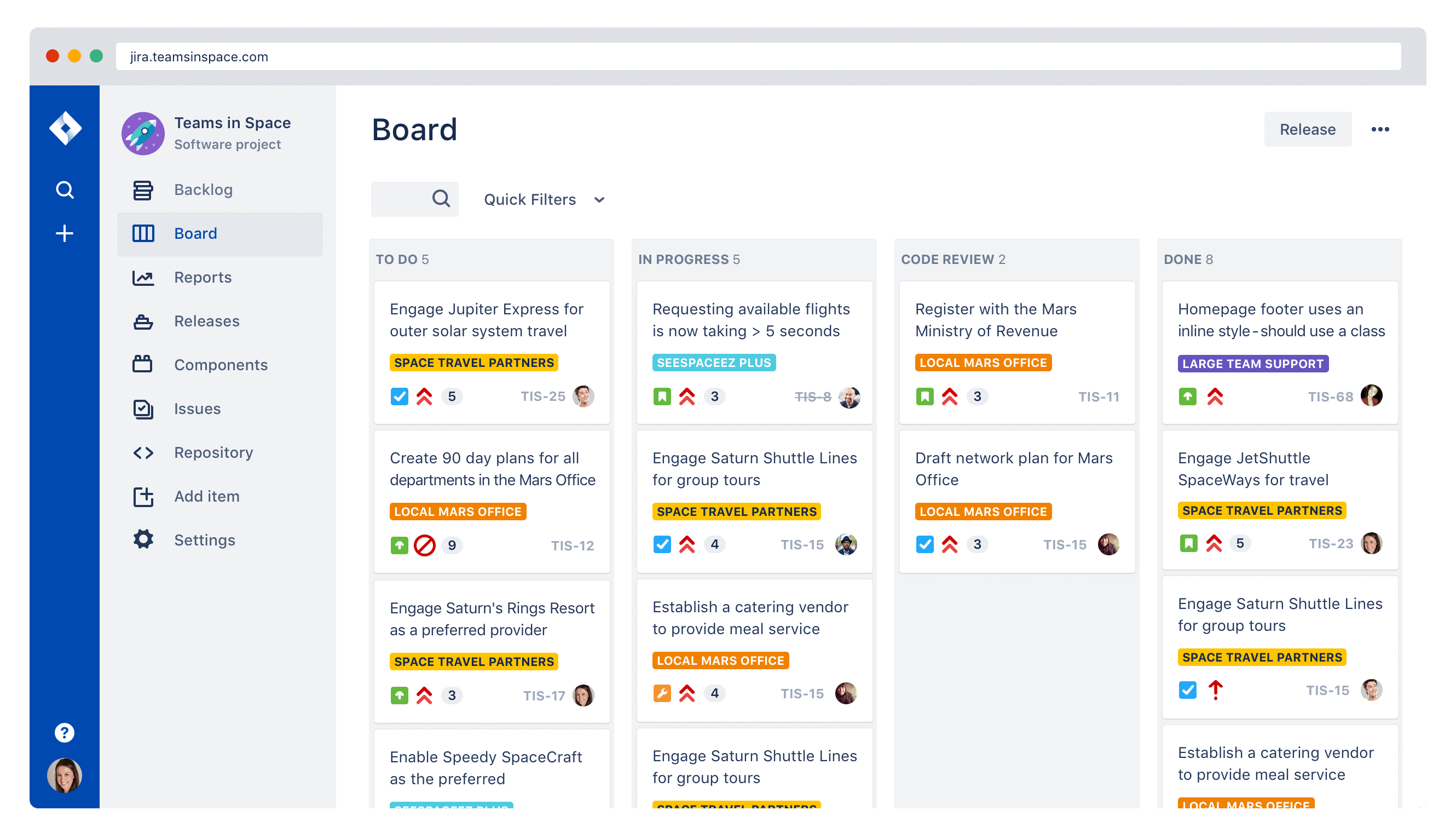 What is ServiceNow?
ServiceNow is a software platform that is used to support IT service management as well as to automate business processes. The powerful IT management application can take care of every issue and IT process or operation. ServiceNow is comprised of modular applications that can differ by instance and user.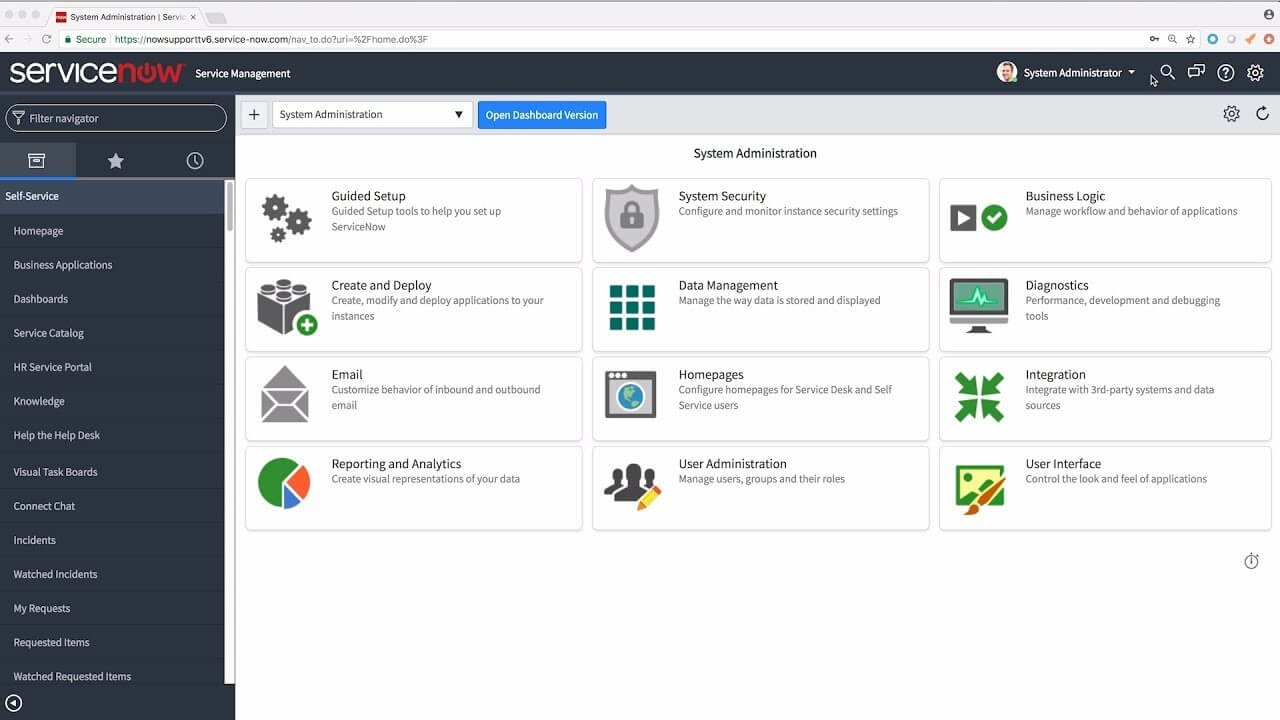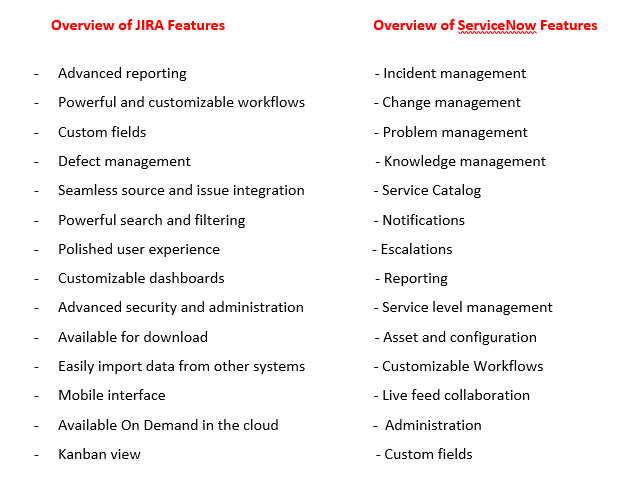 What ServiceNow has to offer?
ServiceNow offers full ITIL coverage with multiple modules specific to service desks: incident and problem, service catalog and request change, configuration management database, service level, service portfolio, social IT: chat and live.
ServiceNow has basic reporting and dashboard capabilities.
ServiceNow releases a new version twice a year. The last version of ServiceNow is named "Madrid version".
ServiceNow has been a leader in the ITSM field for over 10 years.
ServiceNow is only available on the cloud.
ServiceNow's license fee is $100 per user per month.
What Jira Service Desk has to offer?
Jira Service Desk has the most important out-of-the-box features: great service level agreement, request types, reports, queues, workflow, permissions, roles and more.
It is easy to manage and configure it, and you don't need expert assistance to start Jira Service Desk.
Jira Service Desk provides three to four major releases per year.
Jira Service Desk is available on cloud and on premise.
Jira Service Desk starts monthly of $10 for up to 3 agents.
Jira Service Desk's admin interface is very powerful, flexible and can be easily configured to support the IT team.
Maybe you are asking… which one is better to choose?
JIRA Service Desk or Servicenow?
If you have limited needs or requirements, I recommend using JIRA Service Desk, especially since the platform can be easily scaled up and expanded to support more users and features.
Also, if you want to save money, I suggest using JIRA Service Desk, because it's much cheaper compared to ServiceNow.
But for Organizations that are looking for a more structured focused solution – ITSM( IT Service Management) and ITIL( Information Technology Infrastructure Library), I suggest choosing ServiceNow's service management platform.
Both platforms are excellent in their integration capabilities, so either solution will help you in your business development.
If you want to grow your business, you need to use an open platform with technology space, that is agile, flexible, effective, easy to use and allows any generation to be involved and collaborate to grow a business!
---
Author
Stefani Dimeska