As developers, we constantly find ourselves buried under an avalanche of thankless tasks that stifle productivity. Documentation, the tedious scribe work required to memorialize the blood, sweat, and tears from each project completion, often triggers exasperated sighs across organizations.
While comprehensive records provide immense value, traditional manual documentation processes sap precious time and energy. In the world of software development, how can we slay this dragon of drudgery?
Well, as it turns out, we've actually built a 'remedy' for our own pains. And we call it Pete, a sword and shield purpose-built virtual assistant by developers, for developers, to conquer documentation's kingdom of busywork.
Let's start exploring all the possibilities.
The Time Before Pete
While developers dive headfirst into their next big challenge, crucial information about the previous project remains siloed in their minds or scattered across repositories. This lack of accessible documentation creates headaches for future maintenance, support, and additions.
After years working as Snaplogic architects and developers, our team found itself spending an enormous amount of time manually creating documentation after finishing each project. And naturally, as any technical people driven to automate repetitive tasks, we saw an opportunity to alleviate this documentation burden. This led to the creation of our virtual assistant Pete, born from the necessity to optimize workflows around document generation and management.
The Importance of Effective Documentation and Process Improvement
Our practice shows that even marginal improvements across the software development lifecycle – from gathering requirements to deployment – can significantly boost overall efficiency and output. Comprehensive documentation plays a pivotal role across all stages, providing critical knowledge sharing between developers, QA, project managers, support staff, product owners, and business analysts.
By automating documentation through our virtual assistant Pete, organizations can realize tangible benefits:
Significant cost reductions by eliminating manual documentation efforts
Improved standardization of documents across projects
Enhanced cross-functional collaboration with easily accessible information
Streamlined onboarding of new hires with standardized documentation
Simplified maintenance and support with searchable documentation repositories
In our experience, there is no organization that isn't focused on incremental improvements and documentation efficiency to their software development processes. Even small enhancements can lead to major gains in productivity and output when implemented thoughtfully.
Core Features and Benefits of Pete
Pete is an automation virtual assistant that comes packed with features designed to save time and transform documentation in a Snaplogic environment:
Automated generation of dependency diagrams in PNG and editable formats
Intuitive user interface for simplified navigation
REST APIs and Snaplogic snap integrations
Native compatibility with CI/CD pipelines
Together these capabilities enable game-changing reductions in document creation and documentation timelines. Rather than manually documenting projects over weeks or months, Pete empowers users to auto-generate the same materials in minutes or hours.
For organizations relying on Snaplogic integrations, Pete also ensures consistency across projects through standardized templates. This simplifies onboarding by allowing new hires to quickly get up to speed on any project's documentation. When issues arise, the ability to easily search documentation repositories also improves maintenance and support.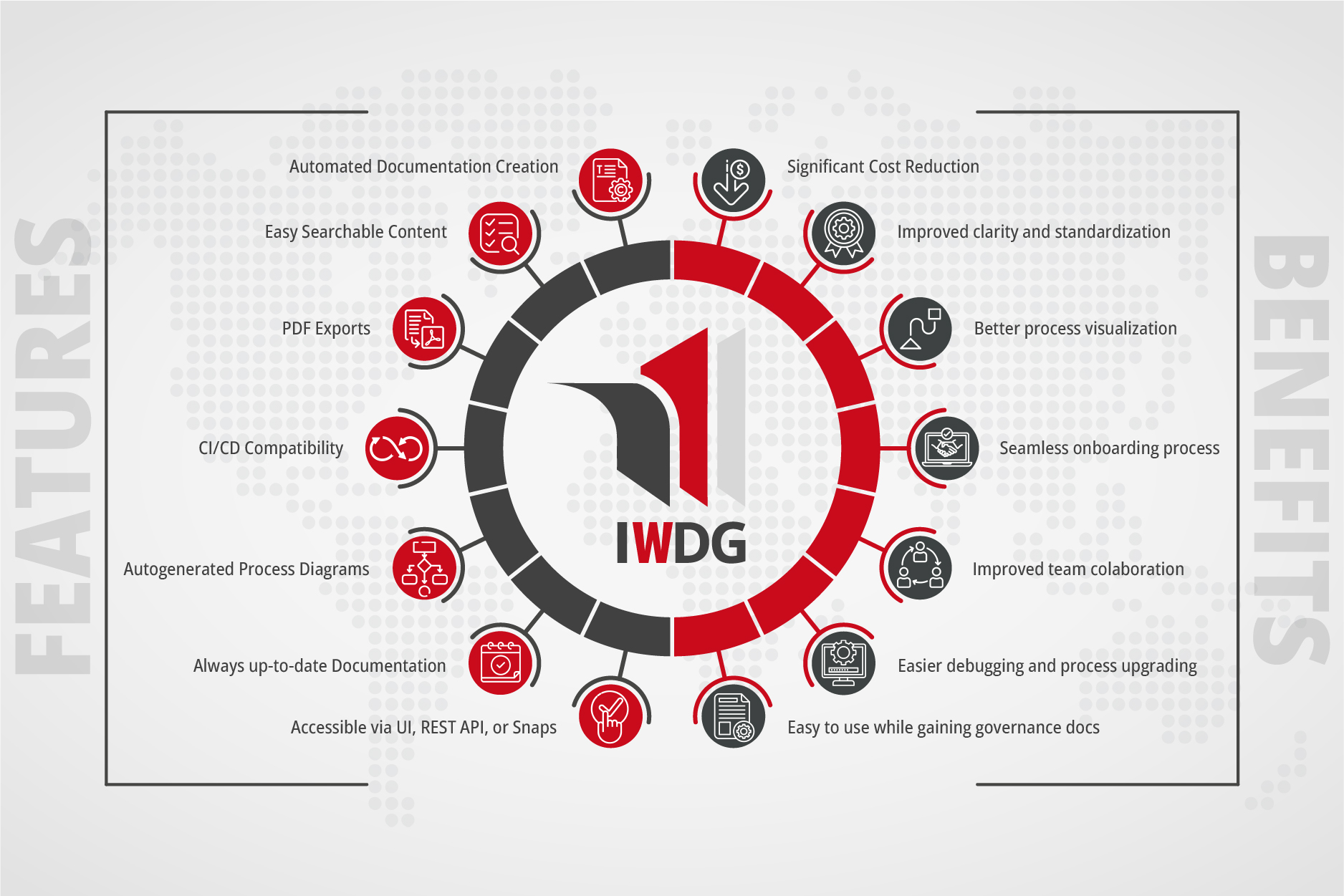 Keeping Documentation in Sync with Production Environments
A common pain point in manually generated documentation is keeping it aligned with the current production environment, especially as iterative improvements cause deviations over time. Pete provides two pathways to enable auto-refreshing documentation mirrored to production:
Integration with CI/CD pipelines, triggering documentation regeneration on each deployment
Scheduled connectors to regenerate documentation on a cadence aligned with deployment cycles
For teams with mature CI/CD practices, integrating Pete provides an end-to-end automated flow from development to deployment to documentation. But scheduled connectors also offer a lightweight option to keep documentation fresh for teams handling deployments manually.
In both cases, Pete ensures documentation accurately reflects the current production environment – eliminating misleading outdated references. The tool's intuitive design also removes the need for extensive training. A simple 30-minute demo session provides enough context for any user to start efficiently generating documentation.
Current Use Cases and Client Experiences
The virtual assistant Pete is already being utilized by clients and partners who validate its ability to streamline real-world documentation needs. Their enthusiasm is encouraging, as is their willingness to provide suggestions to expand Pete's capabilities. Direct user feedback enables us to rapidly iterate and refine Pete's features to better address pain points.
As the tool continues to evolve, we actively invite additional organizations to pilot the tool across their Snaplogic projects. Our goal is to make Pete the go-to solution for anyone using Snaplogic to maximize efficiency around documentation. Even through initial testing phases, we are confident Pete will surpass expectations around traditional manual documentation methods.
The Struggle is Real: Challenges of Poor Documentation
Onboarding new members becomes a time vortex without comprehensive records. Instead of quickly getting up to speed, new hires get lost in a maze of fragmented information. For existing members, responding to basic questions eats away time better spent on core work.
When changes are needed, developers waste hours chasing context across dispersed sources. Similarly, leaders flying blind risk making decisions without considering the spiders' web of interconnections. Even straightforward mapping requests divert focus for developers scrambling to piece the puzzle back together.
Maintaining meticulous documentation is no longer optional – it's an imperative for operational agility and cross-functional alignment.
Small Setup, Big Results: Get Integrated in Just 10 Minutes
Transitioning to the virtual assistant Pete couldn't be smoother. With simple accounts on Snaplogic and Confluence, you're set up in less than 10 minutes. Snaplogic only needs read-only access to pipeline data, nothing fancy. Link this basic account to your virtual assistant Pete and presto – you're connected.
For publishing, generate a Confluence access token with write permissions. Plug this into your virtual assistant settings and automated documentation is at your fingertips. With barely any setup, you can embed documentation into normal workflows for huge efficiency gains.
3 Real Wins Unlocking Team Potential
The benefits across the board are immense. But here are 3 powerful ways Pete amplifies performance:
1. Accelerated Onboarding with Project Diagrams
For complex projects, diagrams bring everything into focus. Instead of trudging through a tangled maze, new hires have aerial views guiding them. Onboarding transforms from a time vortex to a fast track with clear visualization.
2. Strategic Decisions with Account Summaries
Leaders can only steer projects prudently when armed with insights. Pete provides helicopter views into integrated accounts and tasks organization-wide. With all variables mapped, leaders drive decisions knowing the ripple effects.
3. Streamlined Coordination with Mapping Documents
Fulfilling mapping requests used to derail developers. Now with Pete, prebuilt Excel files simplify coordination. No more scrambling to recreate puzzles for stakeholders. Updates are available in a few clicks without disrupting flow.
Racing Ahead of the Curve
Behind the scenes, the virtual assistant team charges ahead with enhancements based on user feedback. Recent upgrades include on-premise Confluence support, summary pages, and slick PDF exports.
But we are not resting on our laurels. Upcoming innovations like AI-powered insights and SharePoint integration demonstrate our commitment to helping teams thrive.
By continually upping its game, Pete stays ahead of the curve. With users steering product evolution, it's bound to transform workflows now and in the future.
Here at IWConnect, we firmly believe the best products are forged through close partnerships between developers and their users. Maintaining open communication channels ensures we can rapidly respond to user needs, while proactively looking ahead to upcoming challenges. With an attentive ear to clients, Pete will continue maturing as a cutting-edge solution tailored specifically for documentation and knowledge management within Snaplogic.
Conclusion
In our quest to maximize efficiency and output, documentation's draconian demands often fall victim to the time crunch death spiral. Yet its importance cannot be overlooked, as organizations sans documentation operate in informational silos ripe for disruption.
Pete strikes the perfect balance between comprehensive records and automation, providing speed without sacrificing quality. As development teams continue benefiting from the capabilities of the tool, they edge closer to the holy grail of software advancement – more time innovating, less time documenting. When the right tools eliminate drudgery, developers and their organizations reap the rewards through compounding gains in productivity and output.
And with minimal setup and maximum functionality, it makes documentation painless. Automated records ensure critical information stays accessible and up-to-date. The outcome? Lean and agile project execution.
Still skeptical? Test drive it yourself. With responsive support and free trials, you have little to lose but productivity to gain. Don't get stuck in old paradigms, take control and simplify documentation today.
FAQs
How does Pete maximize documentation efficiency?

Pete maximizes documentation efficiency by automating the entire process. It helps to generate accurate documentation in real-time, which saves time and effort. Additionally, it provides full visibility into the documentation generation process, ensuring that all requirements are met.
Can Pete generate documentation in PDF format?

Yes, Pete can generate documentation in PDF format. This allows users to create professional-looking documents that can be easily shared and accessed.
Can Pete be used as automation software?

Doxcelo is automation software specifically designed for documentation needs for your Snaplogic projects. It helps streamline the documentation process and reduce manual efforts.
Does Pete provide full visibility into the documentation generation process?

Yes, the tool provides full visibility into the documentation generation process. Users can track the progress of documentation generation and ensure that all requirements are met.