As a client, it is vital to see what is happening when potential customer interacts with the website. That is just a way to glean insights on what is working and what is not on the site. Effective example of this is screen recording software, which records sessions, as soon as some user starts interaction with the site. Even though that kind of software can offer a lot, how can you choose what to look or what to analyze? How to separate valid data from the noise? There are analytical tools that can help in getting all the important data about user behavior or website issues. ⋮IWConnect uses one such user-behavior analytics tool, Mouseflow, to help clients develop more accessible and practical website where users will have better experience.
What can we do with Mouseflow?
Mouseflow is a powerful user-behavior analytics tool that helps you track clicks, scroll behavior and mouse movements on a website. From those recordings, various heatmaps are being generated. Using this outline tool, we helped our clients improve usability, boost sales and increase conversions rate by providing visual analytic and heatmap reports. Also, it helps them understand everything about their website visitors. It is certain that Mouseflow shouldn't be mixed with Google Analytics because they make different types of websites analyses, but both can be added as extensions on the website. Unlike Google Analytics, Mouseflow lets us see where the visitors click and even how they pay attention to the webpages. It offers the standard session recordings, form analytics and surveys to collect information from visitors on certain pages. There's also a "funnels" feature that makes it easy to find specific sessions that dropped out of the conversion funnel and watch those recordings to see what went wrong. All features work automatically when Mouseflow is added to the site. Mouseflow also has options for securing user's sensitive, personal information like home addresses, business addresses, credit card numbers, account numbers, etc. Mouseflow itself hides some information, but it also lets us configure and hide information by our choice.
Mouseflow features
The dashboard gives us a perfect overview of Mouseflow's useful features: Session Playback, Heatmaps, Funnels, Filters, etc.
The session playback feature is useful to record all the visitors' activity on the client's website. It shows limited number of session's playbacks, which are based on the plan that we have chosen. The page to page tracking allows us to follow each visitor's movement within the website and also allows us download the data for offline use.
The heatmap tool offers five different types of heatmaps to track visitors' behaviors on the website. They are movement heatmap, click heatmap, scroll heatmap, Geo heatmap and attention heatmap.
Funnels lets us build reports to see how visitors throughout a journey and gives us the possibility to watch sessions of visitors that drop out. This helps to improve the website performance. They show us how visitors browse from page-to-page.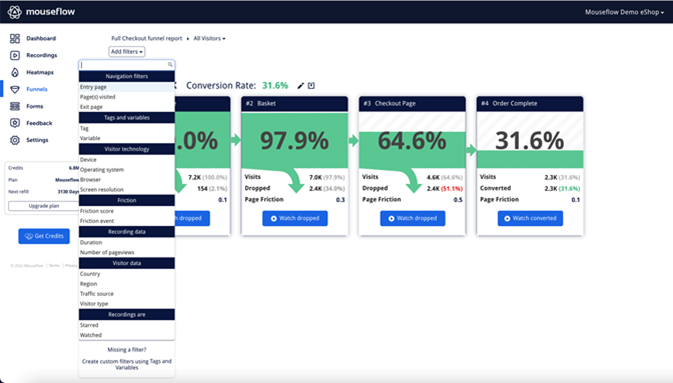 Mouseflow has powerful filtering feature that allows us to extract the most important data so the website can be improved immediately. The live filtering feature allows us to get the glimpse of the most important data in real-time even without require waiting for the report.

How Mouseflow helps with improving the website performances?
Mouseflow has wide range of useful features that offer different analyses and statistics. From the experience, one of the most useful feature is the filter. With the filter, we can set the particular conditions about the website that we are interested in. Here are some of them:
We can set country as a filter, operating system or browser from which the site was accessed. In addition, there is possibility for choosing the device, to see how users behave when accessing the website from mobile or tablet. With that filter, the client can see every anomaly that may appear when opening the site from different devices.
There is possibility for setting the time duration of the sessions or the number of pages per sessions (minimum and maximum pages opened in session).
Other very important thing about filtering the recordings is the part where one can select navigation type. Selecting the navigation type is very practical because it allows the client to filter the sessions by the pages that were visited, like choose particular entry page of the session or check sessions that contain some page, sessions that do not contain specific page or check sessions with particular exit page. This can help the client to see the user's behavior on pages of interest, without spending a lot of time in checking unnecessary Mouseflow sessions.
The last type of filters are tags. There are already created tags that are set to some recordings. One of them is the click-rage tag. Recordings that have this tag, usually implicate to pages that have some problem with the navigation, redirection links, buttons that do not trigger any activity, etc. Other tags that can be found there: click-error, interaction, submit, etc. The client can also create and add tags on the sessions. After setting some of the filter, Mouseflow also offers saving the chosen filters, so we can use them another time, with different sessions and also we can get a real-time alert when occurs that kind of session.
Mouseflow can help the clients a lot with the analysis and the statistic that are made with the information from the website. That way, the client can see the statistic about interactions, visits and conversions on the site. Also, it is beneficial that Mouseflow offers statistic when it comes to the forms in the website. Client can see with which fields users have problems fulfilling them, how many interactions are made with the form, how many of them are submitted or how many have been dropped.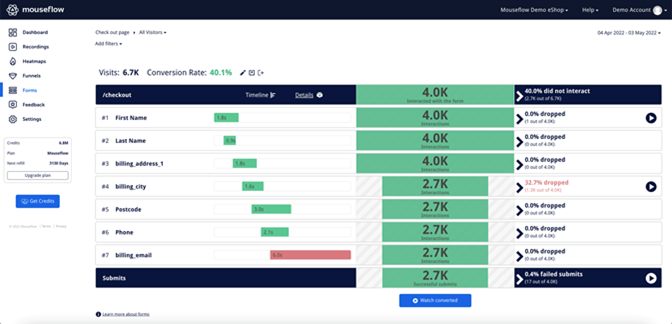 It is very important that Mouseflow makes it easy to edit domains, take a sample, or exclude certain traffic. Another positive characteristic is that working as a part of a team or with clients is made easy. Mouseflow lets us add multiple accounts and manage custom permissions. This makes it easy to collaborate with co-workers, clients, and other stakeholders.
Why Mouseflow?
Mouseflow is not the only tool that can be used for user behavior analysis. Our team carefully compared all tools, their features, price and support before choosing Mouseflow. We made comparison between Mouseflow and other tools like Hotjar, FullStory, Smartlook, ClickTale and here are some of the Mouseflow advantages:
Most important Mouseflow advantage over some of the other user-behavior analytics tools is that Mouseflow offers features like Geo Heatmaps, Feedback, Click-Error & Click-Rage detection, HTTPS/SSL/AJAX support and is free to try
Mouseflow offers phone support compared to some of the others that does not. Also Mouseflow seems to offer many more integration options
Most of the competitors does not offer Heatmaps – at least, not in the color-coded "cold and warm" style of reporting that Mouseflow offers
With Mouseflow can be extracted the recording data, page analysis data and statistics through the API
It is important that Mouseflow has better usage coverage than other user-behavior analytics tools, it covers more websites categories including Business & Industry, Shopping, Internet & Telecom, Arts & Entertainment, etc.
Conclusion
From the experience with the Mouseflow, we can say for sure that Mouseflow has a great deal to offer. Heatmaps, statistical information regarding the webpage and user information fuel this powerful tool making it worth the exploration of using the tool immediately and then see how users are accessing your webpages. Making a quality report also needs a good analyst eye for catching the issues that may appear. Fortunately, with all the features that Mouseflow offers, it is easy to find what we are looking for, analyze all the important session and extract those that are unnecessary.
Author
Natalija Dimovska
Latest 5 posts from Natalija