In my previous article we discussed Master Data Management in general. We explained what Master data is, discussed enterprise data types, master data problems, master data management and its benefits. This article will cover a selected use case that depicts the Master Data problems in an enterprise, the solution our team implemented and the benefits provided.
Problem
The client – a large national wireless service provider used several disparate systems for master data management and storage. One of the biggest problems was to successfully integrate data from multiple data silos into a single view. The problem of having multiple versions of "truth" is basically one of the most common obstacles to establish effective information management practice.
The master data in the company was not satisfying high level of standardization and enrichment. Version conflicts, age of the data and item duplication were impacting the quality and management of the data in significant portion.
In order to effectively integrate data in the business environment, there was a need to track history of data changes to enable end users to understand data contextually and apply consistent data governance.
A lack of standardized and repeatable processes for data imports, editing and propagation was identified as one of the most important problems in enterprise master data management.
Solution
Aware of the situation, the client was looking for a centralized solution that will be able to identify erroneous master data that needs resolution (in order to yield "single view"), mechanisms to clean up master data at source and provide resulting output (clean master data) that will be used in business applications.
TIBCO MDM platform
TIBCO MDM has been prescribed as middleware layer that guarantees MDM data is reliably delivered to each of the subscribing systems. TIBCO is one of the leading business integration and process management solution providers. TIBCO MDM platform establishes harmonized central repository and point of reference for all types of master data, by building an independently distributed Master Data layer, outside of monolithic systems (as ERP or SCM systems) and synchronizing relevant subsets of that data with downstream transactional platforms and trading partners. It provides a single platform for all types of master data. Master Data is not just simply stored, it is also modeled and governance processes and rules are executed to manage the introduction and flow of information so that clean data stays clean.
Canonical master data model
The first part of the solution was to define a single enterprise-wide canonical product and location master data model. This helped to establish master data strategic catalogue for all products and locations in the enterprise across all business lines.
Master data migration
Next step was to migrate product and location data from the old master data management system to the new solution, to address the needs of all lines of business and customer segments.
Master data propagation channels
Our team also created mechanisms to deliver master data into other applications using different channels, rules to be used during master data imports into the MDM database, custom workflows etc.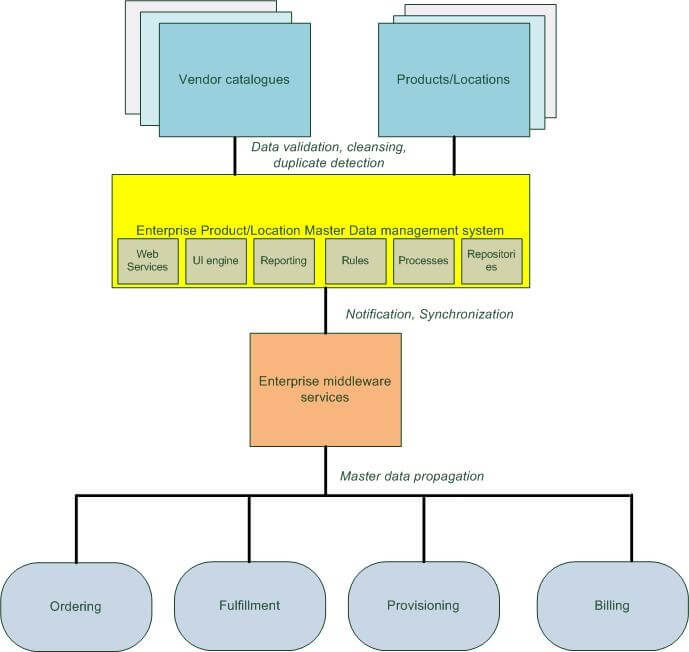 Figure 1: TIBCO MDM-based solution
Benefits
The implemented solution consolidated and harmonized master data, resulting in lower maintenance costs, optimized business processes and improved business decisions.
The solution provided singular trusted representation of each piece of master or reference data, and a protective layer of governance in the form of appropriate rules and processes to keep it trusted.
As a result, the client experienced improved ability to modify MDM data through various channels: Web UI, web services, JMS interface and batch/file import.
The solution also provided reinforced workflows for data modification: add/edit/delete, batch import and mass update workflows.
New MDM platform allowed automatic publication of product and location data specifications to all upstream/downstream applications, transactional and analytical systems managing fulfilment, service assurance, network configuration, billing and customer portal.
Conclusion
There is an obvious need to deliver a single, well defined, accurate, relevant, complete, and consistent view of master data across channels, departments, and geographies. Implementation of effective MDM solution in a company can lead to:
Establishment of operation environment for storage, maintenance and updates of critical master data
Single version of "truth" to all customer channels, front and back office systems through multiple interfaces
Elimination of data duplication, integrity issues
Reduced data entry points
Efficient master data management through suitable built-in workflows and processes that maintain clean, current and consistent product/location data information
Reduced data maintenance costs
Consistency in cross-system data across the extended value chain
Accelerated execution of business processes with significant reduction in product launch cycle times
Reduction in service assurance issues
About ⋮IWConnect
⋮IWConnect's MDM team has extensive experience in implementation and deployment of MDM solutions in large companies, where IT landscape is consisted of many disparate distributed applications with a mix of technologies and non-standard data storage methods, isolated data centers, complexities due to increasing number of point-to-point integrations etc. We implement the promise of consolidated, clean, consistent master data, feeding the operational and analytical systems and helping companies achieve single version of the truth across the enterprise. Our services provide reconciliation of data and business activities in the enterprise, expert recommendation about the choice of the right technology platforms and tools in order to establish proper data storage, modeling, automation of data integration and information sharing, improved overall organizational efficiency and reduced time to market.