Managing a team is never easy. However, there are some things you can do to get the most out of your team. Trello can help you organize almost everything, even your entire life. You can use it to manage all of your team's job responsibilities, regardless of the number of employees you have. Trello gives you a chance to control your projects in your team.
The Trello board has only four components, but comes with unlimited possibility:
A. Boards – This is the place where you can keep track of all information, it can be a project or a place containing all the information that you need. To say it in other words, the Trello board helps you in organizing team tasks and collaboration with colleagues and others.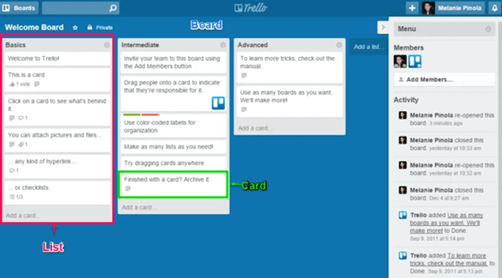 B. Lists – As the project progresses you need to have cards (read more about them in the following paragraph) neatly organized. Lists help you do that, and the ability to add as many lists as you want to the board makes Trello even more useful. The cards that I mentioned previously are in fact items and they can be dragged and dropped from one list to another one, and reordered within lists. One way to set up the lists can be by organizing the cards in three categories: To Do, Doing, and Done, all these categories denoting the phase in which the card is. All of them start from To Do and finish in the Done phase.
C. Cards – When you want to represent the tasks and ideas, you use cards – the basic units of the board. Adding cards is really easy, you just click "Add a card…" at the bottom of any list, give it a name and you are set to go.
D. Menu – As you can see from the pictures as well, the Menu is the place where you can add or remove members, change the settings, such as background, manage stickers and cards and Power-Ups.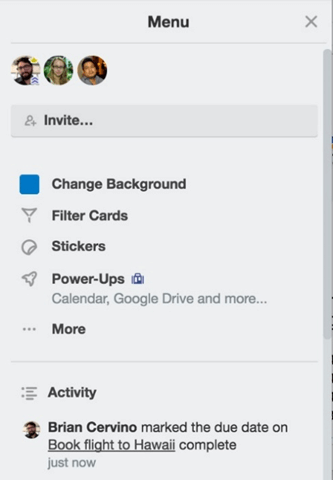 Boards are the places where projects get organized, and information is shared. According to Trello a "team" is a collection of boards and people that you can use to organize work.
Creating a board is easy!

After you create a board, you can start filling it with information, i.e. you can add lists, invite members, add more information, assign members to tasks, etc.: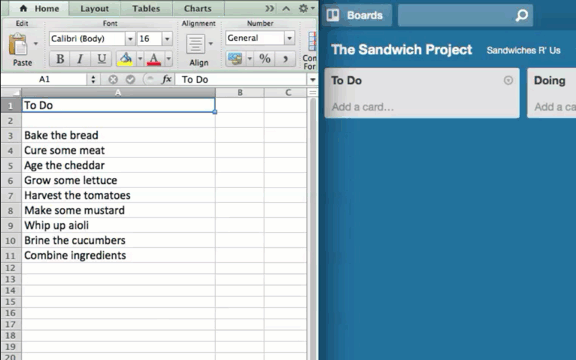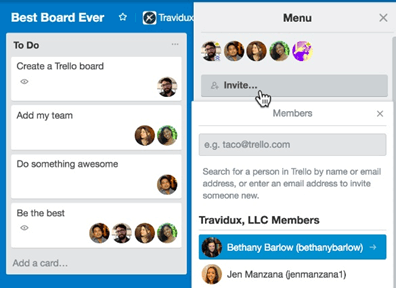 Additional interesting feature is the ability to transform the Trello workflow using privacy settings. You can make a board be Team Visible, Private, or Public.
a) When the board is set to be Team Visible the board is available and can be seen only by team members, meaning that all team members can view, join, and edit cards.
b) When the board is set to be Private the board is available only to its members.
c) When the board is set to be Public, it can be seen by every person that has a link to it.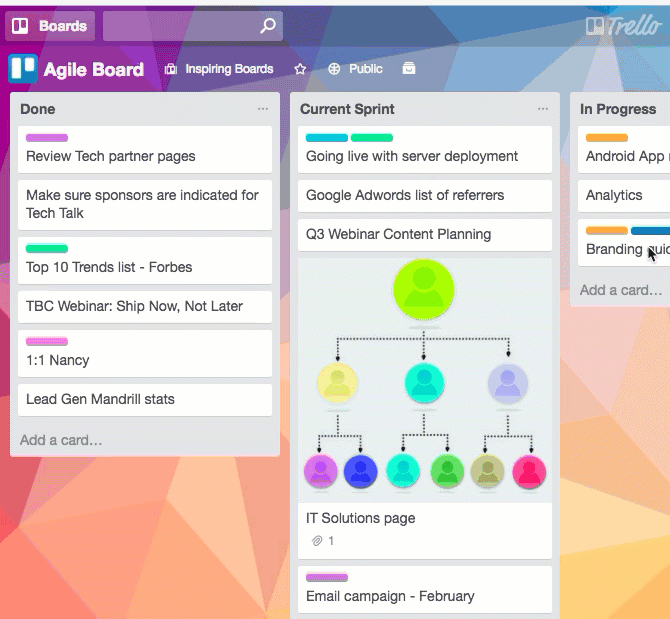 Trello has three items which are worth mentioning: card descriptions, comments and activities and adds.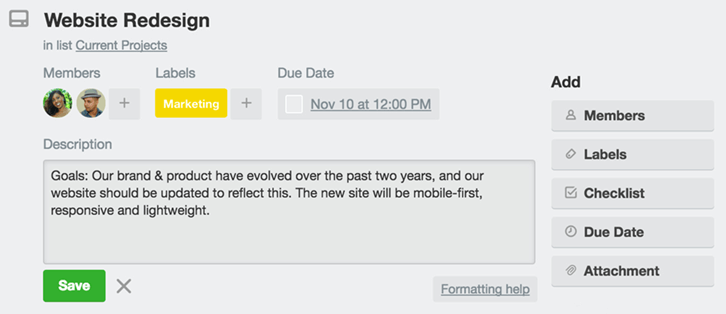 Card Descriptions – The description field gives you a place to add more specific information about your cards, such as links to websites, or step by step directions.
Comments and Activity – Comments are an important part of every project, especially when people work in a team. The comments can be added to cards when communicating and collaborating with team members, like giving feedback or updates. In order to give a comment about something and send a notification to that particular person, you should just type @ and then mention that member in the comment. Once you do this, the member will receive a notification in Trello. If you want to see all the comments and actions on a certain card, you can check the activity feed which serves as a timeline.
Add – The "Add" section provides you with more tools for the back of a card. You can Add Members to cards to assign people to tasks, and easily see who is doing what and what still needs to be done.
In cases when you have subtasks or multiple steps, you can use Add Checklists making sure that you don't miss anything. Besides this, you can also copy the checklists from other cards on the board and as with the comments, assign people to those items by using @ and typing their names.
Sometimes some of the cards have a fixed deadline – in those situations, you can use the option Add a Due date and card members will receive a notification 24 hours before the due date. Once you have completed the tasks, you can mark the due dates as done.
Trello also provides the option for adding attachments from PCs and cloud storage services by using the option Add Attachments.
Mission control center – You can find the menu on the right side of the Trello board and you are given a lot of options as showed below – manage members, control settings, and enabling Power-Ups.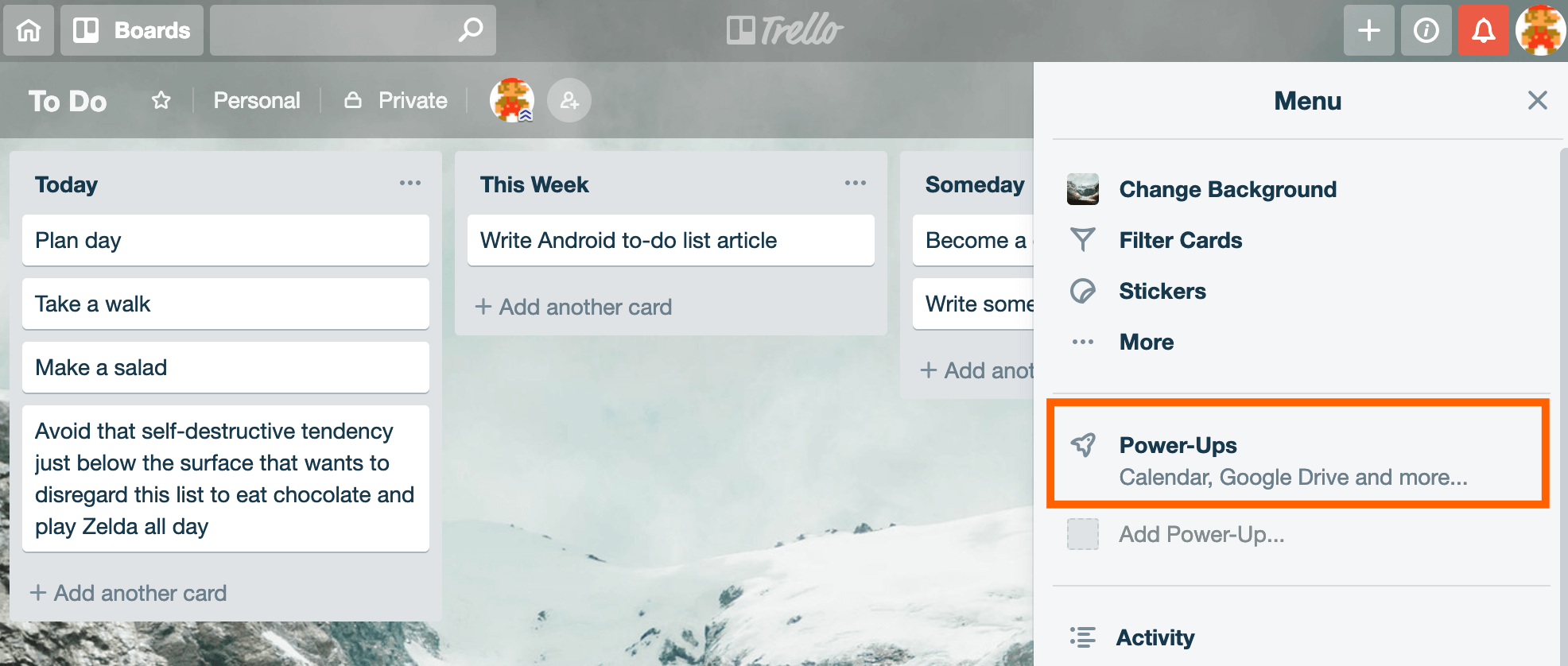 The Trello board can have even more functions, meaning it can have an upgraded version by using Power-ups. With Power-ups, you can have more functionalities and integrations to your Trello boards, you can customize cards, add automation, or get a new perspective on board with capabilities such as Custom Fields, Cards repeater, Calendar and more.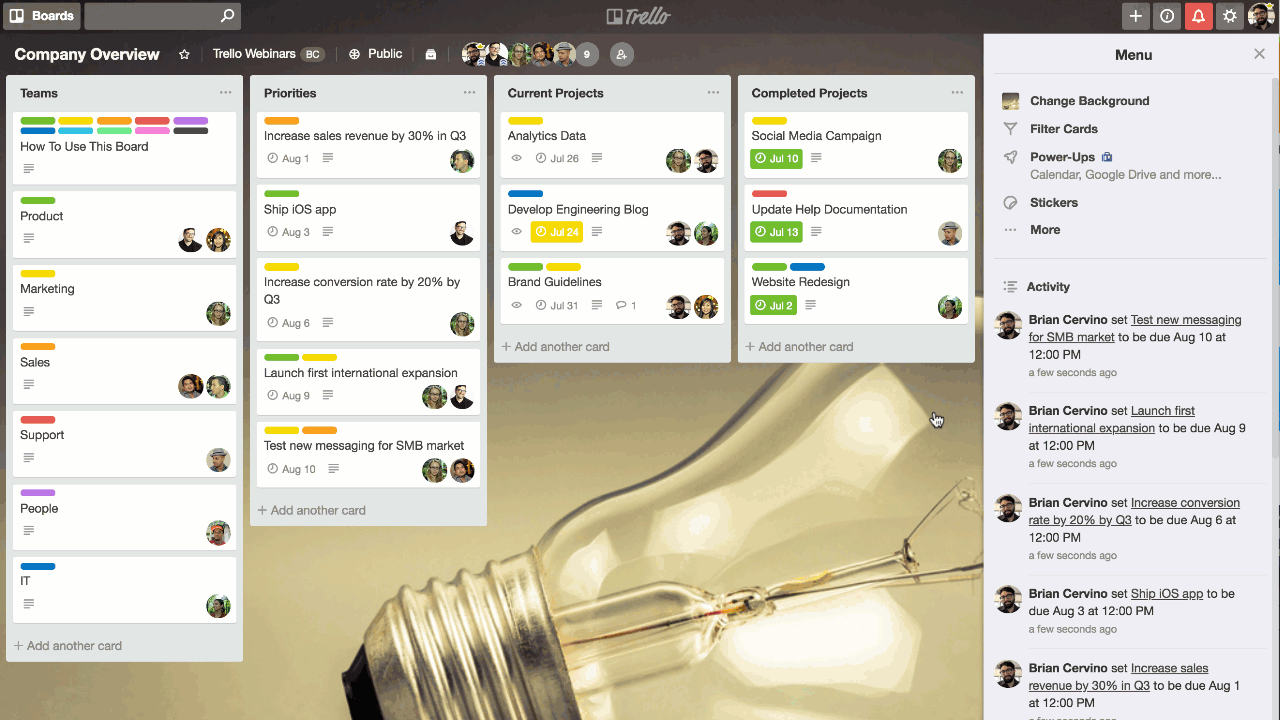 Besides adding Power-ups, you can even enrich your Trello experience by adding browser extensions, add-ons, and connectors. These additions do not have to be created directly by the Trello team, they can also be developed by third-party developers.

As you can see from the picture above, you can create new Trello cards from Google Calendar, Google Sheets etc., and you can even take a photo and automatically attach it to a Trello card. You can do this by using IFTTT connectors.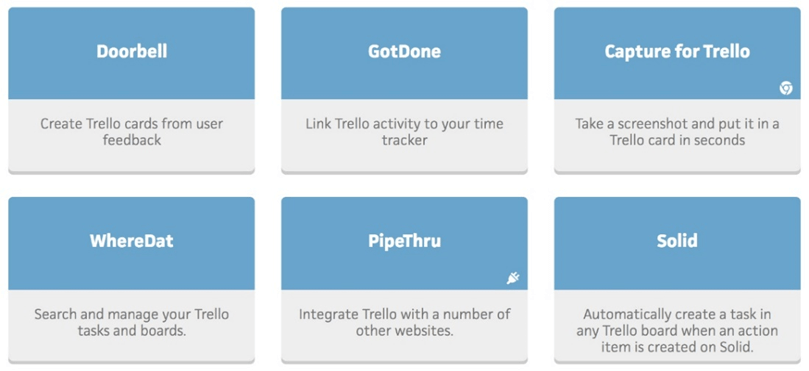 The uses of Trello can be many. Here are some of them:
Setting colored labels depending on the priority
An unlimited number of new cards
Handling group of cards in the list
Sharing files with your team members
Updating comments on a card
Keeping track of to-do lists
Advantages:
Card System and well-organized board – Each project has its own board, and each task has its own card meaning that the risk for confusion is nearly impossible. There are specific performance lists making the tracking of the assignments easier.
Clear Editing – Timely notifications about the cards with a due date – as the dates come nearer the card turns yellow, and once the date is passed the card turns red.
Collaboration – This aspect of Trello is really important because it allows uploading files from storage services such as Dropbox, Box or Google Drive. Additionally, it allows your entire team to be part of all discussions and to even send files, comment on tasks and assignments etc.
Uses of timeframes – As mentioned, Trello has Power-Ups which allow you to prioritize tasks with shorter deadlines, to assign operations, and to display the tasks depending on the status that they have.
Search database – Trello backs up relevant discussions of data and they are all stored in the system, meaning you can re-use them as needed. Since the number of files and labels will be high, Trello gives another option – search for your desired file by using the searching filters and you will reach it in less than a minute.
Security– the system is designed to comply with the highest security standards and uses a bank-level encryption mechanism to ensure your data will never fall into the wrong hands
Integrations – one of the best things that Trello offers is the integration with literally every third-party app/system, extension, or plugin because of its ability to work with public developer APIs.
Mobile Optimization – in times when almost every person is on mobile and there are many different devices, Trello follows the trend – it is optimized for every screen size.
Disadvantages:
No data connection, No Trello – You should be connected to the Internet so that Trello works.
Limited storage – As with many other services, you have a limit to the size of the files that can be uploaded, i.e. if you are a basic member you have an upload file limit of 10MB for each attachment, and if you are a Business-class or Trello Gold member you have an upload file limit of 250MB.
Difficult to handle big projects – Trello is more suitable for simple team projects or when you don't need to scale.
You don`t get a unified high-level view of other people's work – Trello misses some agile features
Cannot edit a comment in the card – Once you post a comment and save it, you will have to write a different comment rather than editing the existing one.
Cannot create share long-term plans – You cannot link a large roadmap objective to cards.
You cannot chart out a plan to review iterations
Conclusion
Trello is a great tool for easy-to-use project and task management, particularly those that are uncertain and have high variability. With its simple, yet well-designed user interfaces, it offers small teams an easy entry in the world of project management.
If you want to explore the tool and the various possibilities it offers you can try it for free on the following link, or contact us for best practices and demo.
---
Author
Marija Dimitrovska
Latest 5 posts from Marija