This post was originally posted on Salesforcemonday.com
After I passed the Salesforce Administrator exam on June 15th, 2020, I received a lot of messages about what to study and how to pass the exam.
This is the reason for writing the article. I hope that it will be a helpful guide for passing the Salesforce Administrator Exam. In this article, you won't find any dumps or specific questions from the exam, but some guidance from my side that I believe was helpful for me.
Exam Outline:
The Salesforce Certified Administrator exam measures candidate's knowledge and skills related to the following objectives.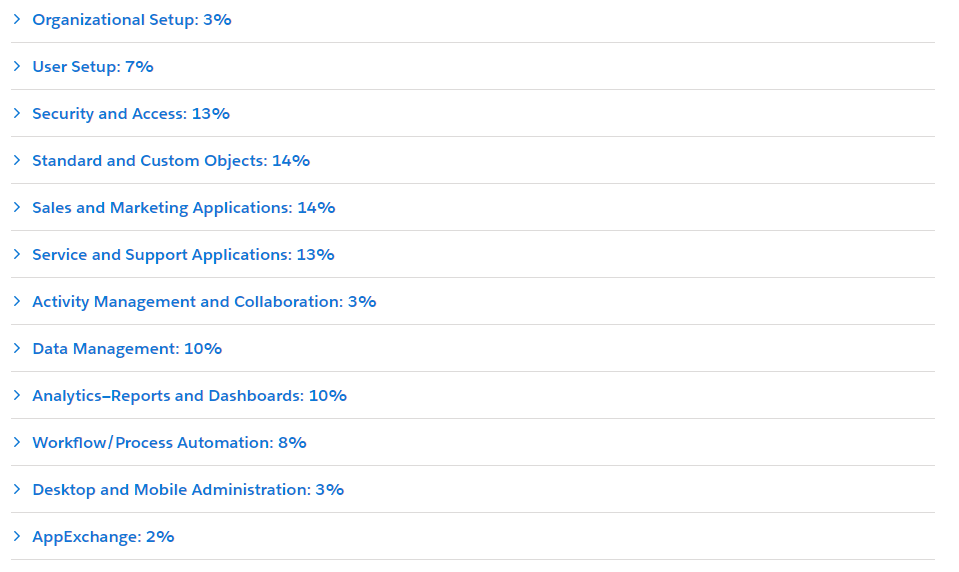 About The Exam:
The Salesforce Certified Administrator exam has the following characteristics:
Content: 65 multiple-choice/multiple-select questions
Time allotted to complete the exam: 105 minutes
Passing score: 65%
Price For The Exam:
If you are taking the exam for the first time, it costs $200, and retaking the exam is $100, but there are different ways to take some discounts on the price.
If you don't have a discount voucher, you can complete a superset by Level Up Challenge – you will have a chance of winning a voucher that can cover your exam.
Salesforce offers free webinars "certification days", where you can join, learn new things and receive a DISCOUNT voucher of $100 for every exam that costs $200.
Studying Materials:

In my opinion, the biggest part of taking the exam is the previously gained experience and knowledge from working on Salesforce projects. In other words, keeping yourself involved in the community plays a big part in passing the exam.
I encourage you to start with the learning and schedule your Salesforce exam. Just have confidence and believe in yourselves.
To all future Salesforce enthusiasts, I wish you all BEST of luck and a huge success!
---
Author
Sara Dimeska