We have had the pleasure of working with Slavcho for 15 years, and we value his contributions to our team immensely. Throughout his tenure, he has shown unwavering dedication and hard work, and we consider him to be a part of our family. We are particularly proud of the progress we have made in expanding our operations, such as the establishment of our Prilep office, which has grown from 5 to 31 employees in just three years. As we move forward into the next 15 years and beyond, we are excited to continue growing and innovating, and we are grateful to have exceptional team members like Slavcho to accompany us on this journey. To learn more about Slavcho Jankoski, our DevOps & Support Practice Unit Manager / Affiliate Manager for our Prilep Office, read on.
Do you remember the job interview you had at ⋮IWConnect 15 years ago?
Do I remember it? Of course, I do. That was my first job interview, and even though it was 15 years ago, I can describe every detail of the conversation we had. I even remember the furniture and the smell of the office where I had the interview. I remember all of this because I was pretty young (only 19 years old), and at the same time, I was making a decision that I had to bear with me for my whole life – beginning my journey in the IT world.
You are one of the people responsible for the opening of the Prilep office. When you look back do you feel proud of that milestone?
Oh, the opening of the office in Prilep was one of my biggest personal goals, smoldering and waiting for the right moment for its planning and realization. The movement of the IT market and the increased number of IT professionals were just other signals that I was on the right track. I must admit that when the idea was presented in front of the management team, it was accepted and saluted, and thought of as a great thing for the company, the city of Prilep, and its citizens. I am very proud of the realization because three years ago, the office began to work with only five people, and here we are today, with 31 family members with plans to grow even further in the period to come.
Share a moment you find dearest during these past 15 years.
After all these years spent at ⋮IWConnect, I can say that I am a built professional with knowledge of a wide range of technologies, many finished projects, and happy clients. There are many moments that have marked my successes, but I would like to point out that I am proud of building a team of professionals who are ready to answer any challenge they come upon. Following their progress and seeing how they solve problems and challenges they face daily helps me believe in people even more and confirms the saying "anything is possible when you have the right people there to support you."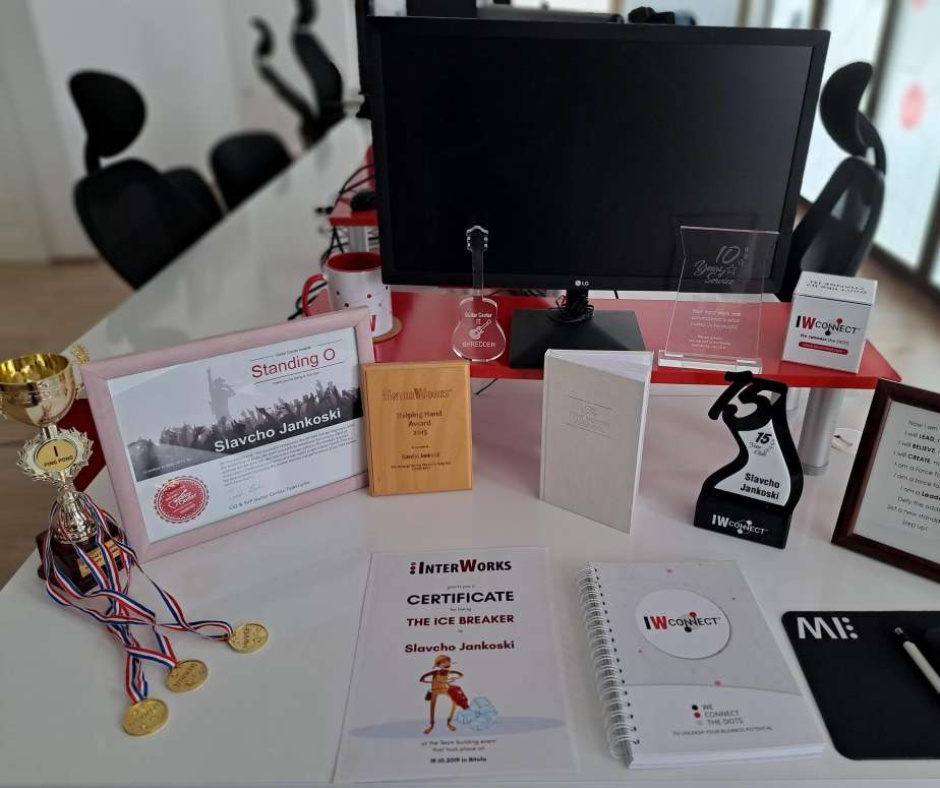 What is the one thing that kept you part of ⋮IWConnect for so long?
If you see it mathematically, 15 is not a big number because there are bigger numbers. Still, if you see it from a different perspective – 15 years multiplied by 8 hours a day spent with colleagues who have become friends, where we share success and failure together, 15 is a number to salute. I am glad that I made my success here in this company and have received nothing but support for progress so that we can grow together with the company. The energy, vision, mission, and opportunities the company gives me constantly, keep me here and made me come to where I am today. I will be honest to say that to achieve this kind of success, you need hard work, dedication, and sacrifice, but with colleagues and friends like those at ⋮IWConnect, I strongly believe that after a few years when we look back at what we have made, we will see that we have surpassed our expectations.