As disruptive technologies continue to gain momentum and our world is beset by unforeseen events such as the current pandemic, more than ever modern enterprises are under intense pressure to accelerate their digital transformation initiatives. Enterprises who have already started this value-add transformational process are on the fast track to improving and adding new value to their business and customers every day.
Automation represents one of the most important parts of the mosaic in achieving and maintaining digital transformation success. In fact, automation is the first step in going digital, where rote, repetitive, manual processes are automated such that your skilled workers can stay focused on the strategic projects that add value. The point behind automation is to improve efficiency, increase productivity, faster time to market, and remove any chances for error, which is accompanied by increased ROI. If we go deeper into enterprise automation, there are many reasons why you should start considering automation of your enterprise if you haven't already done it, some of which are the following:
1) Connecting multidisciplinary teams within an enterprise
– Big enterprises comprise more than 5 teams and/or departments. To be as efficient as possible, all of them should work synchronously and should have one centralized place for all activities and information within an enterprise. By using automation, establishing this connection, and centralizing the communication and information flow is fairly easy and all this positively influences continuity.
2) Improved efficiency, productivity and employees' satisfaction
– Nobody wants to do the same task multiple times, especially when there is a chance to make it automated. By automating the manual tasks done by employees, enterprises get satisfied employees who can focus on more strategic projects, which results in better efficiency and productivity, and saved time.
3) Better control of the business
– Automating your business will make you aware of all the processes going on within your enterprise in all their states, i.e. current and previous, and allows you to make informed decisions by having all information on the palm of your hand. Furthermore, automation enables business owners to track the performance of their business and predict future events.
4) Increased accountability
– When multiple tasks are happening at the same time, it is really hard to track who is doing what and very often tasks get done twice or worse forgotten. Automation keeps everything under one system, and by regularly updating tasks and workflows, deviations are decreased.
5) Improved customer experience by consistent service
– Customer experience and satisfaction are top priority and, in a tech-savvy world, customers expect consistency and predictability more than ever. By having all tasks automated, monitored, automation can help you in keeping consistency in service/product delivery by having all processes completed in one manner.
Once you have decided to automate your processes, you need to choose the technology that you will use to power your automation. Deciding on the automation tool should be done carefully, as the automation tool should support and integrate with your already existing systems smoothly. Among the various automation tools that you can use is the SnapLogic Intelligent Integration Platform, recently recognized as the industry's Best Integration Platform as a Service for 2020, that will map directly to your requirements, giving you a system that delivers greater speed and agility while saving you considerable time, cost, and resources. Since automation is key to driving increased productivity, accuracy, effectiveness, and time to value, the SnapLogic Intelligent Integration Platform masterfully facilitates the process, with simplicity and power, by leveraging its key strengths: the shortest curve of the learning process, its cloud-native platform, low-code approach, intuitive user interface, short learning curve, fast deployment, and most importantly the wide selection of intelligent connectors (Snaps) that enable every customer to connect anything, anytime, and anywhere.
As this new era of enterprise automation has begun, ⋮IWConnect and SnapLogic have been helping customers integrate, automate, and transform their businesses for a few years now. Three of our clients in the banking and telecommunication industry have already started their process of going digital by leveraging InterWorks' consulting experience and expertise and SnapLogic's leading cloud integration platform to automate their business workflows and processes. In the following few weeks, we will share their successful automation stories which will be also supported by a virtual hands-on lab event covered by SnapLogic and InterWorks where you would be able to see automation in practice.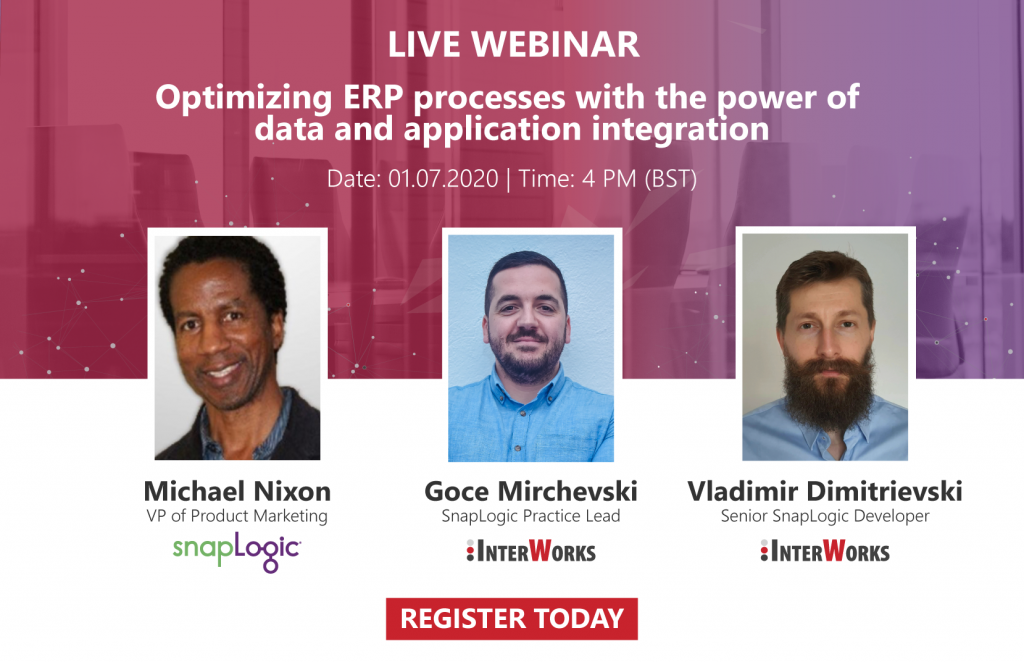 Author
Andrijana Dimitrievska
Latest 5 posts from Andrijana