Darko has been with our company for one year now. He is one of the people responsible for our office in Skopje. He is a highly-enthusiastic and ambitious person willing to always help others and contribute as much as he can. He has a vast experience in the IT sector and is widely known for his engagement in the .NET community in our country. Following his story.
Who is Darko?
I'm a dynamic, enthusiastic, and restless guy who is constantly looking for new challenges. I want to learn new things and get involved even to the slightest detail. I am a proud husband and father of two wonderful kids.
My passion for IT and computers dates back to 1988, when I was only 8 years old. Back then, I saw Commodore 64 for the first time and the same year I was given one. It was way more exciting than getting the latest iPhone today ?.
So eventually my first programming language was Commodore BASIC used to operate the system, load programs, and games. Starting from there, during the next years, I learned most of the well-known languages for that time like GW-Basic, Clipper with dBase, Pascal with Borland Delphi, and ended on complete Microsoft .Net stack.
I got a bachelor's diploma in Computer Science at the University in Skopje and started working in an MS Gold Partner company in 2004. I got certified for Microsoft technologies and stepped into my career as a software developer and moved to a team leader. During that period, I have successfully finished dozens of projects and several products mostly in the private sector. What I am proud of is also the involvement in the complete lifecycle of delivering solutions to our clients, starting from pre-sales, gathering requirements, planning, design, implementation, deployment, and support. Today I'm managing InterWorks' office in Skopje, and I do my best to ensure we have good working conditions, challenging projects, promote good teamwork, and growth spirit. "I want to see all employees with a smile when they come to work each morning".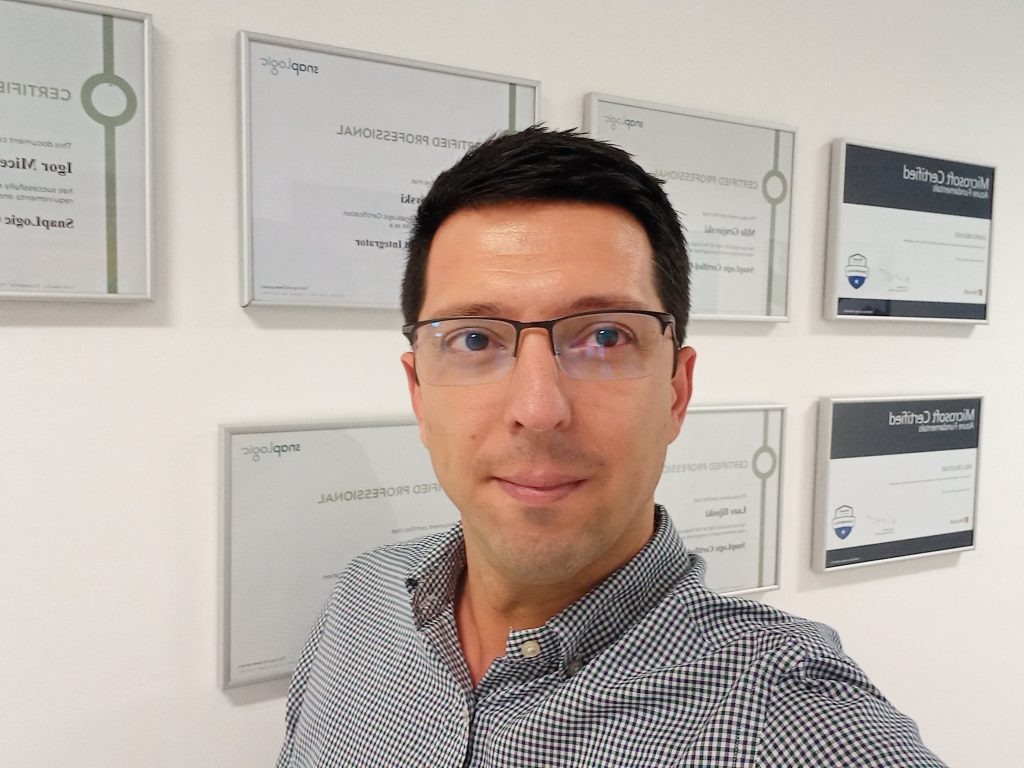 What made you be part of ⋮IW?
"The desire for growth" – that drive for change and progress led me to ⋮IW. I find ⋮IW's culture very attractive with amazing innovation spirit, great people, and exceptional professionals. ⋮IW is a very dynamic organization and I immediately get connected to it. Working in a company with such a unique portfolio of services and knowledge seemed like a big challenge for me and I decided that it is worth giving it a try.
Share one interesting working experience – a project or a challenge that you have been working on, and has remained in your memory
I was always dreaming to work on a multitenant SaaS product. I envisioned that, read how these solutions are composed, where they are hosted on, what their challenges are, and so on. In the recent years with the emergence of the cloud platforms, it became easier to start solid concepts and architecture of these systems and scale up as you grow. This was also one of the fields which I have dedicated my time to explore and learn more, especially about the opportunities PaaS or cloud managed services offered for building new multitenant SaaS products.
Luckily, I got the chance to work on this type of product at IW. I was part of a team that was working on a solution touching all the latest technologies and trends, like IoT, collecting, processing, and analyzing big data, reporting, and alerting in near real-time. We developed and run this solution using AWS managed services. We worked with geo-locations, routing and predicting, optimizing processes, and analyzing human behavior. We tend to compose all this data and knowledge and deliver accurate and unique feedback to users, give them a precise recommendation for improvement, how they can be more effective and increase their performance.
It was a great experience for me, challenging from many perspectives. A new company, new role (or roles), new team, new working procedures, a new type of stakeholder, new market, new Cloud platform (AWS), etc. I learned a lot through this journey and I will be always grateful that I was part of a wonderful team that walked out into the unknown, and step by step we conquered every challenge in front of us.
What are you most proud of?
My family and what we have accomplished, together, so far, is something that makes me most proud of. I have always had the biggest support from my family throughout my career. And there were many activities in which I was involved that required sacrifices, preparing for projects, learning, and certification, technical community activities, business travel, speaking at the conferences in the region and so on. I would like to thank them for their support.
I'm also proud of all my colleagues I have been working and I am still working with. I'm proud of what we and every single of them have achieved professionally. I'm proud to say that all my colleagues are my friends today.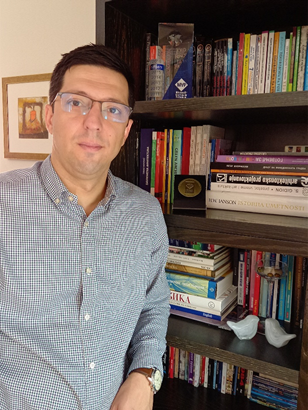 Tell us about an experience that shaped you as an individual
This is a very tough question. It is certain that there were many things that happened in my life which taught me some lessons, but if I have to point out one, then I would say it is my involvement in the technical (Microsoft) community. The participation there gave me a chance to travel and meet extraordinary people, talk to them, feel their passion for knowledge, see what they achieved, and learn from the best. That gave me the courage to start and conquer the heights by myself. I started to apply as a speaker at regional technical conferences, organized the local community in Skopje, was one of the main enthusiasts that believed that we can organize the biggest software development conference in the country. I was constantly bombarded by a variety of news about technology and what my friends do. I tried to stay informed as much as I could about all that, tried to keep pace with them. All that kept me motivated to learn and constantly grow.
In 2011 I got global recognition from Microsoft for my involvement in the Microsoft Community. I became Microsoft MVP, and in the next 6 years (I was re-awarded each year) I had a chance to be a part of the Microsoft Global MVP Summit in Redmond, USA. I believe that these were some of the moments that shaped the Darko of today.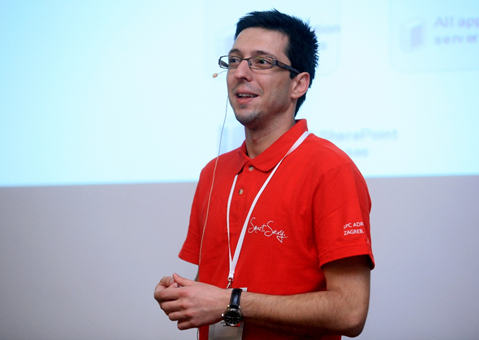 What is the biggest challenge that you experience during COVID-19 as a Managing Director at ⋮IW Skopje?
Until COVID-19 I had no experience of managing remote teams. Basically, most of the processes which involved people engagement (which had to be done remotely) was a challenge – starting from organizing interviews with candidates, talking to them over Skype or Zoom, not being able to see the person in front of you and feel the bond. Body language takes a significant part of every communication and with COVID-19 around us, that part of the communication was gone. Another thing that was new and challenging at this time was the onboarding of new employees. Doing that, and getting to know the person only via our screens and home offices was a completely different experience which required different skills and approach. I would say that getting new employees to adapt and adopt the company culture and the way we work and communicate, remotely, was one of the biggest challenges.
How has COVID-19 changed you personally and professionally with your colleagues?
Personally, I started valuing the things that I took for granted in the past more. The time spent walking with my family when we were under curfew was priceless. Also, being able to say Hi and shake hands in person with your neighbor or old friend is something which we all miss today and need it. Taking the time to visit relatives or close friends, talk to them, or play with their kids, is something we always postponed as if we are going to live forever. COVID-19 changed my value system completely, and I think it is for the better.
Looking from a professional perspective, I also missed my time in the office with my colleagues. I am a person that would go from office to office and talk with my colleagues, share a joke, see them smile, ask them about themselves and how they feel. We are partially back in the office now, and to be honest I enjoy the time spent with colleagues.
How do you motivate your team and what motivates you to continue to excel at your work?
You cannot fake motivation. You cannot motivate others if they don't see the passion in you. People want to see a leader that wants to go together with them, that will help them, support each other, and celebrate successes together. I am doing my best to be involved in everything that my colleagues do, to see what their challenges are, talk about the approach they take to solve them, give advice but also recognize their opinion and accept ideas and opinions which are better. I try to create a culture where every employee feels safe to face a challenge, hit the wall, and ask for help. I believe that this is the only way to grow, the person who gets help will learn something new, but also the other person will get instant satisfaction by feeling helpful and valuable for the team, for the company. I try to create an environment where employees inspire each other – the inspiration is the greatest motivator for all of us.
As far as I am concerned, I am a very curious guy that wants to face new challenges. I always find something interesting to motivate me. I find inspiration in other people, in their approach, in their stories and success. I find motivation in our happy customers as well, the feedback we get from them, and how we change their daily work or their lives. I find motivation in our happy colleagues as well, in their achievements and growth. All that motivates me to keep moving forward and accomplish new heights.
---
Author
Andrijana Dimitrievska
Latest 5 posts from Andrijana