Keep your team in one place and save their time by optimizing their steps.
The best software teams are working agile, smart, and are optimizing the steps they need to do in their everyday routine.
As we know Jira Software is built for every member of our software team to plan, track, and release great projects/products. First, we are planning (by creating the user stories, issues, sprints, and distribute the tasks across the teams), then we are tracking (by prioritizing the tasks and discussing with our team the work that is done), and finally, we are releasing our projects or products (software apps).
On the other hand, Slack is our daily communication channel that keeps us in one place. We use Slack to follow everything related to individual topics, projects, or teams in the channels. Thus, if you use Jira, and you want to receive notifications from Slack, you should just integrate these two tools. Help your team rock and give them a chance to work more productively and effectively by integrating Jira and Slack.
The Jira Slack Integration gives us bi-directional communication so we can track all changes, comments, or updates within the Jira project and receive notifications in the Slack channel that we will pick. The team that uses Slack can participate in discussions on a Jira ticket and that can be sent to the Jira.
In the following blog, we will try to explain the most important questions that the teams working with Jira and Slack are having regarding the integration.
How can I access my Jira issues without leaving Slack? How can I leave comments or track the progress of the tickets? How can I create automatic rules so I can have DM for some new tasks on my name?
We will start with a quick guide on how to integrate Jira Cloud and Slack and in addition we will answer all the open questions. Let's start 😊.
First, we install the Jira Cloud for Slack app into our Slack workspace, after that, we'll need to log in to our Atlassian account so will need to link Slack and Jira. In our Jira instance, we navigate to the Slack integration tab, and inside of that window, we make the configuration as it is shown in the image below.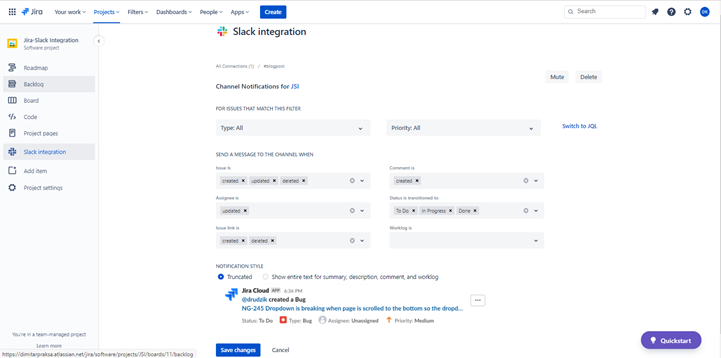 After we log in, we'll get a direct message from the Jira Cloud app in Slack so, we will be able to connect our first Jira project to a Slack channel as we can see in the image below.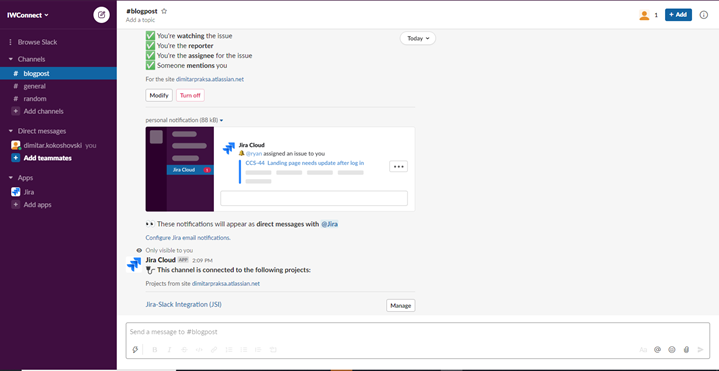 We are ready to go and have the following features available:
Personal Jira notifications in Slack, we get personal Jira notifications in Slack via a DM with @Jira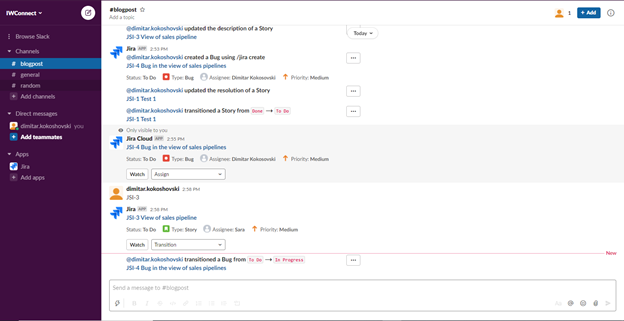 1.a. These are some of the notifications that we receive for updating tickets in Jira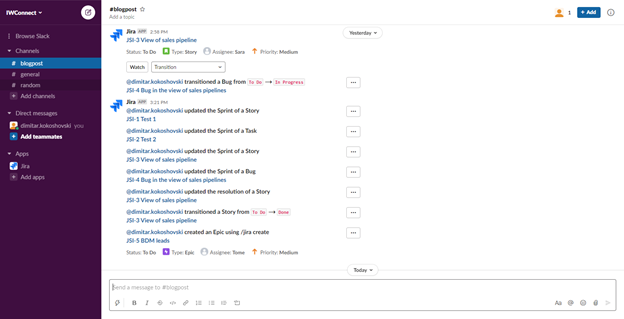 2. Connect Jira projects to Slack, we can get updates for a specific project in our Slack channel or DM with @Jira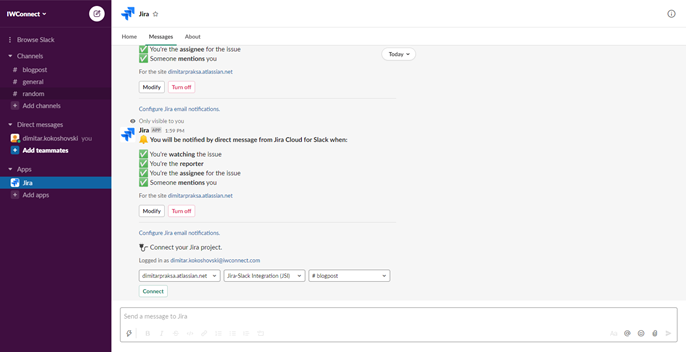 3. Issue previews – we can receive automatically issue previews no matter if the issue is created in Jira or Slack by just typing the issue key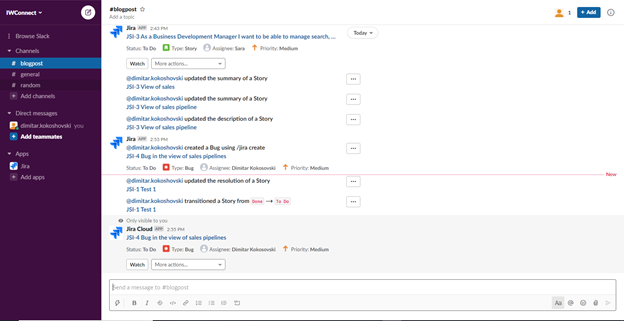 4. Create issues from Slack, we can create issues in Slack directly from a message in the channel, without the need to go to the Jira Cloud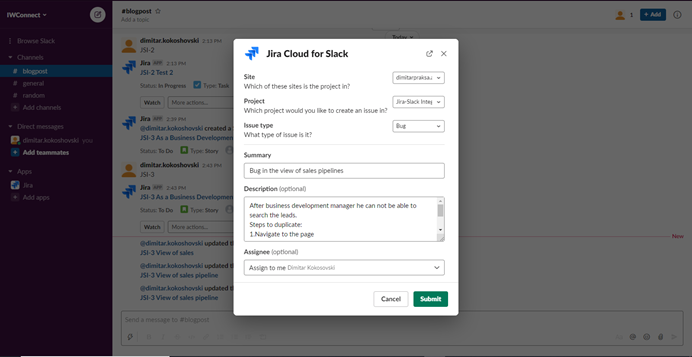 5. Interact with issues from Slack, we can track the transition between the tasks, we can also assign a member and comment on the tasks. We can watch the issues right from our channel in Slack.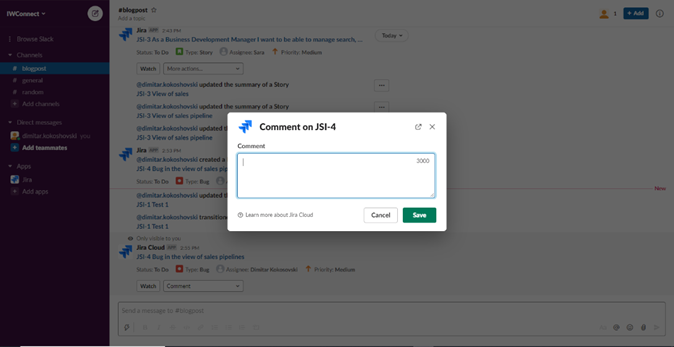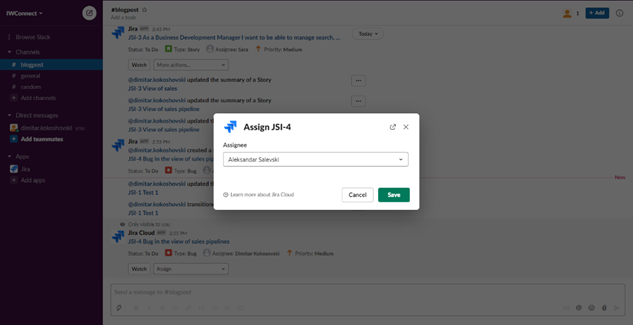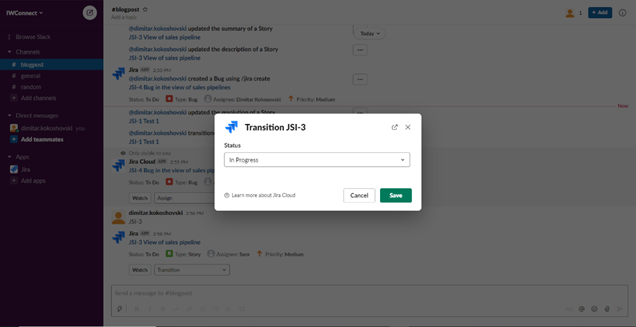 As we said in the content above you can unwatch/watch, assign, transition, or comment on any of these issues by clicking the "…" menu next to the issue.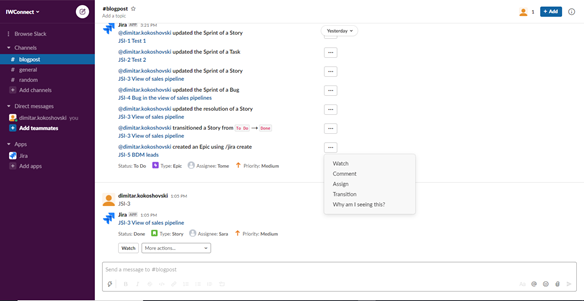 The conclusion is that you do not need to leave your Slack so you can work on your Jira tickets, you have it all in one place. You just need to find the "Apps" section in the sidebar with your channels and DMs. Then you just go to the "Jira" app and go to the "Home" tab and here you will find your work from all the Jira issues that you are assigned to or you are watching them.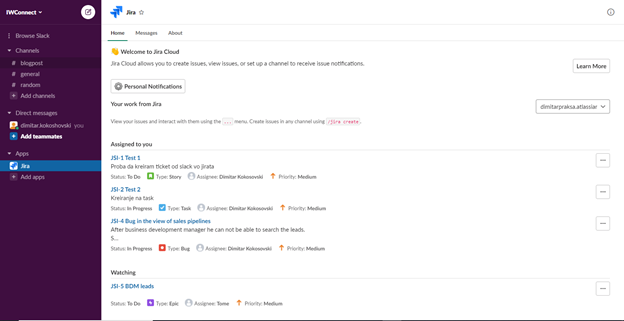 When it comes to people working together to build great software, the right tools can make all the difference so the solution is integrating Jira Cloud and Slack in collaboration with our IWC team.
References:
https://slack.com/apps/A2RPP3NFR-jira-cloud ,
https://www.atlassian.com/blog/announcements/slack-and-atlassian-partnership-update
FUN FACTS*
Over half a million monthly link previews shared in Confluence
7 million monthly Bitbucket notifications delivered in Slack
42 million monthly Jira notifications delivered in Slack

*as of July 2020
Authors
Dimitar Kokoshovski
Marija Parnara Samardjiska