November is all about conferences. Sinergija is a two-day conference featuring top professionals in Microsoft technologies, from all around the world. This year the conference went all digital and offered live sessions available for free to a global audience. Usually, this event, now in its 20th edition, which is focused on the latest digital transformation trends, is held in Belgrade. Over the years it turned out to be one of the most prestigious and most popular conferences in South-Eastern Europe, where top professionals from Microsoft community gather to discuss the latest trends in the industry. This year due to COVID-19, the event was held online. As we mentioned, it was the 20th time the conference occurred and on the second day alone there were 2600 registered participants that had the opportunity to hear experts from the field talking on trending topics. Our colleague Aleksandra Ivanovska was part of the conference and talked about using Microsoft Healthboth to enhance the healthcare system. We decided to ask her more about her experience with Microsoft technologies, future trends in the field, and about Sinergija itself.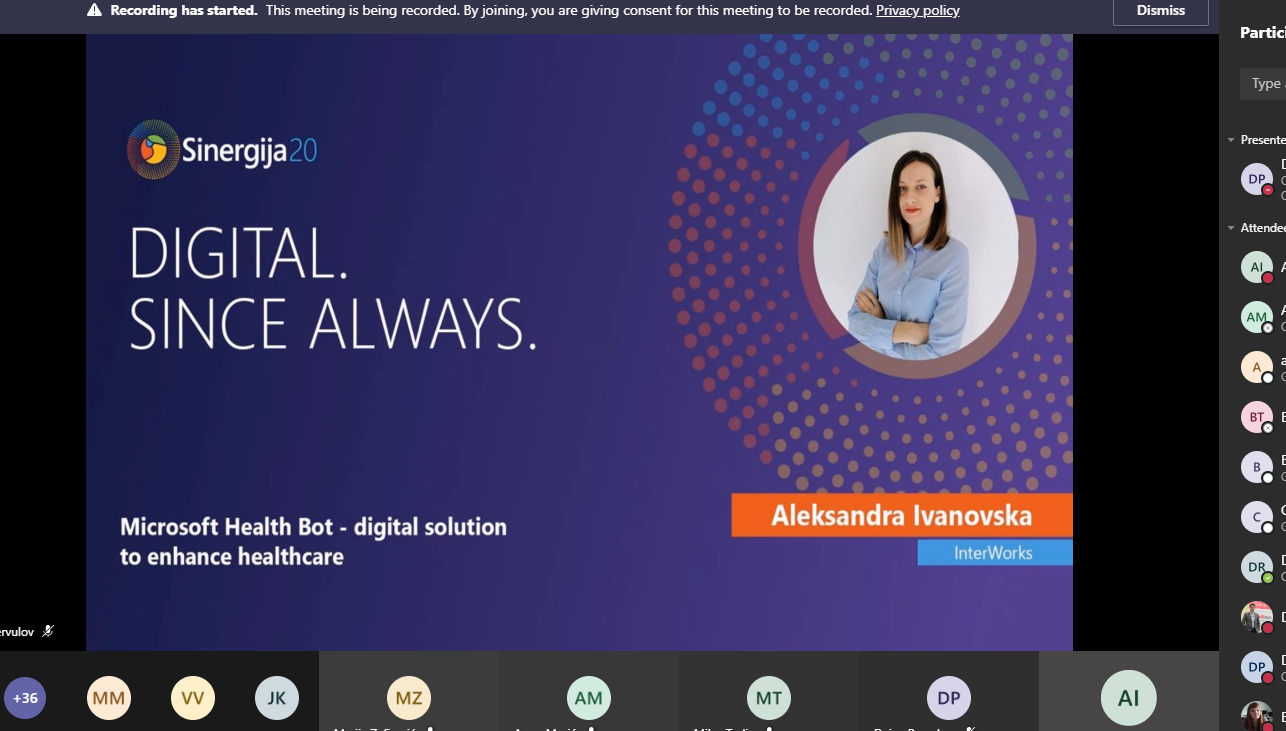 Tell us more about yourself and your role at ⋮IW
Professional, organized, and responsible person, always ready for new challenges and achievements. As a technical consultant and part of the Microsoft practice in ⋮IW, I am responsible for the design, development, and testing of high-quality software components and applications. I am focused on constant research and exploring the latest technology updates in the Microsoft field.
Where do you find your professional inspiration?
I am a person who can be motivated by small things, such as getting positive feedback, completing daily tasks with success, honest people, and their successes. Practicing integrity and professionalism in my work is equally inspiring as well. The world is not perfect, so being able to be in a position to change things and to make things the right way is certainly an inspiration for me. I believe in integrity and being professional by working hard.
What is your favorite Microsoft product and why?
Microsoft offers a range of products that can be used as a tool to address any business need. While economies and industries bear the COVID-19 consequences, Microsoft offers digital solutions managed by intelligent virtual assistants that offer personalized patient care using a chatbot. A healthcare bot from the range of Azure-hosted solutions is SaaS that enables health care providers to build and deploy HIPPA compliant, AI-powered virtual assistants. It can be used to triage patients and guide them to receive appropriate help.
This product is able to detect the symptoms, manage some medications, and assist with some health issues. It can easily guide people for some serious problems and also assists them in scheduling appointments with professionals.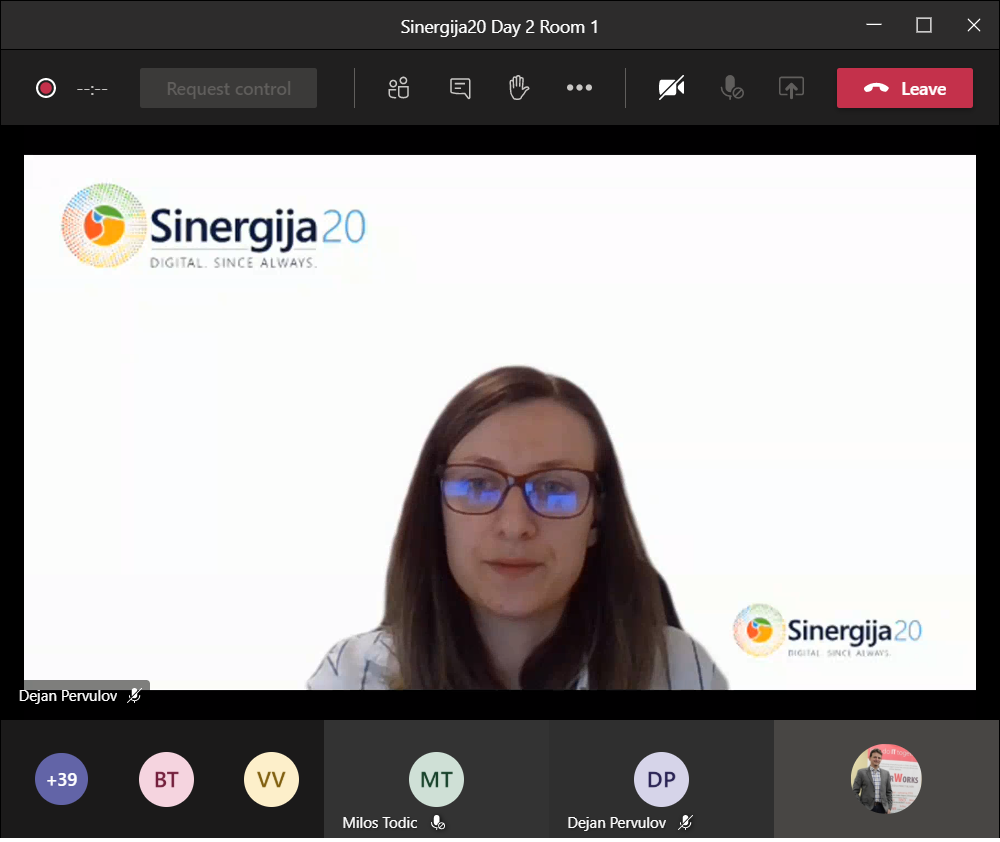 Do you think "Using Microsoft Healthboth to enhance the healthcare system" was a hot topic at the conference?
The number of attendees at the session itself says that people were interested in hearing more about this solution. In times of pandemics, when healthcare systems are in the spotlight, technological advancements will certainly ease this burden on medical staff by using digital solutions managed by intelligent virtual assistants using a chatbot. Microsoft chatbots are interactive applications that use a combination of Machine learning algorithms, including NLP. Using some of the features and scenarios that include a Healthcare bot like a Symptom checker, the hand of human and Language understanding models, can help healthcare sectors immensely. Especially in automating all repetitive, as well as lower importance tasks that medical representatives usually do.
What is one key takeaway from your presentation?
Using this technology will be beneficial for both sides, patients, and medical institutions. Building a health bot instance allows improving processes, reducing costs, and saving time for patients and doctors as well. By using this service, health care organizations can build healthcare consultants which can answer many questions giving credible information. Hospital administrators can also schedule appointments and collect feedback and there is a possibility for a red panic button as well, which may warn about dangerous symptoms or call for emergency help.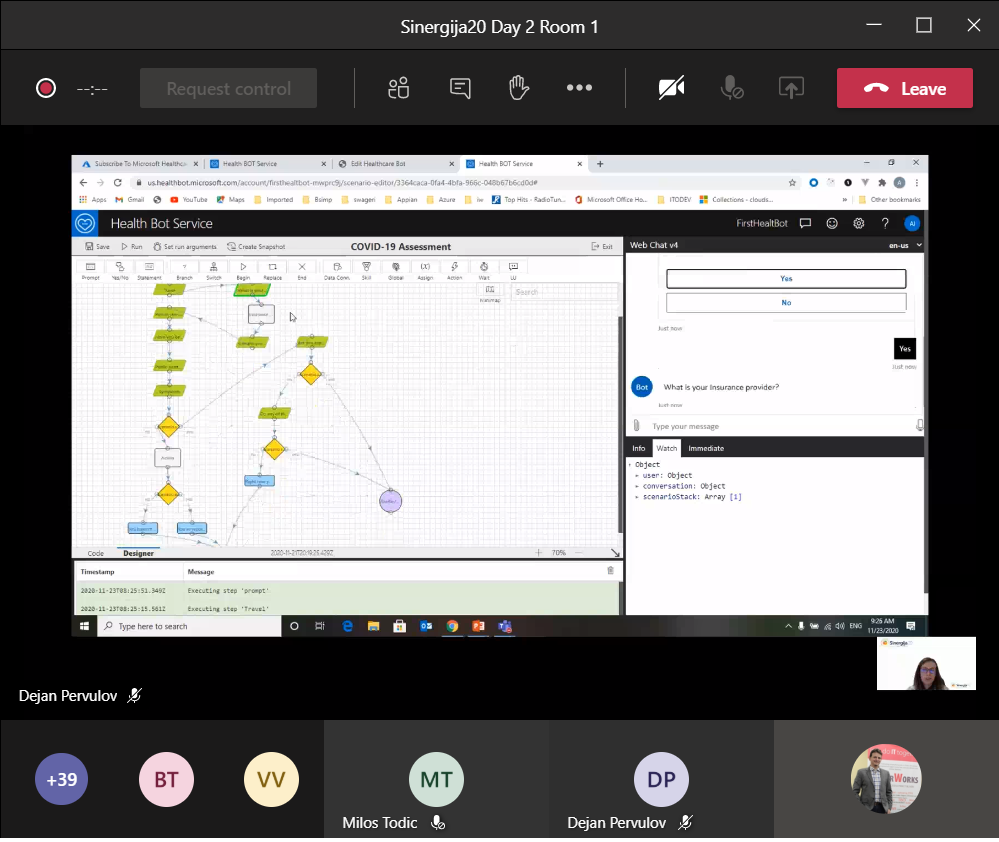 What does the future hold for Microsoft technologies and how can they be used to enhance digital transformation?
Cloud computing is changing a great deal to keep up with new technological developments. Microsoft Azure is not left out in this journey. Internet of things (IoT), Artificial Intelligence (AI), Security, API Support, Serverless Computing are part of the latest trends that Microsoft incorporates in its products. Ahead of us is the time of artificial intelligence that has the potential to transform our lives and society in a way that was previously difficult to imagine. Strengthening the future using digital transformation will enable increased productivity of businesses, greater creativity of employees, quick adaptation, and meeting the customer's needs faster.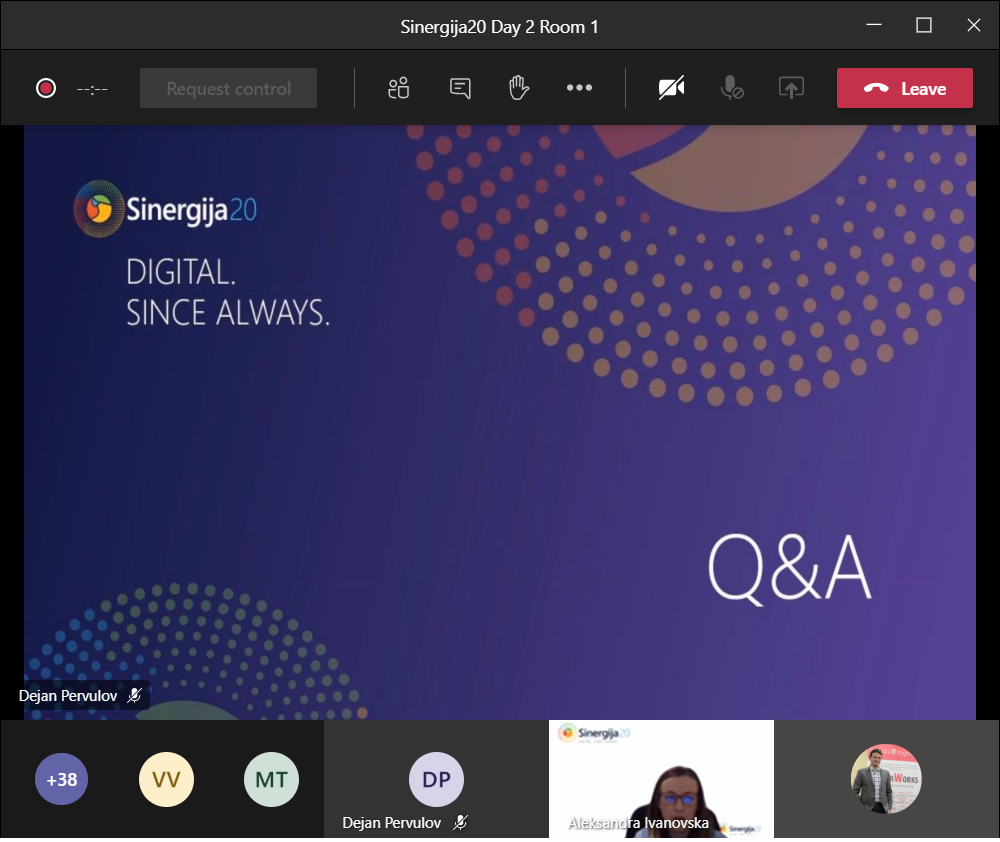 Was it a challenge to speak at one of the biggest Microsoft conferences in the region?
It was my pleasure to be part of this conference, and at the same time, it was an honor to be next to senior experts from Microsoft and multiple Microsoft MVPs.e It was an outstanding opportunity to exchange different ideas and opinions and share experiences on different digital solutions. Definitely a new and amazing experience for me.
How would you rate the conference overall?
The event was organized by Microsoft, and the organization was on a high level. Everything was pre-defined and well organized, although there was a short time slot to prepare my theme after my participation was officially accepted. Participants covered many topics that are trending in digital transformation. To put it in one word: excellent.
If you want to find out more about the conference, contact us and we will connect you to our colleague Aleksandra.
Author
Renata Pavlovska
Latest 5 posts from Renata