Research has shown that people spend most of their time browsing the Internet on their mobile devices. Having this point in mind, as well as the fact that we are living in a digital era where we cannot imagine a day without a smartphone, every company offering certain services or products should have a functional, intuitive, and easy-to-use and maintain mobile application. Our mobile department was established in 2013 and since then we do a full-stack of services for the envisioning, design, development, and maintenance of mobile applications. We have been working on providing mobile applications, from the idea up to realization by using Android (Java/Kotlin), iOS (Objective-C/Swift), and the cross-platform solutions with Xamarin (C#) and Flutter (Dart).
---
Turning an Idea into an App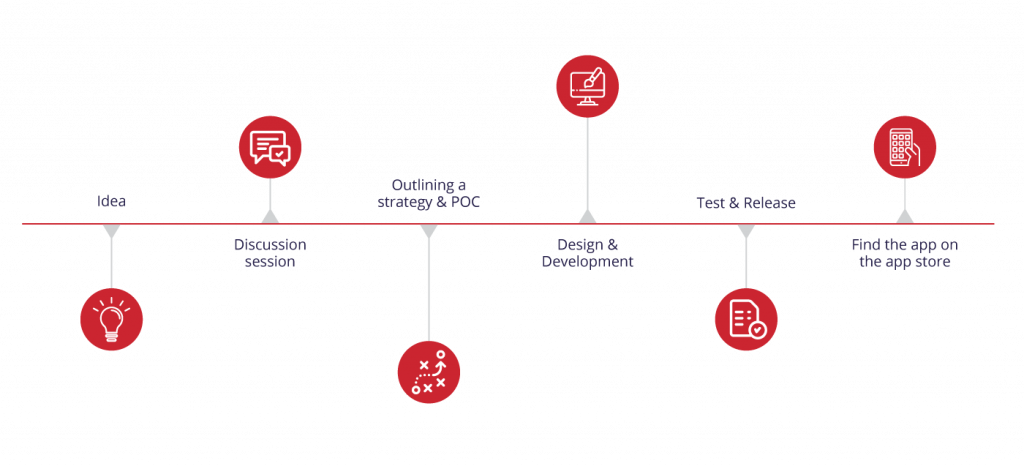 Idea

Ideas come when we least expect them…when we are watching TV, drinking coffee, or just sitting doing nothing. There is no right or wrong idea, each one is as valuable as you will make it to be. And if when you decide to turn your idea into reality and contact us, we will make sure that it becomes the most valuable for you and people around you.
Discussion Session

Once you have decided to realize your idea, and we started collaborating, the second step will include discussion. It is really important for us and for you as well, to share with us the purpose behind your idea and with mutual understanding to come up with the best solution.
Outlining a strategy and PoC

Our productive discussion will be followed with a Proof of Concept, and a complete strategy regarding the realization of your idea.
Design & Development

The strategy will be followed with immediate action: You will get a design for the app Once approved, it will be sent to its developing phase.
Test & Release

The step before the final step includes final testing of the application and checking whether everything is done according to the requirements and releasing it.
Find the app on the app store

Check your application on the app store.