Microsoft |
Andrijana Dimitrievska
Overview & Challenge
The Client is a startup company, established in the Netherlands with a mission to create a medical knowledge hub for clinical and medical care facilities. Their idea is to combine Content Management System (CMS) and Learning Management Solutions (LMS) and create a system that will contain studies on different medical topics, as well as activities to attend and certificates to acquire.
What they needed was a multitenant solution that would allow knowledge sharing between different organizations, and would include options for setting up users. The solution should also allow our client's customers to set up the onboarding process easier, giving them the ability to choose the components that they would like to incorporate in their own solutions, and above all the solution should enable a great user experience for all users regardless of their age and abilities.
Solution
The solution that was provided is a multitenant, cloud-native, LMS-Learning Management System where the ⋮IWConnect team was included in all SDLC phases. It is an interactive platform where users can find information about various subjects, share information via communities, register for training courses, and offer practical information that can be used in their everyday work. 
Business Outcomes
Key Results:
Increased number of new clients/prospects for 40%
Optimized cloud costs
Secure cloud solution
Two modes: standalone solution and integrated into other applications
Minimized production application downtime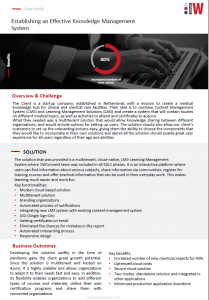 If you want to discuss the Case Study, contact us via the form