eCommerce or the process of buying products via Internet has become the new trend overnight, same as remote working. Until recently, the growth of this industry has had some steady steps, slowly progressing over the years, in step with technology. But, this steady progress has changed completely in less than one month, shifting from a slow and steady upward direction to fast.
COVID-19 has made us change and adapt to something which no one expected. The IT world has experienced change as well, especially the world of eCommerce. Customers want to have access to all the favorite things that they used to do, such as exploring products, getting reviews, buying, etc. The world of eCommerce is constantly changing and businesses in this industry should be able to provide a custom solution. In this fashion, there is one commerce solution that provides services without having to invent new things from scratch every time. A solution that keeps customers satisfied and happy because they found what they were looking for without wasting too much of their time – and we all know that time is the most valuable resource these days. That solution is called headless commerce.
When we hear headless commerce, we might think that it is something big, maybe something new that we have never faced before. Well, that is not what headless commerce represents and probably most of us have already worked in such solutions. The simplest definition for headless commerce would be a separation between the front-end (presentation layer) and the back-end (application layer) part of the eCommerce application.
Working in the eCommerce industry for a long period of time, we have come to explore e-shops from two perspectives: shop owner and customer, and we realized that there are certain things that can be improved to accelerate customers' shopping time which in turn will accelerate ROI. What we are talking about here is implementing a solution that customers can use to browse through a wide range of products/parts, and see only the products which are compatible/valid for their needs. This is especially applicable for IT stores that sell computer components such as processors, RAM memories, motherboards, etc., but it can be applied to all stores that have a similar structure as IT stores. Usually, all the items of a certain category are related to each other somehow, but not all of them are compatible. Thus, the customer spends a significant amount of time to find the right parts and create the selected configuration (when talking about IT). To solve this problem, we have created so-called product bundles that consist of a set of products related to each other and rules of how they can be used. By using product bundles, the system instantly eliminates the products which are not applicable for a certain configuration and displays only the products which are aligned with the requirements. The Product Bundle solution delivers value for both sides – customers and shop owners.
Even though there are some platforms and frameworks that support product bundles within eCommerce solutions, we believe that the market is still not fully utilized and that each of those platforms/frameworks can be augmented to provide even better results and increase the value they add to your business.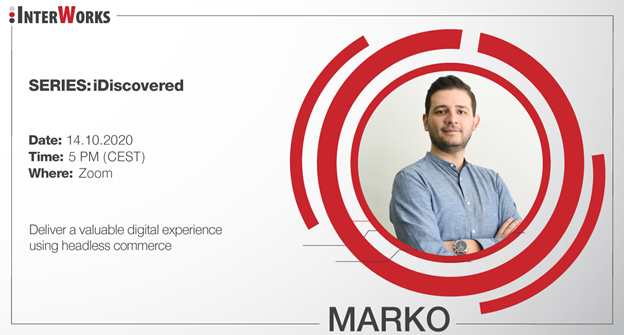 Our eCommerce Business Unit Manager, Marko Gichevski who has been with ⋮IW for almost 11 years now and is responsible for many of our successfully completed projects, hosted a webinar on 14.10.2020, dedicated exactly to headless commerce. He spent an hour discussing how to deliver a valuable digital experience using headless commerce and what all the latest trends that are worth having in your solution. Make sure you watch it and stay with us because in the following weeks we will share how you can experience added value using the proper eCommerce solution and an infographic including all the additional accelerators we can offer you.
In the meantime, if you are considering implementing an eCommerce solution or you have some questions or comments related to eCommerce or headless commerce don't hesitate to reach out at sales@interworks.com.mk.
Author
Administrator
Latest 5 posts from Administrator