Outsourcing by definition is a business practice in which a company is shifting its tasks, services or operations to another company or an individual, and this usually refers to tasks, services or operations that were previously handled by the company itself.
Finding an outsourcing partner is not an easy thing to do. Finding a quality outsourcing partner is even harder. Having the luxury of trusting someone with your processes, data and daily operations is difficult to find these days. Having an outsourcing partner that will not only save you money but will give you additional value and even increase your income is the dream of any company looking to outsource.
So how do you choose who to outsource to? How do you choose your perfect outsourcing partner?
Here is a hint: Location, location, location… Why not start somewhere in Europe? We give you five reasons why outsourcing to North Macedonia really works:
1. Talented and motivated professionals
Are you in the need of talented and motivated professionals? Would you like to hire educated staff that will deliver the best results?
Even though North Macedonia is a small country with a population of only 2 million you can find a lot of talented and motivated professionals here. The number of new startups in 2017 alone is 6.321 and the number of IT companies operating in Macedonia in 2017 was 801. Numbers show that the country possesses motivated and talented professionals who are not afraid to explore, take risks and work hard.
Not only that the country has a pool of talented and motivated professionals, but they are also educated. The table in addition shows the number of graduated students in the field of technical sciences for the year 2017.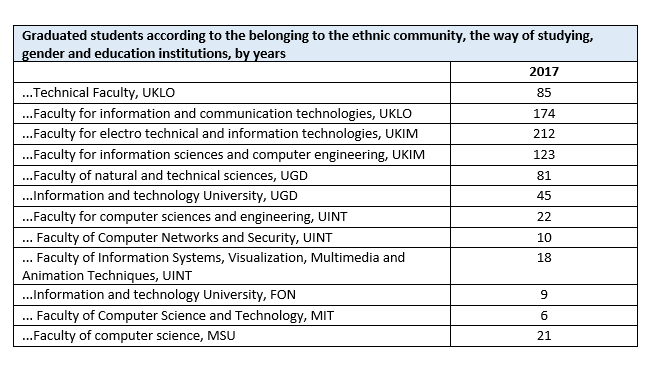 Figures demonstrate that 806 students have graduated out of college which is a solid number of educated professionals that will grow careers in the IT world and work for worldwide known companies delivering solutions and creating value from North Macedonia.
2. Education centers
But what happens after students finish college? Are they ready to work? They have spent 4 years learning theoretically, but they lack the practical knowledge and the skills it takes to start working in the real world.
That is why a lot of education centers have been opened in the last few years that are focused on creating well-trained professionals who will learn not only theoretical but also a lot of practical content that will in the end help them be competitive in the market. It is a great option for people willing to build up their knowledge and become even more qualified and work ready.
Semos Education, Seavus Education Center, Creative Hub, Brainster and IW Education Center are just a few of many training centers that help a lot of people get to the career of their dreams. Learning from professionals who have been in the industry for quite a while is a great opportunity for everyone willing to build a successful career.
These education centers have proven that creating educated and well-trained staff with the right program and the right teachers can be done in 3 to 9 months. It is a win-win situation for companies as well as students. The first ones get a skilled, ready-to-work staff and the latter get a great job. A job that will help them create value and help companies in Europe be the best that they can and get the greatest value for money.
3. High English language proficiency
Do you have trouble finding an outsourcing partner that possesses English proficient staff?
North Macedonia is known to have a high rate of English proficient people. Children start learning English from three years old and are surrounded with English cartoons, songs, games etc. Besides that every primary and secondary school in North Macedonia has English as a mandatory subject, and also a lot of education centers that offer English and Business English courses are available in every city in the country.
So you don't have to worry about the communication and correspondence with your partner. We speak your language and one of the reasons why more and more USA and European companies decide to look for outsourcing partners in our country is the ease of communication and the high proficiency we have to offer. No more difficulties hearing strange accents and reading documents, just professional high-level business communication.
4. Two hours away from most European cities
Do you want to be 2 hours flight away from your partner? Would you like to be all the time in control of what is happening with your projects? Do you want timely updates – at the fraction of the second of any issue? This is where location matters.
Being located in the heart of the Balkan Peninsula, North Macedonia is the perfect spot to start looking for your next outsourcing partner.
You will not have to worry about face-to-face meetings anymore because you will be only a few hours away from your partner. Additionally, low-cost airlines, such as Wizzair and the great number of destinations that can be reached within few hours keep your costs low. You can visit your partner whenever and wherever you want, and get things sorted out.
And moreover, the time zone, it is also about the time zone… You don't really want to have to get up early or stay late at night to have a one-hour meeting. Being in the same time zone as your partner makes this all easier and smoother – meetings within working hours and free time for you and your family.
5. Great quality-price ratio
Do you have trouble finding good people with skilled expertise? Moreover, you do not have this problem, but you have the problem of the price – high rates.
This is yet another reason why you should consider outsourcing to North Macedonia – because it really works and more and more companies decide to outsource here.
Basically, you get your work done for a fraction of the price and by people with great experience and skilled expertise. You also skip the costs related to employment, such as health insurance and vacation pay. To say it in one sentence, you get quality at a lower price compared to your country, and you are free from all the problems that might appear while you are searching for an expert in the field.
Having listed all these 5 reasons, we believe that North Macedonia is the perfect match country for your next outsourcing partner. The result: an all-in-one asset that will increase your revenue, and quality of work – a cost-effective, skilled, easy-to-understand, educated outsourcing staff.
Develop your next idea, solve your problems, take your business on a higher level by outsourcing in North Macedonia.