Social media, news, websites, people – we are all talking about the same – Coronavirus disease (COVID-19). The virus first emerged in Wuhan, Hubei, China in December 2019 and since then has spread almost everywhere across the globe.
On 11 March 2020, the World Health Organization declared the outbreak as a pandemic, and the recent numbers (as of 12th March, 2020) show that more than 126 000 corona cases have been confirmed in more than 110 countries and territories.
In a time like this, we should all be aware of the Coronavirus symptoms and how to take care of ourselves to prevent getting the virus.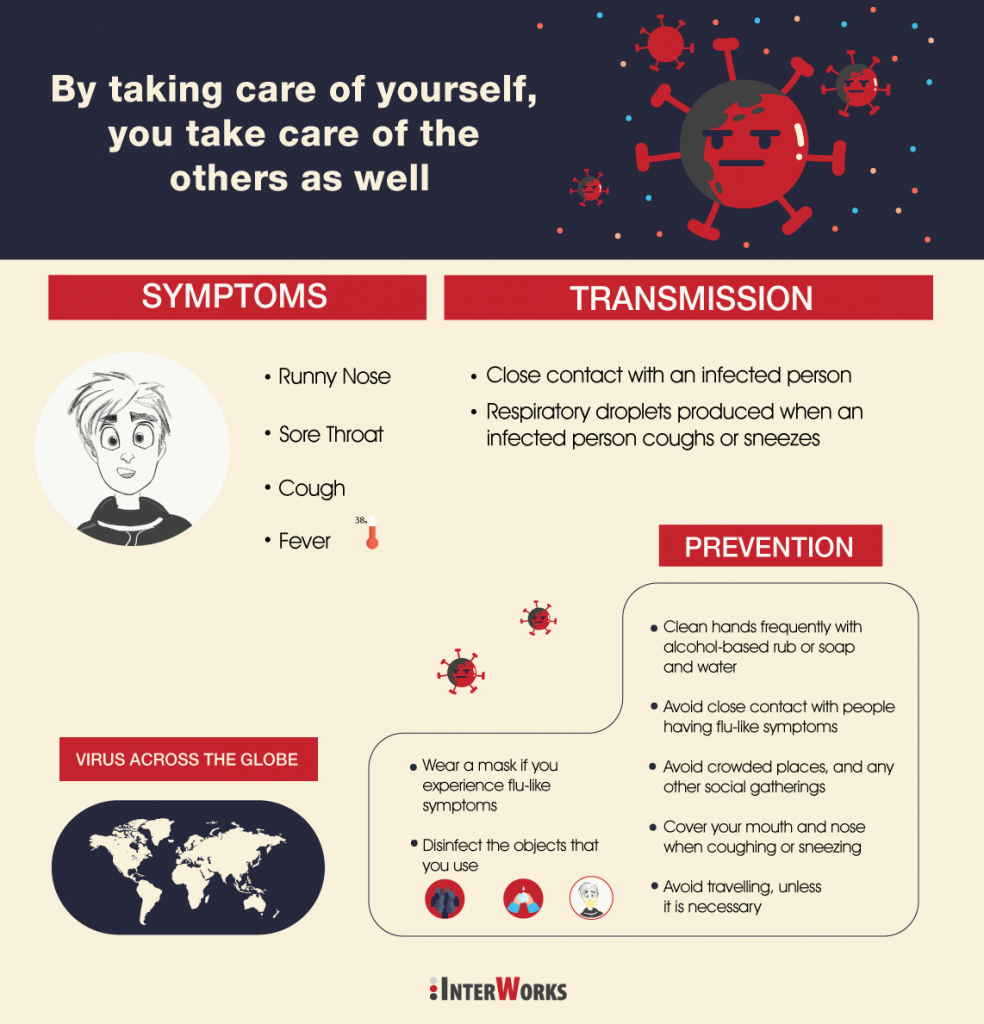 What is Coronavirus?
Coronavirus disease (COVID-19) is an infectious disease caused by a new virus that had not been previously identified in humans.
The virus causes respiratory illness, and it has symptoms like a runny nose, sore throat, cough, and fever.
Transmission:
The virus spreads through contact with an infected person – coughing, sneezing, or through droplets of saliva or discharge from the nose.
Prevention:
So far, there is no cure to prevent coronavirus disease, but there are some measures which can be undertaken to reduce the risk of infection, such as:
Cleaning hands with alcohol-based hand rub or soap and water
Covering nose and mouth when coughing and sneezing with a tissue or flexed elbow
Avoid close contact (1 meter) with anyone with cold or flu-like symptoms
Avoid spending time in public places where there are a lot of people
Avoid going out to night clubs, coffee bars
Disinfect the objects that you use
Decrease physical contact with other people
Avoid traveling to other countries which have been described as dangerous zones
Avoid traveling completely, only if necessary
Work from home if possible
In cases if you get infected with the coronavirus, follow the steps to prevent spreading the COVID-19:
Stay home unless you need to get medical treatment
Separate yourself from the rest of your family, including pets
Call your doctor before you visit him/her and inform him/her about your situation
Wear a facemask
Cover your coughs and sneezes
Clean your hands often, as well as the surface that you touch
Do not share your personal household items
Monitor your symptoms
Stay at home unless instructed to stop your quarantine
We should all be aware of the risk and threat that coronavirus has posed to humanity, and we should first take care of ourselves by following the World Health Organization's suggestions and by taking care of ourselves we will indirectly take care of others.
References:
https://www.cdc.gov/coronavirus/2019-ncov/about/steps-when-sick.html
https://www.cdc.gov/coronavirus/2019-ncov/about/transmission.html
Author
Andrijana Dimitrievska
Latest 5 posts from Andrijana