The way people consume goods and services has been changing ever since the beginning of the Internet, and during the pandemic period, it is obvious that it has changed in favor of eCommerce and other online and cloud services. As more people and companies start buying online, more and more business owners decide to go online. While doing that, they are looking for a suitable, cost-effective solution that will increase their business resilience and enable them to grow.
Nowadays, the market is full of eCommerce solutions that come with many out-of-the-box functionalities and can be upgraded. However, these solutions are not one size fits all. As a business owner, the solution that you will choose depends on your business requirements and the amount of money that you want to invest to make it work. The implementation of these solutions requires investing a certain amount of time, and time in a pandemic period is crucial for maintaining sustainability.
The vision behind ⋮IWCommerce Platform
Evaluating the new requirements that emerged as a result of COVID-19, and considering that solutions should be future-ready, we have created an eCommerce solution – ⋮IWCommerce. ⋮IWCommerce is a scalable ecommerce platform that comes as a ready-to-install package and ready-to-use within a week.
⋮IWCommerce was developed out of the idea that large-scale enterprise e-commerce solutions should be highly customizable to adapt to abrupt changes happening globally and highly scalable to continually provide the same service regardless of the number of customers. ⋮IWCommerce is a large-scale enterprise e-commerce solution that contains multiple services connected to one network. It's better than traditional solutions or other small-scale solutions mainly due to its characteristic of being highly customizable.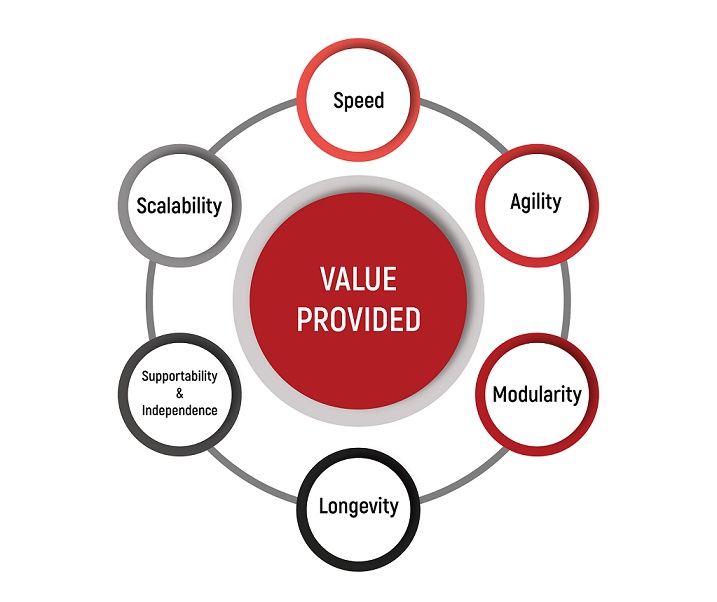 Speed
Fast and easy adding/updating of features and functionalities.

Agility
Every component/module can be changed independently of the entire platform. You do not have to wait for a new version of the platform to apply the changes.

Modularity
Each component/module can operate as an individual product.

Longevity
The upgrade/removal of components/modules can be done independently of the platform, as the technology requires.

Supportability & independence
You do not have to use our team for customizations or further development, meaning that you have the freedom to choose the team that will be responsible for platform maintenance.

Scalability
The platform is based on SaaS architecture and can scale horizontally and vertically. In addition, it can be automatically scalable based on demand.
Features
The product has a lot of flexible and adaptable features, and some of them are:
4 independent applications within the product
Multi-front store
Product variations, categorization, and configuration
Multi-language option
Flexible order management
Discount management and many more.
Availability
The platform is already available and if you want, you can schedule a demo and see what it offers. You can contact us at sales@iwconnect.com or via the contact form below for a demo.
How it looks like: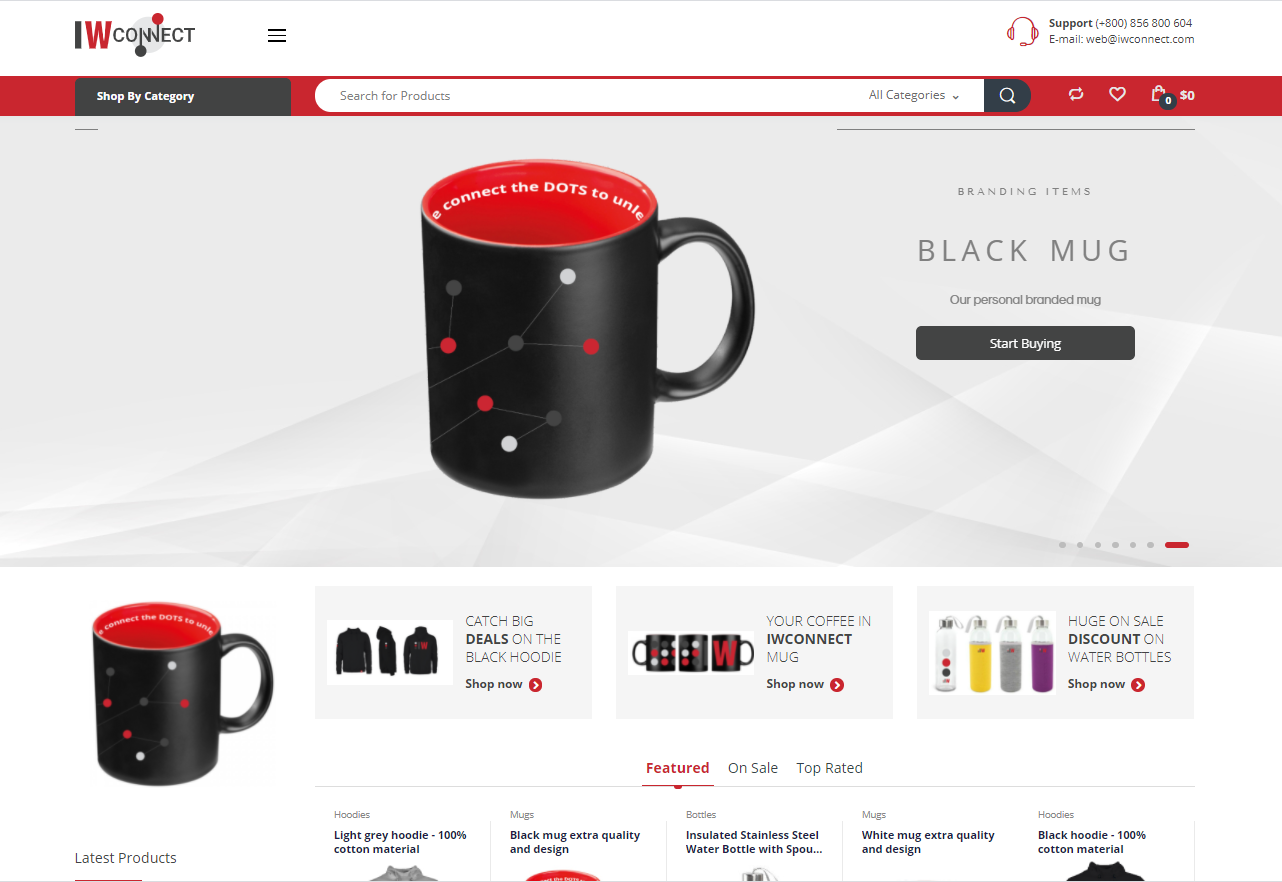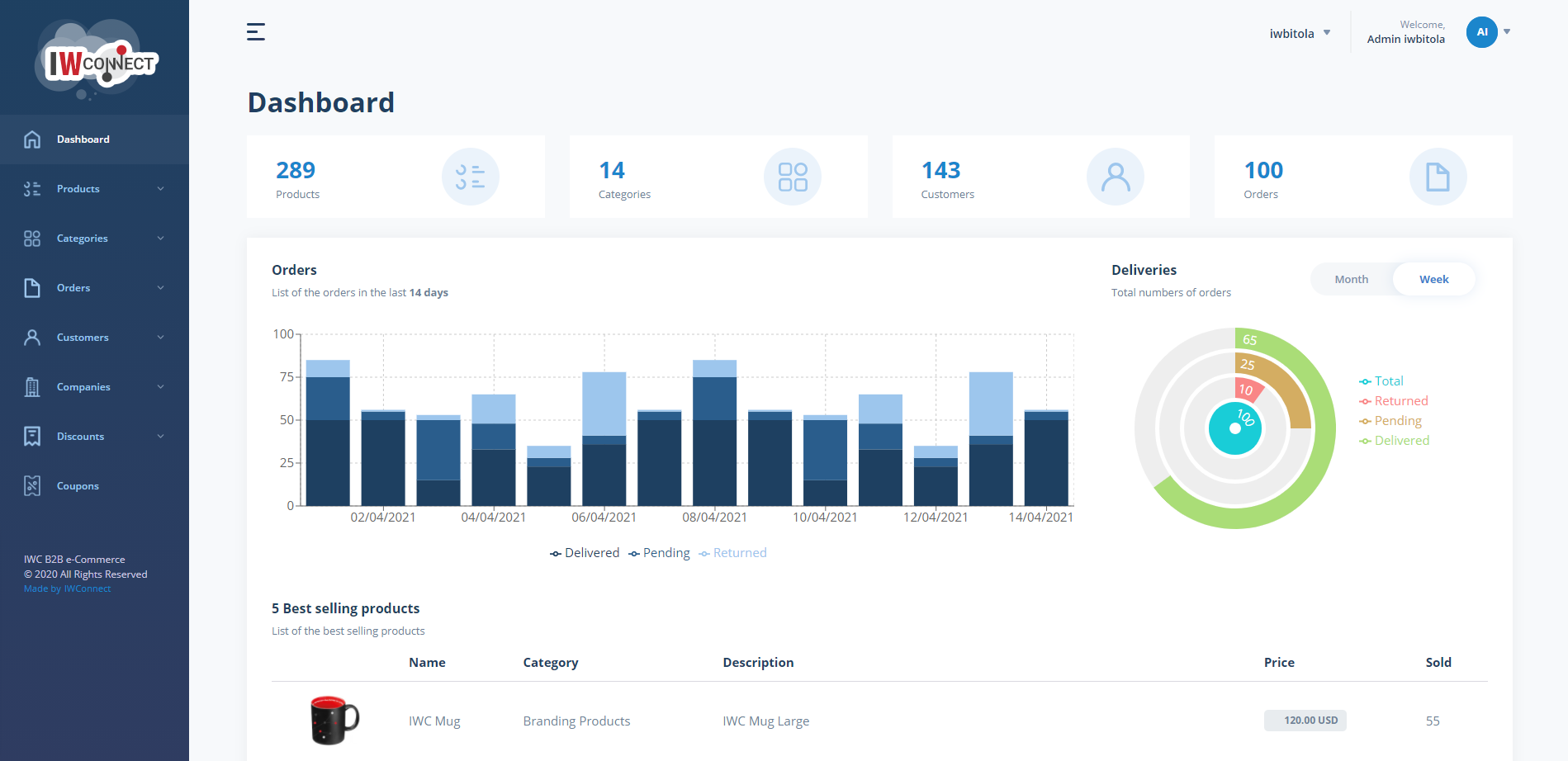 The platform is already available, but we follow market trends regularly and update it daily with new features and functionalities. If you want to find out more about ⋮IWCommerce and its features, and if you want to schedule a demo, you can do that via the contact form below.
Author
Andrijana Dimitrievska
Latest 5 posts from Andrijana