RailsGirls is a nonprofit event that has the goal to lead girls in the world of software engineering. The event occurs in over 200 cities in the world and luckily this year Skopje was one of those cities. Girls that have little or no technical background in software development but want to learn more are the target group. The whole event is conceptualized like a workshop on which girls are given tasks, and on the way of solving them, they get help and assistance from mentors who unconditionally and unselfishly share their knowledge.
Our employee Hristijan Stojanoski was invited to participate on the event as a coach, so we had a small talk with him and he explained all we wanted to know.
How did you come to the idea to go to the event?
I was invited to participate at the event as a coach by one of the organizations. At first I wasn't sure if I wanted to take part of such an event, but after I heard a lot of positive experiences from the past events I agreed to it. Coaches take valuable part of the event – without them the workshop is impossible.
What application was made at the end of the day?
RailsGirls is for girls who do not have a strong technical background. Many of the girls come from different line of work or studies. So we had to be aware how we are going to explain what Rails is, what a web application is, how data is stored into database etc. The application that girls were working on was very simple, yet good enough to learn basics of designing, prototyping and coding web applications.
What was your role at the event?
My role at the event was a coach. The coach had a goal to help participants throughout the entire process of the workshop. In the first part coaches helped participants set up the environment for developing a web application in Rails. The second part was more practical where girls had the task to make a basic web application using Rails. This was a big challenge for me, as I hope it was for all other coaches, helping the girls that had no technical experience. We had to be careful not to be too confusing and explain basic concepts of web development in the simplest way possible.
How did ⋮IW support the event and helped?
The corporate culture at ⋮IW teaches us that we need to give unconditional contribution and help without expecting anything in return. The participation on the event alone shows that we want to learn new technologies, to upgrade ourselves, and also help those who want to expand their horizons. In the mission of sharing knowledge, educating and motivating new employees in the area of IT technologies, ⋮IW as a socially responsible company always supports these kind of events and takes participation in the same.
How would you rate the event?
The hosts of the event and those who took care of logistics and all the technical organization were the guys from Web factory. I have to say that I was pleasantly surprised from the flawless organization. Communication and coordination among mentors and organizers was on a high level. A welcome pack was given to every mentor and every participant as well as stickers, food and drinks. After the event a party was organized in a relaxed atmosphere where we could all share experiences and impressions.
Do you recommend it to girls and why?
We had two participants from ⋮IW on Railsgirls, Marija Trpcheska and Hristina Avramovska. I hope that on the next event the number will be at least doubled. Participating on such event helps girls get into the world of software engineering and gives them a chance to take a closer look at what being a software developer really means. I don't recommend RailsGirls just to girls, but also guys who can improve their mentoring skills and share their knowledge with those who want to learn something new.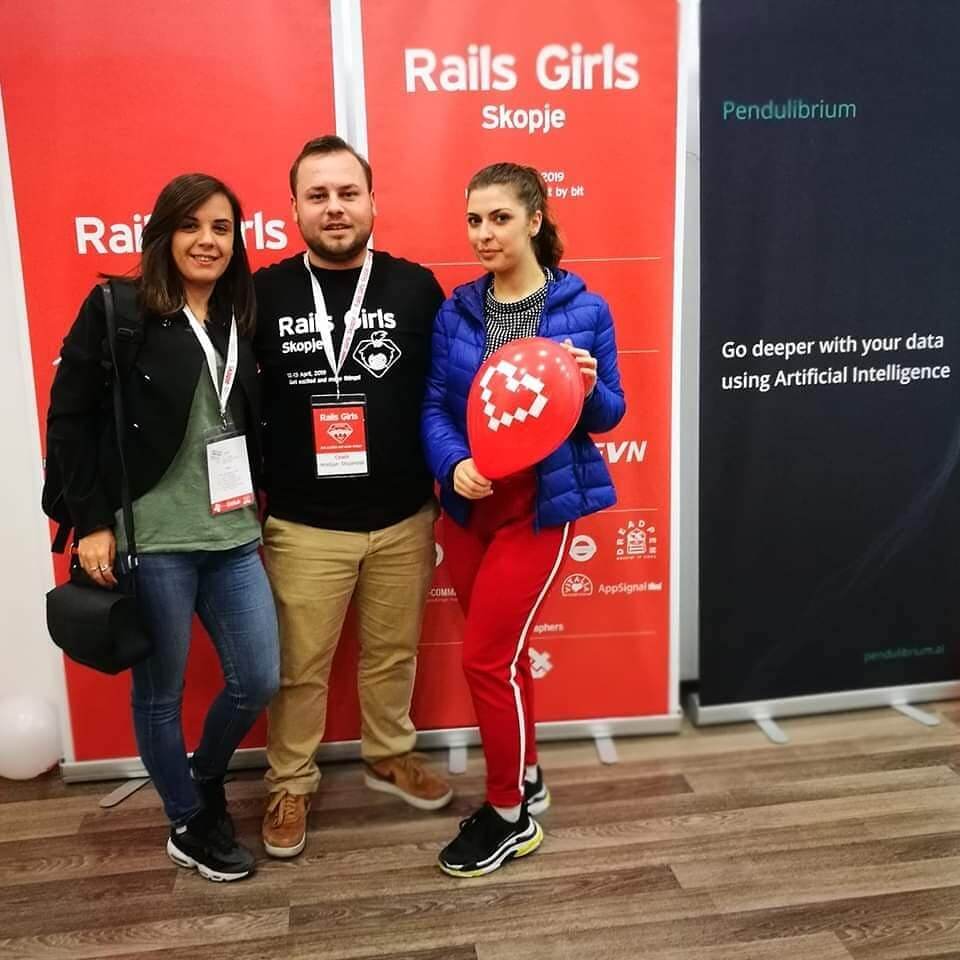 Author
Renata Pavlovska
Latest 5 posts from Renata