We are living in a time when we are all conquering Corona in a different way and trying to adapt to the new normal. One of the things most of us practice is working from home. Changing the office mode to a home mode is not always easy. It can affect our intellectual as well as emotional capacity. The first one is rather manageable and is usually up to us and the ability to maintain intellectual gymnastics, but the latter is something companies need to take very seriously and think of ways to keep employees happy as well as maintain the feeling of closeness and belonging to a team. There are many companies that work remotely all the time and have been practicing the model constantly, so they might be in a better position. If you were in a way forced to stay at home, it can be trickier. So, what can you do to make your team feel the same closeness they had when they were at the office? How can you cope with the challenge the pandemic has imposed?
InterWorks tried four ways that have proven to be interesting, fun, successful, and most importantly engaging for people:
Skype company wide group
Almost 8 weeks ago we have created a Skype group that includes all of InterWorks employees. We start each day with a question related to a different topic. The first few days we focused on things that we are grateful for, that inspire us, that give us hope, and as time went by we started off with more casual questions. For example, the question today was: What is the one song you can't imagine a good party without? ? I have to tell you we got some interesting songs that we are definitely putting on our next party playlist. The intent of the group is to keep up the family spirit, to communicate more often, to keep our minds off of things, and get to know our colleagues a bit better. The group, of course, has some ground rules but it has shown as a great way of building closeness.
Online company meetings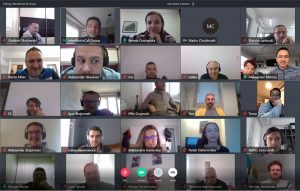 As we are running the business as unusual, we need to do unusual, i.e. not ordinary things. We always have a monthly town hall meeting where we discuss what is going up, what have we been up to, what is new, and just update everyone on the latest news. Because that is families do, sharing news and building up the relationship by doing so. The remote working model moved us all home, so we decided to host the meeting online and adapt it a bit. In order to increase transparency even more, and at the same time build-up our closeness, we now gave an additional option to our employees to ask any questions they might have before and during the meeting as well. We had three meetings so far and the feedback was great. It even gave us the idea to keep doing it this way even when we are back in the office. Who says the pandemic didn't give us new ideas that work better than the old ones do?
Challenges and Contests
Time spent at home is more fun and passes quicker if we have something to do. But finding things to do that will keep us occupied and entertain us at the same time is sometimes not that easy. In the manner of giving our employees interesting tasks, keeping them closer with their families and at the same time with their colleagues, we gave them a few challenges and contests. The first contest was the Best work from home picture. We have asked our employees to send us their home office environments and the best one will receive a prize (this competition is still on). After that, we made a cooking while coding challenge. We know that time spent at home gives us the inspiration to eat delicious meals, so we decided to take on that. We are still receiving recipes and you can take a look at them in our blog. The 1st of April was the perfect chance to organize an online masquerade. Our employees and their children made some interesting masks and we gave away three prizes, make sure to check out the creative masks here. Then came Easter, the perfect family holiday when we decorate our homes and paint eggs. Our employees sent us pictures of their colorings and gave us an exclusive opportunity to take a sneak peek into their homes. Last but not least, we made a challenge for the youngest ones. We asked children to draw the way they envision programming. It was a great opportunity to see how children envision what their parents are doing for a living. We gave prizes to four drawings that we were amazed by.
Our last activity is related to staying fit and moving while at home. Together with a local fitness center, we have made a series of workout videos meant for the whole family. A great way to exercise and stay connected with your family at the same time. Online CrossFit training are also on our agenda. Our colleagues practice working out two times a week with a professional local trainer and they say it boosts their energy and is definitely boosting the feeling of closeness. Staying fit while building up the team spirit is the best combination.
How about you? What are you doing to keep the feeling of closeness among remote working teams? Share your ideas with us.
Author
Administrator
Latest 5 posts from Administrator