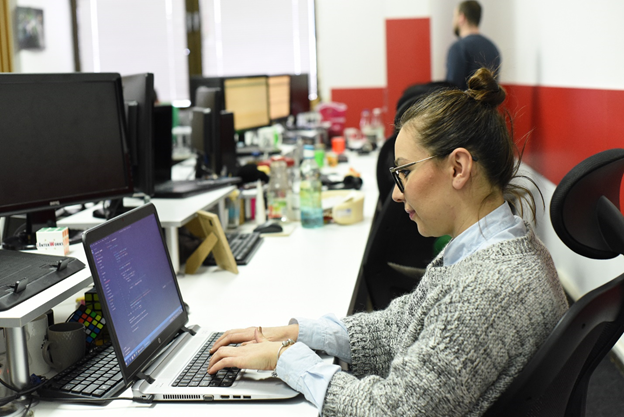 It has been almost a month since our lives have changed completely both on a personal and professional level. We are no longer able to go to work like we used to. Morning coffee with the colleagues is now replaced with coffee in bed or the balcony at home, lunch breaks with co-workers are changed with constant snacking, office jokes are replaced with family laughter… It is definitely not the same but we are all trying to make the most of this extra free time life has granted us.
How are ⋮IWConnect's employees coping with the situation three weeks after? Do they have a routine that is helpful? How do they manage to stay productive and positive at the same time? And finally, how work from home works for them?
Ivo
Working from home for me is like working from the office only wearing pajamas ?. Very casual Fridays every day, sure why not! My daily routine is pretty much the same, wake up, get ready, go to the office (living room), drink coffee and start working. I'm trying to focus on my work as much as possible and get my work done. I communicate with my colleagues online but surely, I miss having lunch with them, playing table tennis and catching up with one another. I really hope that we'll be back in the office very soon and the thought of it keeps me positive.
Anita
Working from home at the beginning was challenging for me, as I can imagine was for most of the people who like me haven't worked from home for a longer period of time. But like everything that comes suddenly in life, people adapt to the new changes and make the most out of the new situation. First, it was the phase of trying to figure out how and where to set the working environment so I can feel comfortable and be efficient. After a few days, I developed a routine (with the help of our new coffee machine ?) and I got used to the different settings and even started noticing the advantages, like being able to concentrate more on the work or having some extra time. Yes, the time I needed to go to the workplace is now replaced with time to drink the first coffee on my balcony before starting to work. Although I'm missing going to work still I'm really happy that in scary times like this, we are able to work from home, to be even more productive and to have my closest family near me, safe and healthy.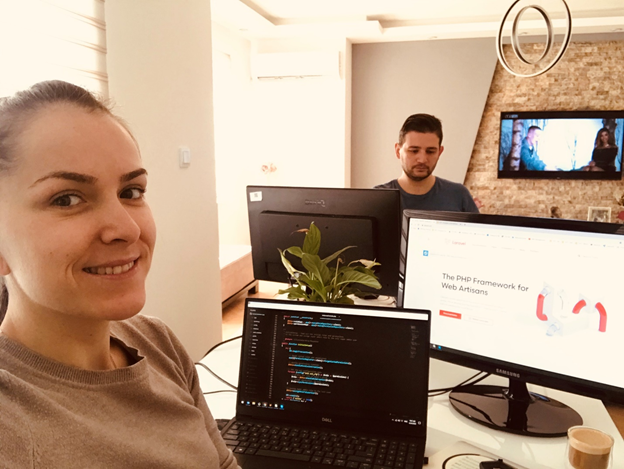 Karolina
Three weeks since we are at home, I can say that I got used to working from home. The most important thing about working from home is creating a routine. I think without them work from home would be an impossible mission. I have 2 kids and without some basic plan and set up routines it would be very hard. I'm trying to keep the kids occupied with different activities during the day and make sure everyone knows their obligations. For now, we are doing fine :). Also, I feel I have more time now since I am at home because I don't have to travel to work. In the past three weeks I learned that good organization can simplify things a lot! And although I miss the office, especially the interaction with my colleagues and the coffee breaks, spending more time with my family definitely suits me well.
Nikola
Last year almost my entire team on the project was remote (Albania, Holland), and my entire communication was online like it is now, so working from home does not bring any new challenges or changes in my work routine or productivity. My productivity does not depend on the work office environment, and I can say that working from home does not have a great impact on me.

The isolation because of the pandemic has impacted productivity and focus but in a good way, because there are no social activities, and my free time is now focused more on research and reading books.

In the past two weeks, I have increased my knowledge about Spring Cloud and I'm finishing the book Extreme Ownership by Jocko Willink.
Magdalena
As the Coronavirus situation escalated over, luckily, we have the luxury of working a job that can be performed at home. Unfortunately, there are many workers who don't have this privilege, so we are truly lucky!

As a remote-worker and a parent of two pre-school (kindergarten) kids, I have experienced the joys and turmoil of trying to balance my work along with having my children home with me 24/7. It's not easy, but it is doable.

In this hard situation, I am very grateful and thankful and happy that my husband is at home to take absolute care of our kids so the challenge "work-life balance" has suddenly gone to seemingly possible.

By entering into this sudden quarantine-work-from-home situation with the right mindset — getting easier into a flow state of deep work and knowing I may actually be putting in more effort than before — I can do a great job and still feel like I am closer to my family and private life than ever before. Enjoy more time with loved ones, get some extra cuddles with the kids or simply get some quiet time for myself! As per the kids, whatever it takes to get through it, we do it, as long as they're safe and not hurting anyone. Just kidding 🙂

We try to keep a strict schedule and a list of goals they have to meet. But also, we plan activities that don't need supervision. Or just listen to them and watch their behavior. We have to find ways to keep them busy and learning. At the same time, we have to model self-discipline and focus because they're going to learn from that, much more than they will from what we tell them.

Faith is the thing that keeps me positive. I hope that this will end soon, we will get through it with the smallest possible impact on our health and economy.
---
This is what our colleagues had to say about their work from home experience after three weeks and how they are managing it so far. How do you manage to work from home? What have you learned? Do you have any tips that make you more productive while at home? Share your thoughts.
---
Other related posts:
Author
Renata Pavlovska
Latest 5 posts from Renata